This is the third of several articles I am writing to show you exactly what I am doing to cope with an unexpected job loss after middle age, but before retirement age. The first installment, titled Part 1, was somewhat introductory. In Part 2, I began to explore my strategy in asset allocation and I covered the Business Development Companies I chose for my portfolio. Today, in Part 3, I will discuss my Real Estate Investment Trust thoughts and choices. Some may disagree with my logic, some may complain that I have the advantage of age and a head start, but everyone can rest assured that I will honestly tell you exactly what I am doing with my own money.
______________________________
Today we continue looking at the asset allocations I used for my Rollover IRA. If this is the first time you are reading one of my articles, I suggest you go back and read "Unplanned Early Retirement, Part 1" to get the background on my situation and "Unplanned Early Retirement, Part 2" to see my basic asset allocation and to see the reasons behind choosing specific Business Development Companies.
My 401k to IRA Rollover action plan consisted of asset allocations and specific dollar targets for each security within each asset class. I was looking for positions that either had dividend growth with a yield at least 3% or 4%, or in the absence of dividend growth, I wanted yields in the 5% to 6% range or higher. I allowed myself some flexibility on these rules for the sake of diversification. I avoided positions that might generate foreign taxes or otherwise would make no sense in a tax deferred account. My final asset allocation plan, as executed in February 2014, was as shown in the following table: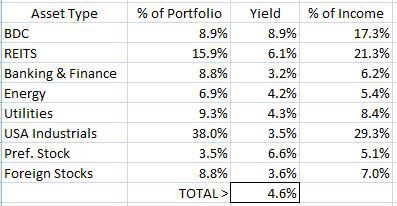 Today, I will discuss the second asset class, Real Estate Investment Trusts, and the specific REIT securities I purchased. Making no assumptions about your experience level, your first question might be, "What exactly is a REIT?" You can just as easily look it up as I can, but for this article I can give you a couple of pertinent facts. First of all, a REIT is a US Federal legal designation. REITs and similar investments are available in other countries as well, but I am most familiar with the United States. Like a mutual fund for stocks, REITs provide the small investor a chance to participate in large scale commercial real estate enterprises. A Real Estate Investment Trust may own and operate just about any type of commercial income-producing real estate you could imagine. There are several different types, and not all may actually operate as you would think. For example, there is a class called Mortgage REITs that basically invests in mortgages, not physical property. The key is that a REIT is exempt from federal corporate income taxes provided that they distribute at least 90% of their income to the shareholders. That dividend income is then counted as ordinary income to the shareholders who must pay the tax.
Your next question might be, "why would you want to invest in Real Estate Investment Trusts?" There are several reasons. Mark Twain is credited with the saying, "Buy land, they're not making it anymore." Except for a few volcanic islands and a river delta here and there, he is correct. Land is a fixed commodity, but population is continually increasing. We need real estate to feed people, house people, give us places to shop, give us places to work, and provide access to commodities such as timber, oil, and minerals. All over the world, the basis for growing and passing on wealth has historically been real estate. People need land to eat and to live their lives. When times are really tough, you cannot eat gold or silver. In short, I think everyone needs some participation in real estate. (I know that many people consider precious metals to be essential holdings to store wealth for tough times. I agree that gold and silver can have a place in a well-rounded portfolio.)
My ability to invest in real estate is limited, but through REITs I can buy shares in companies that have the financial resources and research capabilities to invest and make money. I could invest my money in rental houses and maybe do better than investing in a REIT, but as I stated in Part 2 of this series, I do not feel that I have the disposition to be very successful as a landlord. I would be a sucker for hard luck stories whenever the rent was late, but I have no qualms letting someone else invest my money in real estate. These REITs typically provide high current income, and over the past few years several of them have proven to be safe and reliable income and growth generators for me in my taxable account. I started some time ago with relatively small positions in several REITs in my taxable account. These relatively small positions have grown to be a substantial part of my taxable account largely on their own through reinvested dividends, even though the past few years were tough for REITs as far as capital appreciation. Many REITs lost value during the financial crisis. One of my trusted advisors suggested that I am putting too much money in REITS because they did not do well in 2013. I disagree with him. I believe the fundamental concepts are good, I like the high current income, and I always say the time to buy is when things are cheap.
Please note that there is no way to do an exhaustive essay on any one of these companies when I am trying to cover a dozen of them in one article. In my own research, I considered a lot more aspects than I can cover here. If this article generates some interest, please study carefully and do your own due diligence before investing your hard-earned money. With that said, here are my positions starting with the ones I know best.
Realty Income Corporation (NYSE:O) is the granddaddy of all REITs. Their motto is "The Monthly Dividend Company," and that is the first thing I like about them. They pay monthly dividends which greatly helps your compounding if you are doing dividend reinvestment (NYSEARCA:DRIP). They invest mostly in retail properties in prime locations and their typical tenant has a solid history and is on a 10 to 20 year lease. The share price is now about 23% below the 52 week high. The current annual yield is 5.2%. In the past 2 years and 4 months they have raised their monthly dividend 11 times from 0.1455 in January 2012 to 0.1824792 in April 2014. If you are accustomed to evaluating dividend companies based on payout ratio, you need to make an adjustment when talking about REITs. The payout ratio as it is usually calculated for a stock will seem much too large to be sustained, but this can be misleading. A REIT pays dividends based on cash flow, typically the AFFO or adjusted funds from operations. The payout ratio based on GAAP income that you find on Yahoo includes depreciation expense, which can be a very large number for real estate. The depreciation expense is not really decreasing the value of the property, however, so the AFFO subtracts out the depreciation expense and makes adjustments for properties that have been sold. So do not let the 205% payout ratio displayed on Yahoo alarm you. It is okay as long as the AFFO cash flow continues to support the dividend. Realty Income has a good company web site if you want more information on O and on REITs in general. As for me, based on my long satisfactory relationship with them, I put 1.58% of my rollover investment in O.
Government Properties Income Trust (NYSE:GOV) is my second choice. They invest primarily in office buildings and properties that they lease back to the federal and state governments. This is my "revenge" investment; I like the idea of collecting rent from the IRS. Current yield is 6.7%, paid monthly, but the dividend has only increased 1 time since January 2012. At $25, the share price is currently running right in the middle of the 52 week range of $23 to $27. I have owned this company for a couple of years and have done okay with it. I put 1.46% of my Rollover IRA in GOV and may add more in the future.
Universal Health Realty Income Trust (NYSE:UHT) is the third REIT on my list. They invest in healthcare facilities such as hospitals and medical office buildings spread all across the USA. Current yield is 5.9%, paid quarterly, and the yield has been raised 3 times since January 2012. Cash flow per share remains slightly higher than the dividend per share. The share price is down about 25% from the 52 week high. I have owned UHT for several years, and while not as rock solid as O, it has been an okay performer. It also provides me exposure to the healthcare realty market which should be a good thing with an aging population and mandated access to healthcare. I put 1.45% of my IRA in UHT.
Now we have finished the list of REITs with which I have prior experience. The rest of my purchases are companies that I have had on my watch list, some for a long time, and others for a very short time.
The first of these is Whitestone REIT (NYSEMKT:WSR). WSR is my highest paying REIT on a percentage yield basis at 8.1%, but they have no recent history of growing this dividend. The current share price is about 22% below the 52 week high. Their business focus is unique: quoting from the WSR web site, "Whitestone REIT's acquisition focus is densely populated, culturally diverse neighborhoods located in Phoenix, Chicago, Dallas, San Antonio and Houston." WSR is a neighborhood turnaround specialist; their business model is to redevelop and bring in new tenants to create what they call Community Centered Properties™. I consider WSR to be somewhat risky due to their business model and their cash flow history, but I still put 1.61% of my IRA into WSR for the high current yield.
Next, we have Ventas, Inc. (NYSE:VTR). VTR pays a 4.5% per year dividend, paid quarterly, and they have raised the payout three times since January 2012 from 0.575 per share to today's 0.725 per share. The current share price is about 24% below the 52 week high. Ventas primarily invests in healthcare properties in the USA and Canada. Cash flow appears to easily cover the dividend payout. I put 1.53% of my IRA into Ventas.
HCP, Inc. (NYSE:HCP) is another REIT that invests in healthcare facilities. They also invest in mortgages and other debt instruments. HCP is a Dividend Aristocrat having increased their payout for 29 years in a row. I love Dividend Aristocrats, but only if I understand and believe in the business behind the payouts. HCP has a current yield of 5.4% and is trading 27% below the 52 week high. I put 1.52% of my IRA in HCP, but this is one company that I will watch to add more shares on price pullbacks.
Mid-America Apartment Communities Inc. (NYSE:MAA) has a pretty descriptive name. They specialize in multifamily apartment communities including redevelopment, new development, and property management. Basically, they provide rental homes for people, mainly in the southern and southeastern United States. Current yield is 4.3%, paid quarterly, and the share price is in the top third of the 52 week range. They have increased their payout twice since January 2012. I put 1.26% of my IRA in MAA mainly to get some exposure to the rental housing market, a market I would not want to enter on my own.
Omega Healthcare Investors (NYSE:OHI) is another healthcare REIT as the name suggests. They have a little different focus in that they invest primarily in long term care facilities. Their current yield is 5.7%, paid quarterly, and the share price is in the top third of the 52 week range. They have raised their payout 7 times since January 2012. I put 1.25% of my IRA in OHI to take advantage of the long term care needs of our aging population.
One Liberty Properties Inc. (NYSE:OLP) is a retail REIT with properties including retail stores, furniture stores, restaurants, industrial buildings, offices, and various other properties all across the United States, mainly east of the Rockies. Current yield is a nice 6.6%, paid quarterly, and has increased twice since January 2012. The share price is today at the lower end of the 52 week range. I put 1.21% of my IRA in OLP.
W. P. Carey Inc. (NYSE:WPC) is my next position. WPC invests in commercial properties across the globe. They also do some financing including long term sale-leaseback and build-to-suit. They primarily look for triple net leases with single corporate tenants including office, R&D, and self-storage properties. With a triple net lease the tenant is responsible for taxes, maintenance, and insurance on the property. The landlord is only responsible to collect the rent. The yield currently stands at 6%, paid quarterly, but after several years of dividend increases, the dividend went down slightly for March 2014. This is something to watch for the future. I put 1.17% of my IRA in WPC.
Digital Realty Trust Inc. (NYSE:DLR) is a new type of REIT that invests in facilities that support internet traffic, corporate data centers, and other high tech functions. Chances are the words you are reading on this page right now spent at least some time passing through a DLR facility. DLR has facilities mainly in the USA and in Europe, but they also have some in the Asia-Pacific region. They have raised their dividend every year for the past 10 years including twice since January 2012. Current yield is at 6.2% and the share price is in the lower middle third of the 52 week range. I put only 1% of my IRA in DLR, but I may look to add to it on pullbacks.
The last REIT to make it into my initial rollover investment list is Monmouth Real Estate Investment Corp. (NYSE:MNR). MNR was a last minute addition based on a tip. It is very uncharacteristic of me to do something like this, but the yield is 6.4%. The share price is in the middle of the 52 week trading range. The dividend has not increased since the end of 2005, so I was reluctant to pull the trigger on this one, but the dividend is currently covered by the AFFO. Monmouth invests in industrial properties in the USA leasing mainly to investment grade tenants on long term leases. Customers include Anheuser-Busch, Best Buy, Caterpillar Logistics Systems, Coca Cola, FedEx, International Paper, Kelloggs, Milwaukee Tool, ConAgra, Sherwin-Williams, and Siemens according to their web site. I only put 0.91% of my IRA in MNR. Interestingly, I am doing okay with my original shares of MNR up 2.24% since February.
You may have noticed that the pure mortgage REITs are missing from my portfolio. Mortgage REITs are very seductive because they usually pay high current yields. Be very careful. I have owned several in my taxable account and I lost money every time. This may be mostly due to the overall financial crisis of the last few years; nevertheless, I have almost completely lost interest in mortgage REITs despite their high yields. I like a company whose main business is actually purchasing and operating income producing properties. I understand the business model of owning and operating properties, and it has been good to me so far. The Mortgage REITs have a business model that is somewhat of a mystery to me. That combined with past losses from Mortgage REITs leads me to distrust these types of companies.
In my next installment, I will continue by explaining my thinking on the Banking, Finance, and Energy asset groups and the specific companies in which I chose to invest. I hope you will tune in.
Disclosure: I am long DLR, GOV, HCP, MAA, MNR, O, OHI, OLP, UHT, VTR, WPC, WSR. I wrote this article myself, and it expresses my own opinions. I am not receiving compensation for it (other than from Seeking Alpha). I have no business relationship with any company whose stock is mentioned in this article.
Additional disclosure: I am not a certified financial expert of any kind. This article serves as a journal of my own experience.