Units of Kinder Morgan Partners (NYSE:KMP), the largest midstream company in the country, are at their lowest valuation in five years. This is both good news and bad news for those holding KMP. I believe that those holding KMP units must readjust their expectations to the new reality ahead. This article will attempt to cover both the 'good news' and the 'bad news' of KMP's low valuation.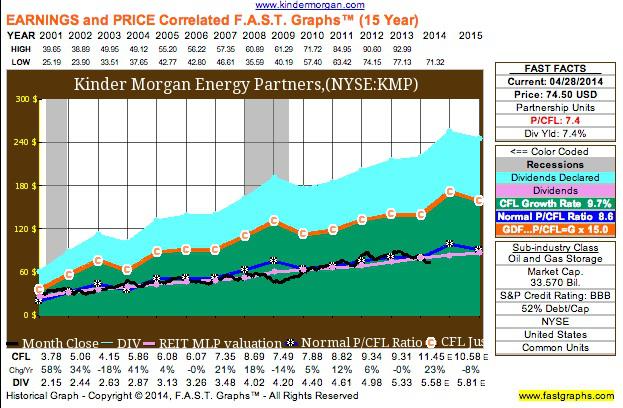 Kinder Morgan is actually an easy company to value. Notice on FAST Graphs how KMP's unit price tightly correlates to the pink line, which represents distributions. In this case, the distribution yield is totally significant, because KMP distributes the totality of its distributable cash flow to unit holders. Notice how, for the first time since late 2009 when mutual funds began piling in, the price has fallen below the pink line.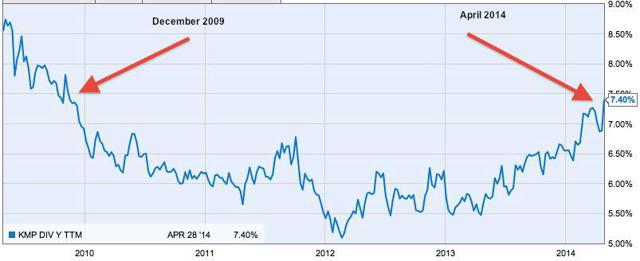 A look at the simple, trailing dividend yield should corroborate this fact, and sure enough, it does. As the chart above illustrates, KMP's yield indeed hasn't been this high in about 53 months.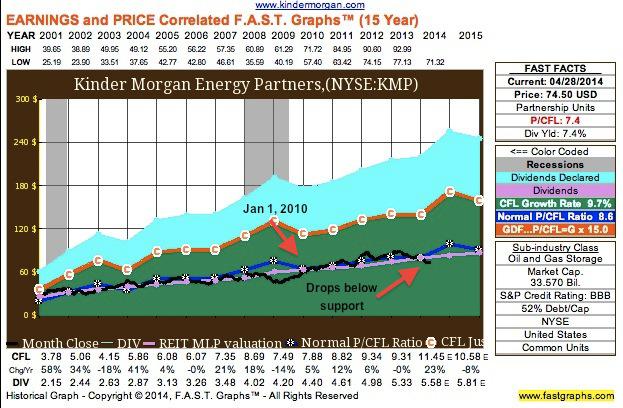 Let's look at the FAST Graphs chart once more, this time with 'resistance' and 'support' in mind. Starting in early 2010, when mutual funds really began buying, and ending with the close of 2013, KMP enjoyed a 'bull market' period where the pink line essentially acted as a 'support' for the stock. Notice how the price never got below that pink line until recently. I believe KMP's drop below the line is significant, and that it indeed marks a new phase for unitholders. That's the 'bad news.'
Catalyst
I believe that the biggest reason for KMP's sustained issues is the addition of general partner shares. Many investors, retail investors especially, don't like the added layer of complication brought on by a more complex share structure. When asked in a recent conference call, management claimed that a merger of the KMI businesses was an option, if that's what would unlock shareholder value. At this time, however, I would not expect a merger, although I do believe that a merger would ultimately be helpful to the share price.
Frankly, the recent attacks on Kinder Morgan from Barrons were less than substantive. However, I also believe that such a 'jolt' did have an effect on scaring off investors, despite the fact that management fully addressed media "concerns" in a straightforward fashion.
Those who piled into KMP in 2009 enjoyed high single-digit and low double-digit distribution growth for awhile, but those expecting similar results in the following years have been disappointed. Indeed, the new growth number, for KMP at least, is around 5%.
Solid performance continues
Meanwhile, the partnership continues to meet or slightly exceed expectations. In its most recent earnings announcement, management raised the distribution by another two cents to $1.38, which is a 6% increase versus the first quarter of last year. The CO2 segment continues to steadily increase oil production despite all the 'concern' that its CO2-injection fields should be declining by now. KMP's overall transport volumes were up a solid 5.1%.
Where to go from here?
Despite the sea change, Kinder Morgan is a solid buy right here, provided one understands the new reality one is in. Within 2014, KMP could get as high as $83.70, which gives the units upside of 12%. However, I don't see much more upside than that. But in reality, investors should be getting into Kinder Morgan not for potential capital gains, but for the long-term distribution. And with a yield of 7.4%, now is a fine time to get into KMP for the income.
For those who are patient and willing to ride this out, Kinder Morgan is a solid choice for building income. Continued mid single-digit growth, followed by subsequent distribution increases, will put upward price pressure on units of KMP for the foreseeable future. Operationally, Kinder Morgan has almost always delivered on its promises, and management's current target of 5% DCF growth is attainable and well within reach. KMP is a buy right here, just don't expect to see a $90 price tag anytime soon.
Disclosure: I am long KMP. I wrote this article myself, and it expresses my own opinions. I am not receiving compensation for it (other than from Seeking Alpha). I have no business relationship with any company whose stock is mentioned in this article.