After beating analysts' expectations in its March 2014 quarter earnings report, Lam Research Corporation (NASDAQ:LRCX) stock surged 11.50% on April 24, the day after the announcement. Nevertheless, in my opinion, Lam Research's stock is still a long-term investment opportunity right now. My favorite sectors for my own investments are the basic materials and the tech sector, perhaps because I find it more appealing to research companies from these sectors. I am always looking for a combination of value and growth stocks, one such company is Lam Research.
The Company
Lam Research Corporation is a major supplier of wafer fabrication equipment and services to the worldwide semiconductor industry, where they have been advancing semiconductor manufacturing for more than 30 years. Lam's recent merger with Novellus Systems, Inc., has created a broad portfolio of complementary product capabilities that includes Lam's leadership in etch and single-wafer clean and Novellus's leadership in thin film deposition and photoresist strip. With corporate headquarters located in Fremont, California, the company maintains a network of facilities throughout Asia, North America, and Europe to meet the complex and changing needs of its global customer base.
The Industry
Semiconductor and semiconductor equipment manufacturers have historically been highly cyclical, with periods of strong growth and high margins, which have caused companies to raise capital investment, and in effect have caused excess supply followed by periods of weakness. The economic data and companies' comments are all saying essentially the same thing, which is that the semiconductor equipment industry has already passed through the bottom of the current cycle. New internet applications will extend the compute environment to everyday devices like smart television, wearable, cars, light bulbs and more. This development will increase the demand for semiconductor test equipment.
Book-to-Bill Ratio
One very important parameter when analyzing a semiconductor company is the book-to-bill ratio, which is the ratio between new orders to actual sells. A ratio of above one implies that more orders were received than filled, indicating strong demand, while a ratio below one implies weaker demand. On April 21, 2014, the SEMI.ORG announced that the North American semiconductor equipment industry posted March 2014 book-to-bill Ratio of 1.06. On that occasion, Denny McGuirk, president and CEO of SEMI said:
Bookings levels for North American semiconductor equipment have remained consistent over the last few reports. We look to the months ahead for signs of any inflection.
The table below presents the North American semiconductor equipment industry's billings, bookings and the book-to-bill Ratio since the beginning of 2012.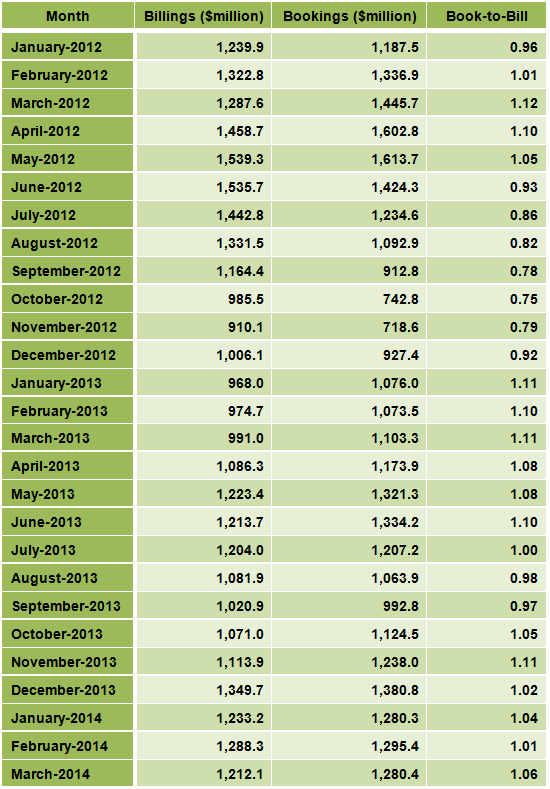 Source: SEMI.ORG
The charts below present the North American semiconductor equipment industry's billings, bookings and the book-to-bill ratio since 1991.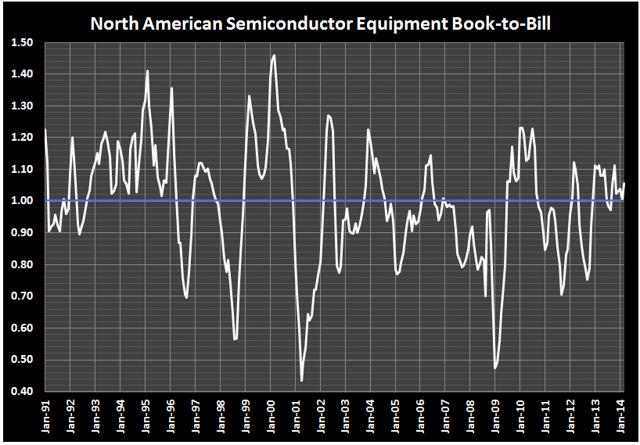 Click to enlarge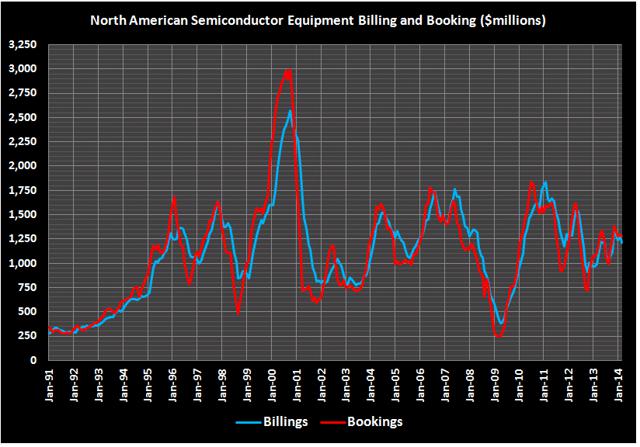 Click to enlarge
Valuation Metrics
The table below presents the valuation metrics of Lam Research, the data were taken from Yahoo Finance and finviz.com.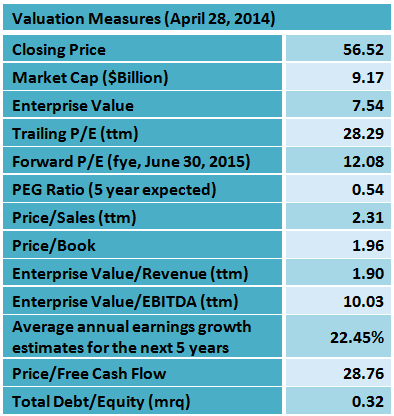 Lam Research's valuation metrics do not seem particularly cheap at first glance, but considering its exceptionally strong earnings growth prospects, its low debt and its low forward P/E, these valuation metrics are compelling. The average annual earnings growth estimates for the next 5 years is at 22.45%, and the forward P/E is at 12.19, these give a PEG ratio of 0.54 (forward P/E divided by growth), which is extremely low, especially for a company with leadership in its field.
Many analysts of the semiconductors industry give a high importance to the price-to-sales ratio, and consider it a better indicator than the P/E ratio for companies in this industry. Comparing the current price-to-sales ratio to its historical values can give a fair idea if the stock is cheap or too expensive right now. In the case of Lam Research, the actual ratio is not historically too high as shown in the chart below (the small difference in value between the chart and the table is due to delayed updating of the chart).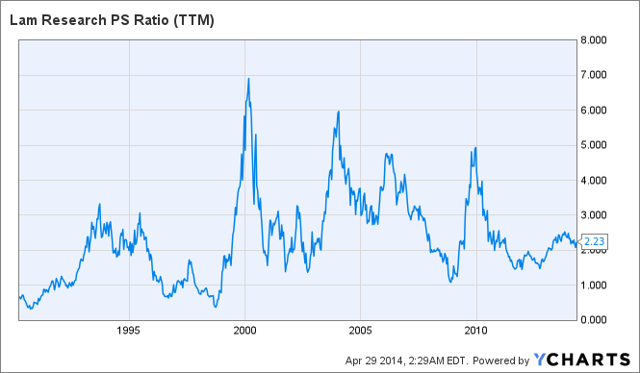 Click to enlarge
LRCX PS Ratio (TTM) data by YCharts
Latest Quarter Results
On April 23, 2014, Lam Research reported its latest quarter financial results, which beat EPS expectations by $0.09 (7.70%).
Highlights for the March 2014 quarter were as follows:
Shipments of $1,264 million, up 11% from the prior quarter
Revenue of $1,227 million, up 10% from the prior quarter
GAAP gross margin of 43.2%, GAAP operating margin of 15.6% and GAAP diluted EPS of $0.96
Non-GAAP gross margin of 45.5%, non-GAAP operating margin of 20.2%, and non-GAAP diluted EPS of $1.26
In the report, Martin Anstice, Lam Research's president and chief executive officer stated:
We began 2014 by delivering another solid quarter with record shipments, record revenue, sequential operating margin expansion and very strong free cash flow. The consistency of our results reinforces the potential to deliver sustained outperformance through solid execution of our growth strategy. We believe that our product portfolio combined with the scale of our new technology offerings create a unique opportunity for Lam through the multi-patterning, 3D device and advanced packaging industry transitions. Together this combination of capability and opportunity underscores our commitment to deliver growth and value for our customers and our shareholders alike.
Competitors and Group Comparison
According to Lam Research, its main competitors are: Applied Materials (NASDAQ:AMAT), Tokyo Electron, ASM International (ASMI), Mattson Technologies (NASDAQ:MTSN), and the Korean PSK, Inc.
A comparison of key fundamental data between Lam Research and its main competitors is shown in the table below.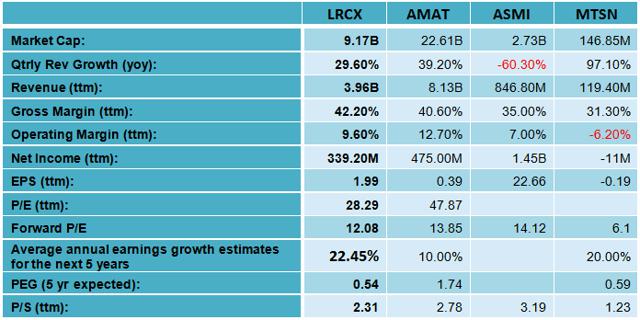 Click to enlarge
Source: Yahoo Finance, finviz.com
Lam Research earnings growth prospects are better than its competitors, and its PEG ratio is the lowest.
Ranking
According to Portfolio123's "Balanced4" powerful ranking system Lam Research stock is ranked third among all S&P 500 tech stocks. Only SanDisk Corp. (SNDK) and Corning Inc. (NYSE:GLW) are ranked higher (see my article about SNDK). The "Balanced4" ranking system is quite complex, and it is taking into account many factors like: EPS consistency, technical analysis, valuation, profitability ratios and dividend information, 15-years back-test has proved that this ranking system is extremely useful.
Technical Analysis
Personally, I am using only fundamental analysis for my investment decisions. After many years of experience, and after having tried all kinds of decisions making including technical analysis, I have reached the conclusion that relying on fundamental information is giving me the highest return. Nevertheless, some investors are successfully using technical analysis to find the proper moment to start an investment (I am not talking about traders, my analysis is only for investors). The charts below gives some technical analysis information.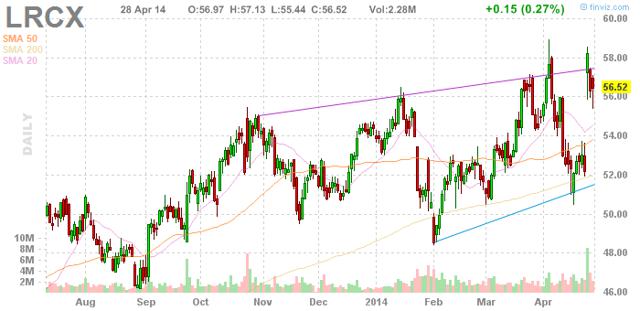 Click to enlarge
Chart: finviz.com
The LRCX stock price is 3.77% above its 20-day simple moving average, 5.15% above its 50-day simple moving average and 8.79% above its 200-day simple moving average. That indicates a short term, a mid term and a long-term uptrend.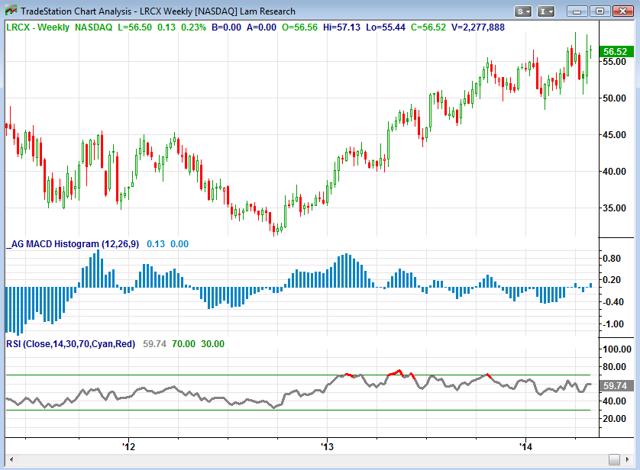 Click to enlarge
Chart: TradeStation Group, Inc.
The weekly MACD histogram, a particularly valuable indicator by technicians, is at 0.13, which is quite bullish, (a rising MACD histogram and crossing the zero line from below is considered an extremely bullish signal). The RSI oscillator is at 59.74, which do not indicate oversold or overbought conditions.
Analyst Opinion
Analysts recommend the stock. Among the 20 analysts covering the stock, four rate it as a strong buy, thirteen rate it as a buy, and only three analysts rate it as a hold.
Discussion
In my opinion, Lam Research will outperform the worldwide wafer fab equipment (WFE) in 2014. According to SEMI.ORG, in its publication of December 03, 2013, worldwide sales of new semiconductor manufacturing equipment will increase by 23.2% in 2014. Lam Research is poised to benefit from rising capital intensity due to the 20/16nm and 3D NAND technology transitions. Furthermore, Lam Research is gaining market share in etch and deposition.
I consider the acquisition of Novellus Systems, in an all-stock transaction, which was completed In June 2012, very positive to Lam Research. The two companies offer complementary products with leading market share positions in adjacent markets. There is also significant cost savings through operating expense synergies.
Some analysts consider Lam Research's higher exposure to the memory sector than its peers as a disadvantage due to the high volatility of this sector, but I consider it an advantage. The growing popularity of tablets and smartphones will cause a growing demand for memory especially for the 20nm NAND.
Conclusion
As the global leader in etch and single-wafer clean and in thin film deposition, Lam Research will benefit from the rebound in semiconductor manufacturing equipment spending in 2014. Lam Research has a strong balance sheet, low debt, and it is repurchasing its own shares. The company has compelling valuation metrics and very strong earnings growth prospects, its PEG ratio is extremely low at 0.54. Furthermore, LRCX has beaten EPS expectations in the last four quarters. All these factors bring me to the conclusion that LRCX stock is a good investment right now.
Disclosure: I am long LRCX. I wrote this article myself, and it expresses my own opinions. I am not receiving compensation for it (other than from Seeking Alpha). I have no business relationship with any company whose stock is mentioned in this article.