In one of his RealMoney.com 7/28/10 blogs, Jim Cramer said of the stock market: "It's nonsensical. It's stupid. It's the way it is as we come into August in what I think most people would admit is the most confounding and hated market we've seen in ages." The Pause-Trading ETF Model I introduced on Seeking Alpha last week seems, at least for now, made to order for those who agree given its abandonment of equity exposure and its focus on gold and fixed income.
Here is this week's top-five list:
iShares COMEX Gold Trust

(NYSEARCA:IAU)

Nuveen New York Qty Inc Munpl

(NUN)

SPDR Gold Trust (NYSEARCA:GLD)

Vanguard Extended Duration Bond ETF

(NYSEARCA:EDV)

Vanguard Long-Term Bond ETF

(NYSEARCA:BLV)
Here's last week's list:
This idea behind this strategy, created on StockScreen123.com, is to sweep every week through most mainstream ETFs and identify the top five based on a ranking system based on a noteworthy trend of market strength has been briefly, and hopefully temporarily, interrupted.
This approach has a strong contrarian flavor, so it's not really telling us there's anything special about fixed income and gold at this moment. They get sort-of pushed into the spotlight simply because the model can't find anything better in the equity asset class, as if all equity ETFs that might have merit are played out right now; a pause is needed to allow more buying interest to form.
Details of the approach are discussed below in the Appendix, where you can also see data showing the model's long-term backtested performance data.
APPENDIX
To create this model, I started with a very broad-based ETF screen I create in StockScreen123.
Eliminate ETFs for which volume averaged less than 10,000 shares over the past five trading days

Eliminate HOLDRs (I don't want to be bothered with the need to trade in multiples of 100 shares)

Eliminate leveraged and short ETFs (I think of these as hedging tools rather than standard ETF investments of even trading vehicles)
Then I sorted the results and select the top 5 ETFs based on the StockScreen123 ETF Rotation - Basic ranking system, which is based on the following factors:
120-day share price percent change - higher is better (15%)

1-Year Sharpe Ratio - higher is better (15%)

5-day share price percent change - lower is better (70%)
The idea of using weakness as a bullish indicator is certainly not new. But often, it's an add-on to other factors that, on the whole, emphasize strength. Here, the weakness factor is dominant, with a 70 percent weighting.
This model is designed to be re-run every week with the list being refreshed accordingly. I trade through FolioInvesting.com, where I pay a flat annual fee rather than a per-trade commission, so I don't care about the fact that turnover form week to week is often 80%-100%. If you want to follow an approach like this but do have to worry about commissions, the strategy tests reasonably well with three ETFs, or even with one. (Cutting the number of ETFs is far preferable to extending the holding period.)
Figure 1 shows the result of a StockScreen123 backtest of the strategy from 3/31/01 through 7/22/10.

Figure 1
click to enlarge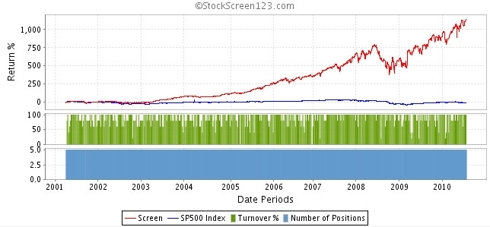 Figure 2 covers the past five years, a very challenging market environment that witnessed the fizzling of many strategies that had succeeded for a long time.
Figure 2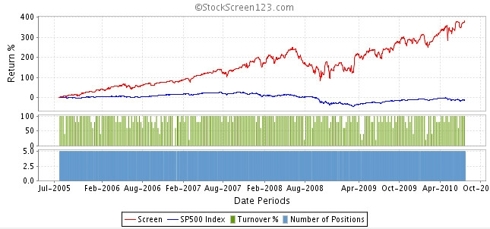 Disclosure: Long IAU, NUN, GLD, EDV, BLV