Q12014 Earning release
PepsiCo (NYSE:PEP) beat analyst estimates on both revenues and EPS in the first quarter of 2014. PEP reported net revenue of $12.6 billion that remained flat compared to the revenues of last year, but it beat the Wall Street analyst estimate of $12.4 billion. Net income grew by 13%, compared to last year, to $1.2 billion, and the earnings per share of 79 cents beat analyst estimates by 4 cents.
PEP has shown a 2% increase in the volume of its snack category compared to the same quarter last year. Global beverage volume failed to show any growth and remained flat. The North American beverage unit is under scrutiny and showed flat volumes in the first quarter. With flat volumes, PEP managed to show growth in revenue by increasing prices.
Recently, PEP's arch enemy Coca-Cola (NYSE:KO) reported segment volumes in North America. Health consciousness in consumers has caused carbonated soda drink [CSD] sales to go down. PEP and KO have both taken a blow to their revenues. PEP and KO have been proud owners of two of the most recognized and consumed product brands over many decades. Their carbonated soda drinks have been the rising stars for decades, but now we see the sales from sodas are falling.
To make up for the fall of their soda products, both companies are trying to promote their juices, mineral water, and sports drinks. PEP is trying to support its beverage segment through premium energy drink brands such as Mountain Dew Kickstart. PEP is investing heavily and trying to avoid any decrease in demand as a result of this increase in price. PEP plans to increase the prices of its snack and drink segments by 2%-3% during the current year.
KO holds about 48% of the global market of carbonated drinks and PEP holds 20.3%. These soda brands are huge cash cows, contributing a lot to the companies' top and bottom lines and cash flows. Both companies are trying very hard to keep the demand stable by marketing their old and new products, but the soda business is expected to see a sustained downfall over the coming years owing to increasing health awareness.
Missed a Growth Train
Both companies ignored energy drinks, a substitute of their CSD and this mistake proved to be very costly for them. Over the past several years, the demand for CSDs has fallen, and energy drink sales are growing at a rapid pace in the U.S. Monster Beverages (NASDAQ:MNST) and Red Bull created demand for their energy drinks and grew at a healthy rate.
In 2000, the energy drink market was worth $350 million, and it grew rapidly and reached $9 billion in 2013. Red Bull and Monster Beverages took advantage of this growth and now together they make up about three quarters of the U.S. energy drink market. After missing the energy drink growth train, PEP and KO competed to get the distribution rights of established energy drinks. PEP secured distribution rights of Rock Star, the number three contender in the energy drink market, and KO secured a distribution contract with Monster Beverages, the number two contender for market share.
Moving to a Different Product Category
PEP's strategy to diversify its product range is now paying off, and it is covering the fall in PEP's carbonated soda drinks business. PEP has successfully positioned itself as a global leader in the sweet and savory snack industry.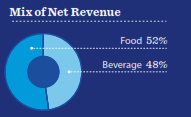 PEP is the owner of some of the world's most recognized brands such as Pepsi, Frito-Lay, Gatorade, Tropicana and Quaker Oats. PEP owns nine of the top forty retail brands in the world. More than half (52% as shown above) of the revenue that PEP earns comes from its food business. By investing in its food products, PEP is working on growth categories in food. This strategy is extremely important so that the company doesn't get hurt by falling carbonated soda drinks demand like KO. In the recent quarter, Frito-Lay North America had a fantastic performance and delivered an organic growth of 4%, so this is evidence that PEP's strategy is yielding benefits.
PEP is strengthening its position in the emerging markets, and it is capitalizing on the growth in consumption by consumers. PEP secured 9% organic growth in revenue from emerging markets. The top-performing markets include Brazil, Russia, Turkey, India, Egypt, and Pakistan.
PepsiCo vs. Coke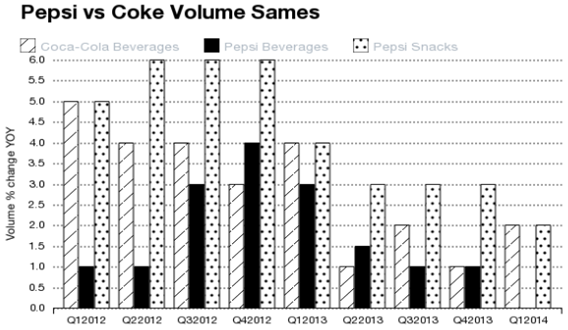 In the beverage category, KO outperformed PEP in the last few quarters, as shown in the graph above. KO managed to increase its volumes at a higher rate than PEP. In this situation, PepsiCo's snack segment delivered good growth in the recent quarters to make up for the lower growth in the beverage category.
KO seems to have chosen to cling to the top position of its sinking product categories. If we look at the revenue growth, the situation is quite grim for KO. Coca-Cola has been suffering from decreasing revenues in the past five quarters, as shown in the following exhibit. In the most recent quarter, Coca-Cola's revenue decreased by over 4% YOY. On the other hand, PepsiCo's revenues have grown over the last five quarters. In the first quarter of 2014, PEP managed to produce some growth in revenue, and although it was minute, it much better than Coca Cola's -4%.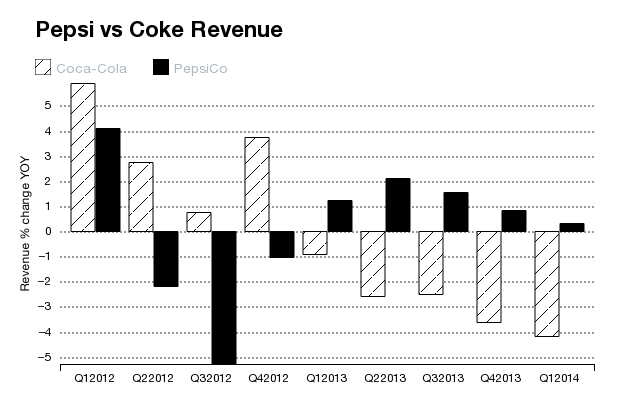 Conclusion
The flagship carbonated soda drinks that helped PepsiCo and Coca-Cola to become some of the greatest companies in the world are showing a decline. Culprits include growing health concerns and alternative energy drinks. Apart from the beverage segment, PepsiCo has developed its food and snack segment, and this segment is now as big as its beverage segment. This strategy is expected to help PepsiCo to grow its top and bottom lines in the coming years.
Disclosure: I have no positions in any stocks mentioned, and no plans to initiate any positions within the next 72 hours. I wrote this article myself, and it expresses my own opinions. I am not receiving compensation for it (other than from Seeking Alpha). I have no business relationship with any company whose stock is mentioned in this article.