The oil & gas industry was one of the leading feeders of the deal rumor mill during the first half of the year, based on an Alacra Deal Pulse analysis of traditional and alternative news sources. There were 32 deal rumors during the period. How much of that was due to BP (NYSE:BP)?
The fallout from the Gulf oil spill did spur a surge in rumors involving BP. Prior to the disaster, there was only one deal rumor concerning BP since the start of the year, and that was an acquisition by the then-expansionary company. Since the spill there have been at least 9 deal rumors ranging from sales of assets in places such as Alaska and Colombia, to a full or partial takeover of the company by the likes of BHP Billiton (NYSE:BHP) or Royal Dutch Shell (NYSE:RDS.A). Other rumors involved the government of Pakistan and BP's Russian partner TNK.
One rumor that turned to fact was BP's sale of $7 billion of oil fields in Canada, Texas and Egypt to Apache Corporation (NYSE:APA). Interestingly, the only BP-related deal rumor in the first quarter was the company's acquisition of $7 billion of deepwater assets from Devon Energy (NYSE:DVN) in March.
Given BP's need to pay multi-billion oil spill costs and its avowed commitment to get smaller, look for more BP deal rumors -and actual deals- in the second half of the year.
Below is Alacra Pulse's breakdown of deal rumors during the first half of the year, by region and by sector. Click image to enlarge.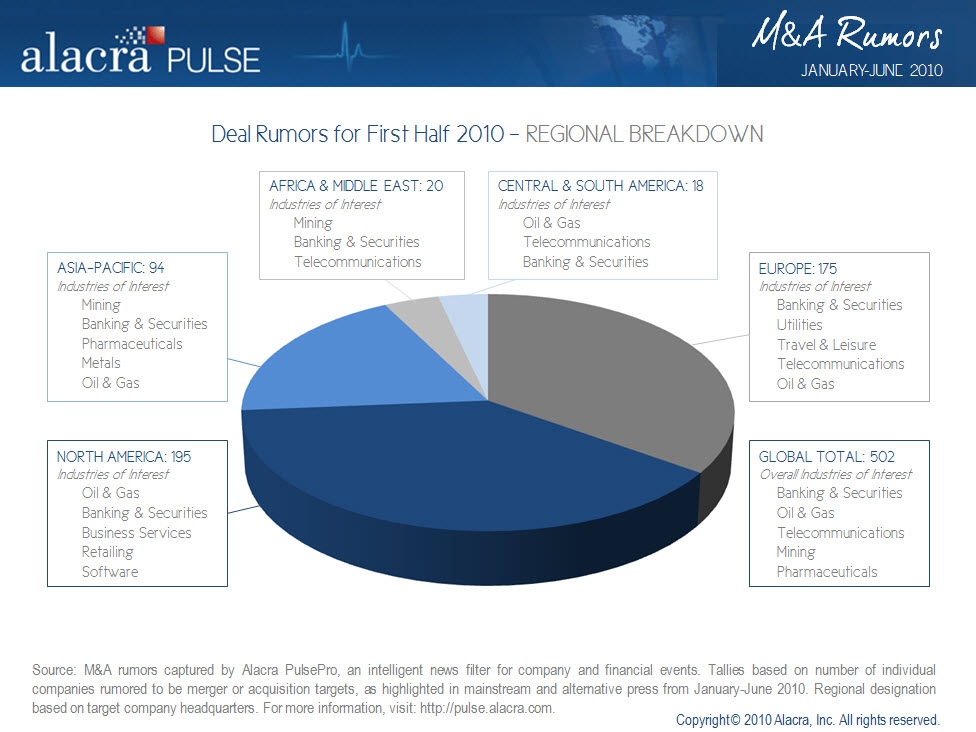 Likewise the aftershocks of the financial meltdown have resulted in continuing rumors and deals in the banking sector. Big global banks such as Citigroup (NYSE:C) and Royal Bank of Scotland Group (NYSE:RBS) have been busy divesting assets, often at the demand of regulators, while other big banks like Banco Santander (NYSE:SAN) are looking to get bigger by picking up some of those assets. Much of the activity has involved smaller regional banks changing hands. This process is far from over so more deals are guaranteed.
Coupled with the likelihood of big US banks looking to spin off some trading activities as a result of the financial reform act, and we're likely to see some significant changes in the rankings of the world biggest banks in the next year or so.