Penn West (NYSE:PWE) reports its Q1 results May 1, 2014. The company will very likely report substantially lower production and cash flows than in 2013, a result of dispositions of non-core properties and the loss of the related production. Investors should not react to the headline number of lower revenues or cash flows. The key to Penn West's turnaround is not the headline numbers, but the quality of the numbers as management refocuses the company to a sustainable growth model.
Calling the quarter is a challenge with the changes that are taking place in the company, but it is by no means impossible to get ballpark estimates from the very good disclosure that Penn West has made recently. In parallel, the industry has a few tailwinds in relation to prior year that Penn West should benefit from, muted somewhat by Penn West's hedging program.
Those tailwinds include a lower Canadian dollar; a narrower differential between Alberta oil prices and West Texas Intermediate; and, higher natural gas prices.
My estimate for Q1 results reflects those tailwinds with some fairly gross adjustments for disposed properties that will no doubt prove wrong but hopefully are not beyond reason.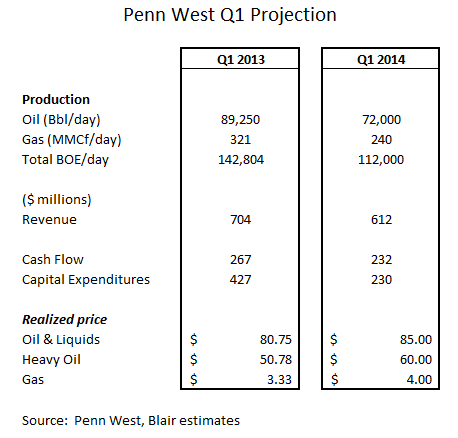 If the quarter unfolds as I see it might, Penn West will have reached the point where capital expenditures are within its cash flows, but not quite the point where both capital expenditures and dividends are sustainable. With proceeds of dispositions of $650 million in the past 2 quarters more or less, Penn West should have been able to reduce its debt leverage somewhat.
The particularly cold and somewhat longer winter than usual may have allowed Penn West to stay on-site for its drilling program longer than usual, and I would not be surprised if the company accomplished more than its quarterly budgeted capital outlays as a result. If it has, it should not be alarming to investors, since it might result in capital savings for the year as a whole, although the quarterly report will look a bit more negative with cash flows before dividend payments remaining below capital outlays. Penn West's plan includes concentrating drilling on high-return plays in its vast land holdings where internal rates of return in excess of 30% are typical.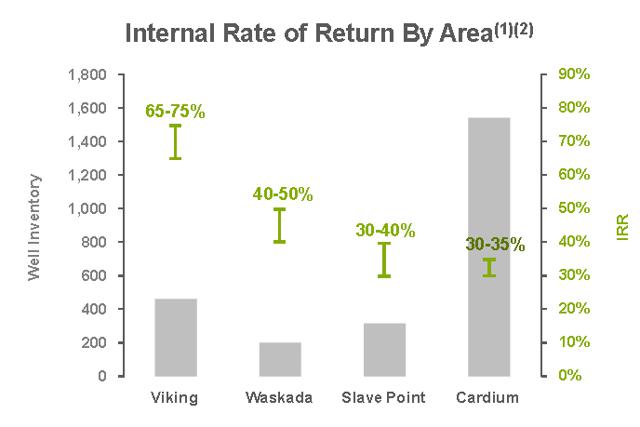 Source: Penn West corporate presentation
That discipline should pay off over time. Penn West holds interests in millions of acres in areas that are highly prospective for oil and gas. With such an enormous spread, it would be both easy and a mistake for management to try to develop too many areas at once, with negative effects on the cost of service equipment and drill rigs. By keeping a tight focus in concentrated areas, management can most effectively use capital, and Penn West's drilling costs are already showing a declining trend as a result.
The next few quarters will tell the tale. There should be a slow decline in production as dispositions repair the balance sheet with gains from the drill, but insufficient to offset the sold production. The capital efficiencies should improve, and that is the key for the future of the company. With tight control over costs; focused drilling on highly prospective acreage; and, reasonably strong commodity prices in a favorable exchange rate environment, Penn West should begin to emerge as a sustained growth story by the end of the year.
I am long the name.
Disclosure: I am long PWE. I wrote this article myself, and it expresses my own opinions. I am not receiving compensation for it (other than from Seeking Alpha). I have no business relationship with any company whose stock is mentioned in this article.