About VMEM
Violin Memory (NYSE:VMEM) develops enterprise memory-based storage systems designed to optimize and accelerate application performance. Its Flash Memory Arrays address the inefficiencies and limitations of traditional hard-disk drive arrays. The newly developing flash array market is expected to grow at a 58.5% CAGR to become a $1.2 billion market by 2015 according to International Data Corporation. While the young industry is marked by fierce competition and slim profit margins, VMEM, with its recent business deal with Microsoft, as well as its position in a market poised for serious growth, is undoubtedly undervalued.
Deal With Microsoft
On Tuesday, VMEM announced the first all-flash storage array with Microsoft Windows Server 2012 R2. VMEM's all-flash storage array with the Windows Server is, "a huge differentiator for Violin Memory," said Jamie Shepard, a senior VP at Lumenate, a Dallas-based health systems solution provider partnered with VMEM. The Windows Flash Array made possible by VMEM increases SQL read performance by more than 50% and decreases application server CPU utilization by 30%.
Financial Implications of Microsoft Collaboration/DCF Analysis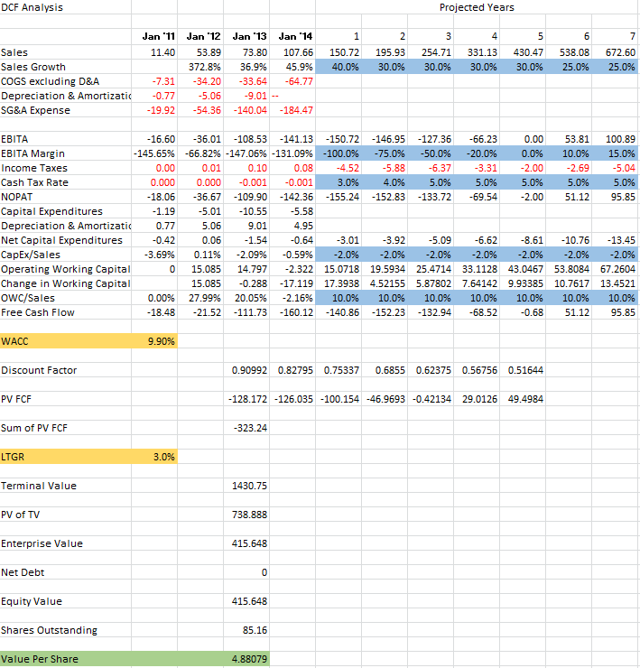 I constructed a Discounted Cash Flow Valuation Model to calculate VMEM's stock price. To make such a model, I had to formulate assumptions based on my future outlook of the company. Starting from the top, I projected VMEM's revenue growth to expand at a rate somewhere between 25% and 40%. Considering the high growth rate of the industry, as well as VMEM's historically high growth rates, these projections seemed fairly reasonable. As of right now, VMEM is unprofitable. As indicated by its NOPAT (net operating profit after tax), the company continues to lose money. I decided to grow the company's EBITA Margin from -100% in its first projected year, to 15% in the 7th year out. Last year the company's EBITA margin was a dismal -131%, however, as VMEM matures, its operating costs should stabilize, allowing the company to become profitable. Some other notables include the company's high WACC (weighted average cost of capital) as well as its net debt. VMEM has no outstanding long-term debt. While unlike many young growth companies, VMEM has no worries about becoming over-leveraged, however, it does in fact have a higher WACC, as all its capital is equity. Projecting out free cash flows and discounting them back to present value terms, I have calculated a share price of $4.88, or an upside of about 20%.
VMEM's Performance Vs. Nasdaq Composite
VMEM (white) has seriously underperformed the Nasdaq (green) over the past six months. Missed earnings reports, firing of CEO Donald Basile, and a general market pullback have contributed to VMEM's poor performance.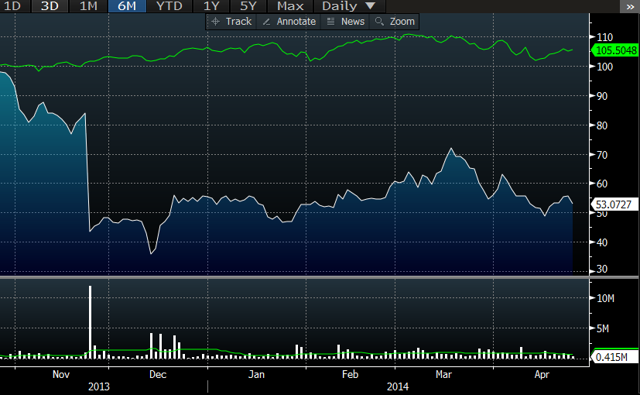 Relative Valuation
On a comparable scale, VMEM looks good. VMEM's P/B and P/S ratios are well below the Average. Especially striking is VMEM's projected 1-year EPS growth at 71.43%.

Going Long VMEM
VMEM is undeniably a speculative play. The stock is held as a high growth play. The major shareholders consist of hedge funds including Harvest Capital Strategies, Teconic Capital Advisors, and Soros Fund Management. That being said, the industry has large potential upside as businesses and consumers transition to flash-based storage solutions. If VMEM can in fact achieve economies of scale and generate positive cash flows by lowering high operating costs, as predicted by my DCF model, its shareholders should see massive future growth.
Disclosure: I have no positions in any stocks mentioned, but may initiate a long position in VMEM over the next 72 hours. I wrote this article myself, and it expresses my own opinions. I am not receiving compensation for it (other than from Seeking Alpha). I have no business relationship with any company whose stock is mentioned in this article.