When the pilots at JetBlue Airways Corp. (NASDAQ:JBLU), the fifth-largest US Carrier, decided to join the Air Line Pilots Association (ALPA), it put an end to the company's status as the last of the non-unionized big US airlines.
This move caused a failure of the stock to continue to gain elevation.
Collective Bargaining To Inflict Higher Costs
When the dust settles, the collective bargaining will inflict higher costs as the New York-based carrier renegotiates pay rates and asks for new work rules for all pilots. In an industry known for its lack of harmony, JetBlue, established in 2000, had a sterling reputation as a model of labor relations management.
JetBlue flies over 30 million passengers a year. It has about 825 daily flights to 85 US cities, as well as the Caribbean and Latin America. It was the first US carrier to permit passengers to use their laptops, tablets, and smartphones while traveling on domestic flights. Passengers have all their seats assigned, and all trips are one-way flights. The first luggage is free within certain size and weight restrictions.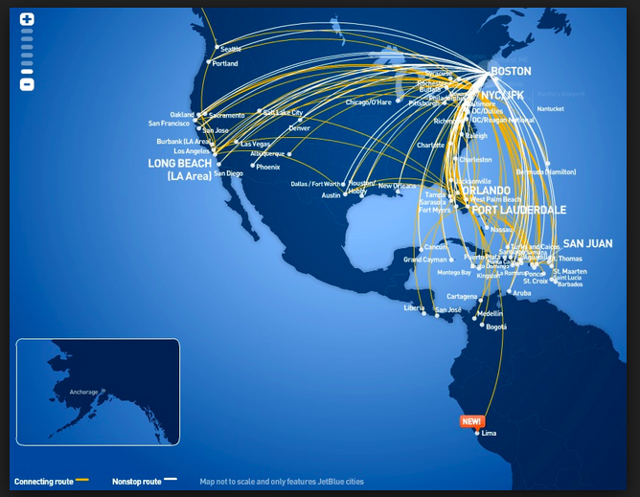 (worldairlinenews.com/tag/jetblue/)
The Long Road to Unionization
The Wall Street Journal reported that in 2009 and 2011, unionization attempts had failed after pilots had rejected it. However, this time, according to ALPA, over 70% of eligible pilots voted to join the union. Now the National Mediation Board needs to approve the group to represent the pilots' interests. JetBlue management and ALPA representatives will create committees to create a contract.
Cultural Changes
The change will undoubtedly have an impact on JetBlue's culture, as both managers and pilots will have to adapt to the union, although it may take as long three years to reach a mutually agreeable contract.
Although American Airlines Group Inc., Delta Air Lines Inc., and United Continental Holdings Inc. are all five times bigger by traffic compared to JetBlue, both union pilots and mechanics will seek the same level of pay.
For JBLU Investors In 2014
The news had an adverse effect on the stock, which dropped 1.9% to $8.59 at closing. Prior to the news, before ALPA mentioned the balloting, the stock was as high as 2.1% (see chart below).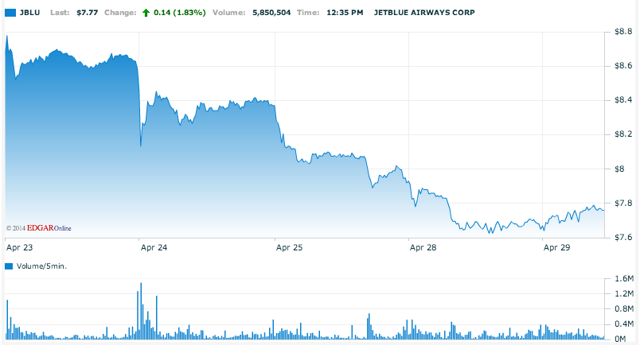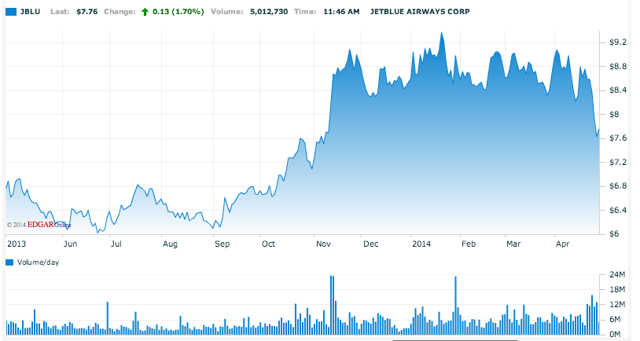 (Nasdaq.com)
While overall JBLU stock has been strong in 2014 (see chart above), likely supported by strong customer satisfaction ratings, a second piece of negative news hit on Monday, April 28th, that COO Rob Maruster will be leaving the company. No reason was given for the departure, and President Robin Hayes, 48, will take over the duties.
JetBlue, once a niche carrier, now appears to be getting hit with industry-wide problems.
We recommend investors sell some of their JBLU positions, and they should remain wary in Q2.
We invite readers wishing to read and join the discussion about JetBlue to click the +FOLLOW button above the title of this article.
Disclosure: I have no positions in any stocks mentioned, and no plans to initiate any positions within the next 72 hours. I wrote this article myself, and it expresses my own opinions. I am not receiving compensation for it (other than from Seeking Alpha). I have no business relationship with any company whose stock is mentioned in this article.