Recently Citi Equity Research released an updated list of global bond refugee stocks. Stocks with higher dividends ands lower volatility as an alternative to bond investments. Among companies making the cut is AT&T (NYSE:T) with a current dividend yield of 5.3%. Below we continue our review of T in Part IX of this series. Bond Refugee Recommend Actions:
Overall Bond Refugee Rating: Buy
Valuation: Highly Attractive
Dividend Stability: Stable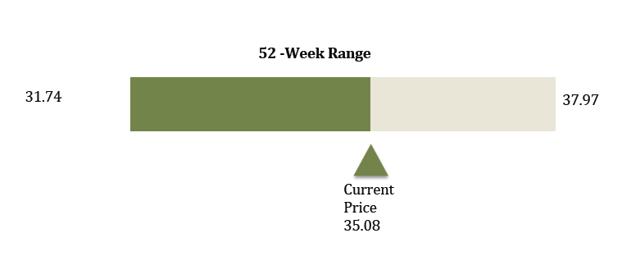 Click to enlarge
Background
T provides telecommunications services to both consumers and businesses. T telecommunications services include voice, data, wireless, cable and related equipment and services business lines.
T's traditional voice market has been in notable decline as consumers opt for wireless and data alternatives to wired and long distance products. T has shown recent strength in new products including mobile data, U-verse, and business services.
Mobile data comprises $23 Billion of T's $129 Billion of revenue and is up 17% year over year. T's U-Verse platform generated $13 Billion in revenue and grow 28% year over year. Finally, business services are now $9 Billion in revenue and growing at 17%. Combine these three growth platforms comprise 36% of T's annual revenue.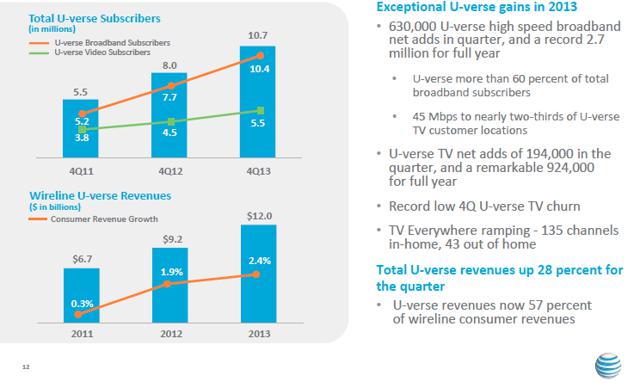 Click to enlarge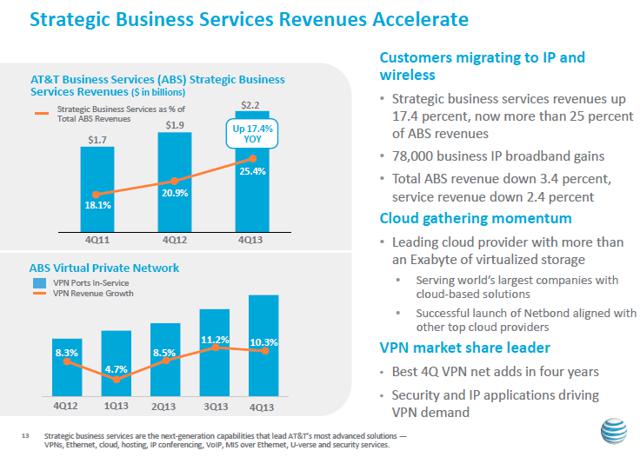 Click to enlarge
Valuation
T has a $184.1 billion market capitalization and enterprise value of $255.4 billion. T trades at a substantial discount to the S&P 500 and telecommunications sector on both a trailing and forward earnings basis. (see table below) T's EV/EBITDA ratio of 5.4 is highly compelling compared to other mega capitalization stocks.
Analysts estimate T's five-year earnings growth rate at 5.9% annually compared to 11.8% and 7.1% for the S&P 500 and telecommunications sector respectively.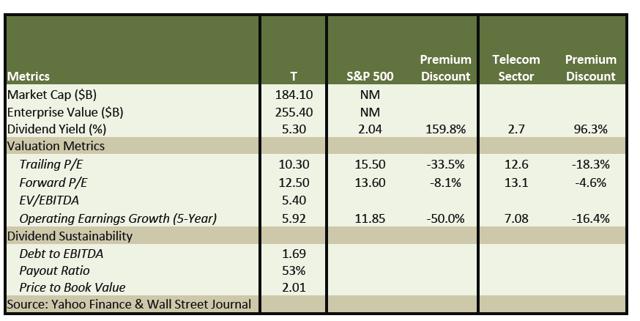 Click to enlarge
We rate T a buy based on bond refugee criteria that stresses relative value and stability of income.
T trades at a substantial discount to both the S&P 500 and telecommunications sector.
T has several growth drivers potentially undervalued by investors viewing it as a mature business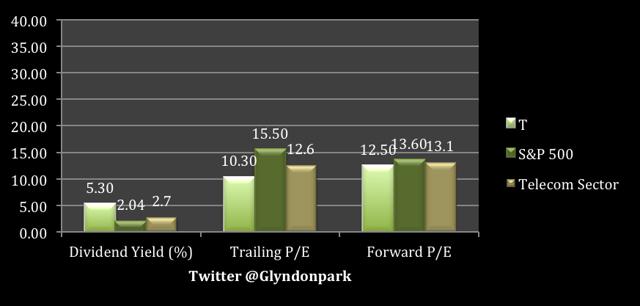 Click to enlarge
Dividend Stability
T has a long track record of dividend payments and increases. While T has a substantial debt load at nearly $80 billion, annual EBITDA of $47.2 billion provides substantial cash flow to service both dividends and debt load. T's payout ratio was 53% of trailing earnings and provides ample margin for continued dividends and increases. Overall we rate T's dividend as stable based on:
History and management commitment to maintain and increase dividends
Significant annual EBITDA relative to debt and dividend requirements
Conservative payout ratio for income stock.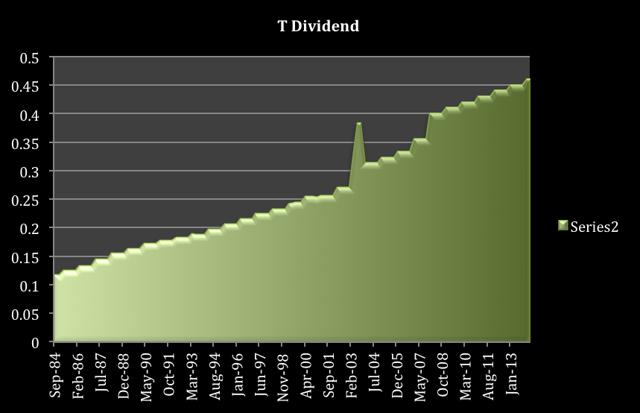 Click to enlarge
Sources:
AT&T Company Presentation
Yahoo Finance
Wall Street Journal
Standard and Poors
Disclosure: I am long T. I wrote this article myself, and it expresses my own opinions. I am not receiving compensation for it (other than from Seeking Alpha). I have no business relationship with any company whose stock is mentioned in this article.