When it comes to chip giant Intel (NASDAQ:INTC), investors have been a bit disappointed in recent years since the dividend has not been raised since 2012. The company has faced declining revenues in recent years, with earnings plunging a bit. As the company continues to pile more than $10 billion into capex a year to stay competitive in the PC and mobile chip space, the dividend and buyback have suffered a bit. I promised investors another discussion on the dividend once we got the 10-Q filing, and that filing is now out. Today, I'll review the prospects for a dividend raise for Intel in 2014.
A recap of the recent situation:
Intel has not raised its dividend in more than a year. The bull camp was hoping that Intel would raise the dividend in January 2014, to get back on a calendar year raise cycle, meaning the dividend would be raised each January. However, this did not happen. Intel's next dividend declaration did not include a raise either. The following image shows what Intel's dividend history page looks like over on the NASDAQ site.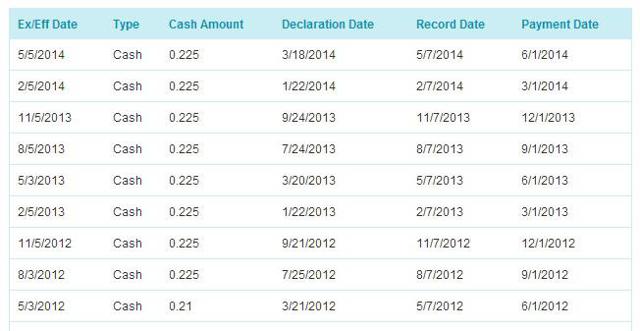 The last dividend raise was for the third payment of 2012, when Intel went from $0.21 per share a quarter to $0.225 a quarter. The third payment of 2014 will be the next dividend declared, and this dividend is usually declared in late July. Investors will be certainly watching for a raise then. About two months ago, I detailed what needed to be done for a raise this year.
Intel has been a bit above its 40% of free cash flow dividend payout target in the past three years. In 2013, the company paid 44.5% of free cash flow in dividends. For Intel just to get back to that 40% payout level, the company needed to raise free cash flow by more than a billion dollars in 2014. Considering how a number of one-time balance sheet items went in Intel's favor in 2013, that billion did not seem very likely. This argument also assumes that the share count stays level, which is something I'll get to in a bit. The key here is that Intel has been running ahead of its target in recent years. Based on this information, I summarized back in March that the dividend would not be raised unless Intel clearly wanted to be ahead of its target again, or decided to raise the target. Let's now look at the updated financial information since the 10-Q is out.
Outstanding shares and the buyback:
Intel investors aren't just disappointed when it comes to the dividend. The company's buyback plan has also slowed down tremendously in recent quarters. As you can see from the chart below, Intel was buying back a sizable chunk of stock in late 2010 and through 2011. In fact, you may remember how Intel took out some debt to fund its share repurchase plan.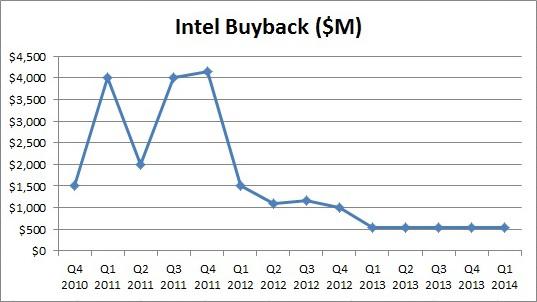 However, with net income falling, Intel started to slow down the buyback in 2012, and that process continued in 2013. According to the cash flow statement in the 2013 10-K filing, Intel spent $2.44 billion to repurchase shares in 2013. That was down from $5.11 billion in 2012 and $14.34 billion in 2011. In Q1 of 2014, Intel's cash flow statement shows $572 million for share repurchases, up very slightly from the $559 million spent in the prior-year period.
Slowing down the buyback impacts many items, including earnings per share. I've detailed how for its 2013 quarterly reports, Intel missed analyst EPS estimates by a penny in three of the four quarters. More share repurchases could have eliminated one or all of those misses. The good news is that with Intel's share count coming down in recent years, EPS did not fall as much as they could have. However, the buyback slowdown currently means that Intel's outstanding share count (and diluted count used for EPS) is starting to rise again. You can see the outstanding share count over the past two years in the chart below.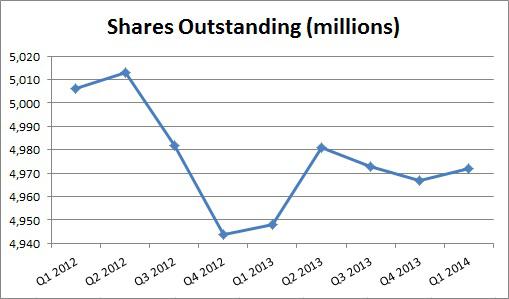 At the end of Q1 2014, Intel's outstanding share count was 4.972 billion, up from 4.948 billion a year earlier. This is important for the dividend, because at the same dividend payment ($0.225 per quarter), Intel is now paying out more in total dollars. According to Intel, the company paid out $1.119 billion in dividends in Q1 2014, up from $1.114 billion in the prior-year period. That increase is small, yes, but it will add up a little over a full year, assuming that the share count continues to rise. This goes back to the payout ratio argument. If you assume Intel's free cash flow stays the same (for this argument), Intel will have a higher payout ratio this year than last just because the company is paying more in total dividends. However, individual shareholders are receiving the same amount, unless they have bought more shares.
Looking at the balance sheet:
For a company to buy back stock and pay dividends, it usually must have a strong balance sheet. Intel has a decent balance sheet, and the company is not in any financial trouble. In my recent earnings article, I provided the following table to show some key balance sheet numbers/ratios at the end of Q1 2014, compared to Q1 2013 and the end of 2013. Dollar values are in millions.

Intel investors may think that over $19 billion in cash means the company can easily raise the dividend, and on the face of it, I might agree. However, there are a couple of large caveats. A large chunk of that cash is outside the US, and Intel has a fair amount of debt. In the table below, I've compared Intel's foreign cash amount against other top tech names, like Apple (NASDAQ:AAPL), Microsoft (NASDAQ:MSFT), Cisco Systems (NASDAQ:CSCO), and Google (NASDAQ:GOOG). All data comes from each names' most recent filing, which can be accessed on this site. I also detailed how much debt each name carries on its balance sheet.

*Apple's total includes cash and cash equivalents, short-term investments, and long-term investments. All other names detail their cash piles as cash and cash equivalents plus short-term investments.
**Rounded to nearest $0.1 billion.
***In the 10-Q linked above, Intel states that $11 billion is held in total by foreign subsidiaries. However, about $1.9 billion is available for use in the US without incurring additional taxes beyond those already accrued in the company's financial statements.
So why did I bring this up? Well, there are some key points here. First, only a little more than half of Intel's cash is available for use in the US, which is the only cash that can be used for dividends and buybacks. Foreign funds can't be used, which is why you are hearing about Apple launching another bond sale to raise funds. Cisco launched a bond sale a few months ago, and Microsoft took out a large chunk of debt back in December 2013.
In the end, Intel is not likely to repatriate funds unless the US tax law changes. This stance is in line with all of the other technology giants. Another key here is that Intel's total debt amount is currently higher than Intel's US cash pile. Intel may not want to raise the dividend or increase the buyback until it has some more cash, as the company may not want to increase its debt pile too much. About $4.5 billion of Intel's debt comes due in 2016 and 2017, but Intel should be able to refinance those funds if needed. Now that I've covered the balance sheet and outstanding share count, it's time to look at Intel's cash flow data.
Q1 2014 cash flow data:
For those that need a quick lesson on free cash flow, there are a couple of main parts, and these will form the basis of the table below. The first part of cash flow is net income, a number that many are familiar with. The next part is a bunch of adjustments, like how you add back depreciation which is a non-cash expense. Changes in assets like inventory and liabilities like accounts payable also require adjustments. When you add net income to these adjustments, you get cash generated (or provided) by operating activities. This is also known as cash from operations, or operating cash flow. To get free cash flow, you simply subtract a company's capital expenditures from cash from operations. Here's how these five numbers look going back to Q1 of last year. Dollar values again in millions.

If you go back to my situation recap above, I detailed how Intel needed an additional billion dollars or so in free cash flow this year to get the dividend payout back down to the 40% payout target. I showed in that previous article how Intel had a large number of adjustments in 2013. In 2013, these adjustments were more than $11.15 billion, after about $7.88 billion in 2012 and $8.02 billion in 2011. Obviously, there were some positive adjustments in 2013 that were higher than normal, and so a reversion to the mean was expected a bit in 2014.
Well, look what happened above in Q1 2014 compared to the prior-year period. Net income was down by $115 million, but the adjustments number took a big hit. Cash from operations dropped by nearly $800 million, and capital expenditures rose by more than $500 million. Free cash flow plunged by nearly $1.3 billion. 2014 is off to a bad start in terms of free cash flow. Now, we are expecting Intel's net income to improve a bit as the year progresses. Also, if the company's capital expenditure forecast of $11 billion for 2014 holds, the Q2 to Q4 capex number should be about $226 million less this year than in last year's Q2 to Q4 period. However, it is also possible that some of the adjustments may be less this year than in last year's periods, just like we saw in Q1. What does this all mean? Well, let me remind you of Intel's dividend payments and its target over the past three years.

So far, Intel has paid out about $5 million more in dividends this year, and free cash flow is down by about $1.3 billion. If we extrapolate that extra $5 million out for the year, we can add about $20 million in extra dividend payments this year. Let's assume that Intel's free cash flow declines by $1.3 billion this year, so we'll assume that Q2 to Q4 this year match last year's periods. Those may be hopeful assumptions based on the how those adjustments swing. With these assumptions, Intel's payout rate this year would be 51.32%, well above Intel's payout target of 40%.
Currently, the math does not look good for those hoping for a dividend raise, unless Intel wants to raise its payout rate target, or wants to payout a lot more than 40%. I've detailed in the past how an extra $1 billion or so in free cash flow was needed just to get down to 40%, and Intel's Q1 free cash flow was $1.3 billion less than last year's period. There's a lot of time left in 2014, but the math currently does not provide much hope without some sort of strategy change regarding the dividend.
Comparisons to other names:
Intel may continue to disappoint investors until the dividend is raised again, and that might not be in 2014 as I've shown above. However, it is important to note that in terms of large cap tech, Intel still maintains the highest annual dividend yield. The chart below shows Intel's yield against that of Apple, Microsoft, and Cisco, using Tuesday's closing prices.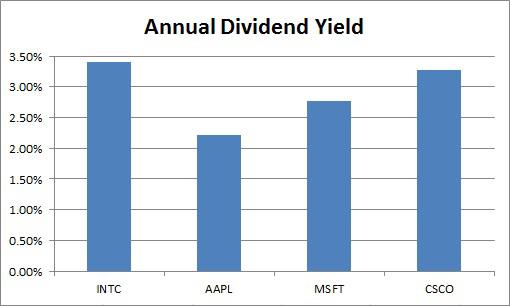 Intel has a 12 basis point lead over Cisco, and that is after Cisco raised its dividend by nearly 12% this year. Intel has a 118 basis point lead over Apple, and Apple just raised its dividend by about 8%. Microsoft is expected to raise its dividend later this year, and Intel leads Microsoft by 63 basis points currently. Apple, Microsoft, and Cisco all raised their dividends in 2013, and yet they still trail Intel in terms of yield. That is something that Intel investors should think about.
Final thoughts:
With Intel's 10-Q filing out, we can examine the company's financial picture in more detail. The buyback has slowed down, meaning the company's outstanding share count is starting to rise again. The chip giant saw its Q1 free cash flow plunge when compared to the prior-year period. For those looking for a dividend raise this year, the free cash flow numbers are very scary. Intel was already well above its 40% target in 2013, and the current math shows Intel blowing past that target even more this year. In the end, Intel investors should not expect a raise this year unless the company raises its target or decides it is fine with being well ahead of said target. However, investors should see one positive light, because Intel still has the highest annual dividend yield in large cap US tech.
Disclosure: I have no positions in any stocks mentioned, and no plans to initiate any positions within the next 72 hours. I wrote this article myself, and it expresses my own opinions. I am not receiving compensation for it (other than from Seeking Alpha). I have no business relationship with any company whose stock is mentioned in this article.
Additional disclosure: Investors are always reminded that before making any investment, you should do your own proper due diligence on any name directly or indirectly mentioned in this article. Investors should also consider seeking advice from a broker or financial adviser before making any investment decisions. Any material in this article should be considered general information, and not relied on as a formal investment recommendation.