I made a buy-in on Sirius XM (NASDAQ:SIRI) when it touched the $3 price level. I promised to do this in my previous article. I did some explaining to Mr. Faulkner why I like the $3 buy-in price and why I believed it will happen. It took some time for the bears to give me my entry point but patience is always a virtue.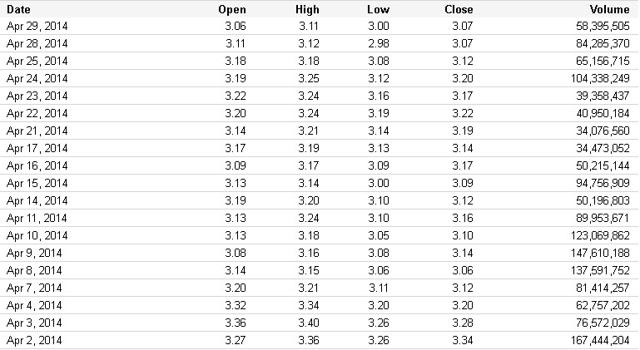 Source: Google Finance
The post-earnings sell off for the last few days is attributed to the sequential quarterly decline in sales. Some investors also might have gotten nervous about the possibility of Sirius having to increase its debt to fund its 2014 buyback program. Whatever the reasons are for the recent bearish mood over SIRI, I'm grateful for the buy-in window.
More People Are Still Subscribing, Music Without Ads Is Still Preferred
Sirius XM's earnings report was very much to my liking. Despite the multitude of competing streaming services and the price increase in monthly fee, the company still increased its subscriber count. Pandora (NYSE:P), Apple (NASDAQ:AAPL), Spotify, and others failed to prevent Sirius from adding 266,799 more subscribers in the first quarter.
For Q1 2014, SIRI set a new record paid subscriber count of 25.8 million (+6% YoY). Self-paying customers increased by 173,480 which means self-paying client count also increased to a record high of 21.3 million (+7% YoY). These numbers convinced me that Sirius XM is not a dinosaur in the age of free streaming music. The business model of SIRI is still much better than Pandora's.
The stock market also agrees that SIRI is of higher quality than Pandora. NASDAQ has penalized former market-darling Pandora this month. Despite P beating street estimates last April 24, Pandora lost more than 23% of its former glory. The new negative market outlook of Pandora is a strong clue to what may happen when Spotify makes it IPO later this year.

Don't Bet On A Tired Overhyped Horse, Don't Catch A Falling Knife
Ad-sponsored radio streaming will have a hard time matching the consistency of SIRI's pay-radio business model. Sirius XM expects a total net addition of 1.25 million of new subscribers and $4 billion or more in sales for FY 2014. The recent downturn of SIRI does not mean it is a falling knife. It's a window to make a cheap bet.
It is Pandora that is looking more and more like a falling knife that should be avoided by all Seeking Alpha users. Pandora's glorious run might soon be over and that momentum horse is tiring. SIRI's old dependable stallion may actually outrun Pandora this year.

Source: Google Finance
Music Recovery, Equipment, and Ad Revenue Went Up
While Sirius is still largely dependent from the monthly subscription fees, the company's gradually improving its other revenue streams. Equipment and advertising sales also delivered notable YoY growth. See the chart below.
Equipment revenue also delivered 32% YoY growth, and advertising sales increased by 9.91%.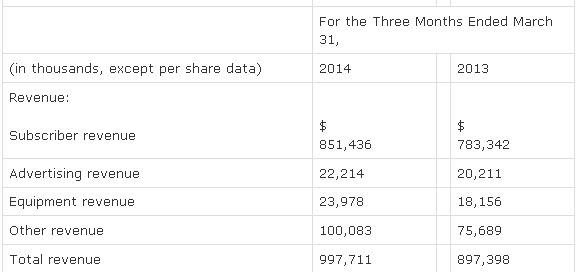 Source: Seeking Alpha
Compared to the previous quarter, the other revenue also did a QoQ 4.21%. Telematics is also another big tailwind. The more cars that get installed with Sirius equipment, the better for the company's advertising program too.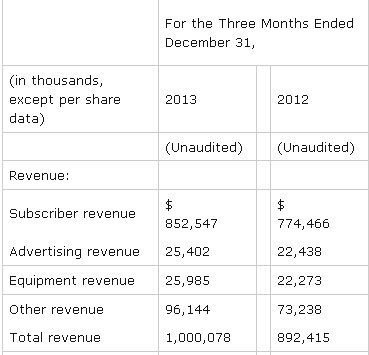 Conclusion
SIRI's huge and still growing pool of monthly paying customers makes it an excellent ticker to gamble on. I'm reiterating my belief that Sirius XM deserves the $4 price target from Barclays. My favorite evaluation tool, Alpha Omega Mathematica only rates SIRI as a hold.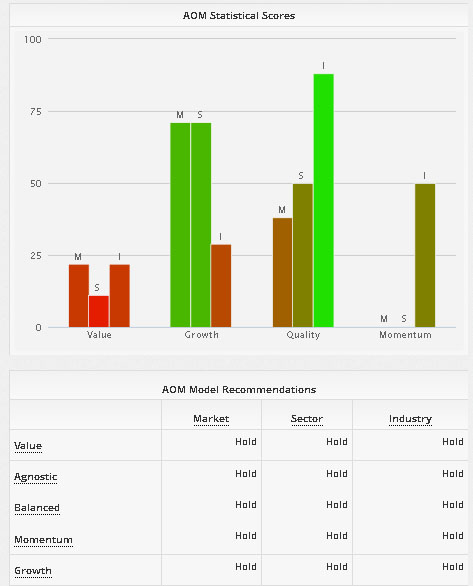 Source: getaom.com
However, at current depressed price levels, SIRI is a BUY. Those who like FCF as valuation metric, the company have substantially improved its free cash flow by 56% YoY, $223 million from $142 million of Q1 2013. The Finviz chart gives SIRI an average PT of $4.37. Forward P/E is 23.26. The SMA20, SMA50, and SMA200 are all in the red so yes, I believe SIRI has more room to fall for the near term.I will most likely increase my position if SIRI continues to go south of $3.00.

I take comfort that Sirius XM is gradually improving its non-subscription revenue streams. Telematics is a strong tailwind for the company. The projected 16.4 million car sales in the U.S. benefits SIRI. Around 70% of new cars are being installed with Sirius XM satellite radios.
Disclosure: I am long AAPL, SIRI. I wrote this article myself, and it expresses my own opinions. I am not receiving compensation for it (other than from Seeking Alpha). I have no business relationship with any company whose stock is mentioned in this article.