Twitter (NYSE:TWTR) reported 1Q14 result that disappointed in all the key metrics and the management gave an in-line Q2 and 2014 guidance.
As I have stated in my preview piece (See Twitter 1Q14 preview: Sell ahead of results), competition is heating up in the social media space and that the company's content/platform enhancement strategy is unlikely drive a quick turnaround in engagement. Q1 result once again showed decelerating user growth and engagement profile. Despite a 9% drop after-hours, valuation is still a stretch. I reiterate my bearish view on the stock.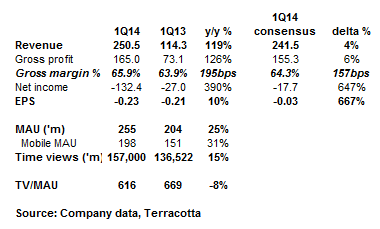 Twitter reported 1Q14 results in which revenue came in at $251m, (+119% y/y) and beat consensus by 4%. Gross profit of $165m (+126% y/y) also beat consensus by 6%, with gross margin improving 195bps y/y to 65.9%, compared with the consensus estimate of 64.3%.
Despite solid top line and margins, Twitter failed to excite in the relevant key metrics. While both MAU increased 25% y/y to 255m and Time Views increased 15% to 157b, both metrics continue to see sharp decelerating growth profile.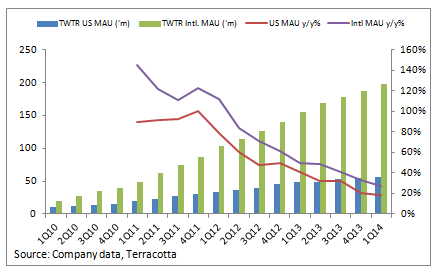 Moreover, engagement level, measured by TV/MAU, continued its downward trajectory of an 8% y/y decline to 616TV/MAU/month.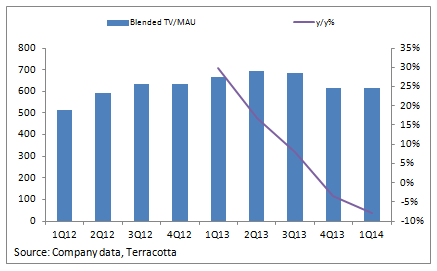 While the company highlights that top-line metric of advertising dollar per thousand time view has increased 96% y/y to $1.44, I want to reiterate my message to investors that the key metrics for emerging social media platform is not about top-line growth but user engagement. If a social media platform can retain or even expand engagement, advertising dollar will likely follow since advertisers usually allocate the resources to the most engaged platform. Even with a robust top-line sales growth now, Twitter's revenue growth profile is unsustainable, in my view, and we could see sharp deceleration in top-line growth in the coming quarters as engagement metric further deteriorates.
The discrepancy between solid revenue and weak operating metrics can only be explained by increasing competitive pressure, in particular those from the messaging apps (ie. WhatsApp, WeChat and LINE), in that messaging apps allow the users to have greater interaction with close ones on a consistent basis. This weak set of results also bring investors critical read-through on the upcoming results from Weibo (NASDAQ:WB). As I mentioned before, social media platform is facing increased competition from messaging apps and seeing declining user engagement as a result. If Weibo's results come in disappointing, we could conclude that competitive pressure is a sector-wide issue.
Twitter's valuation continues to remain stretched despite down 9% after hours following the result. It is currently trading at 190x FY15E PER and 12x FY15E P/S compared with social media comp average of 73x PER and 8x P/S. I remain bearish on the stock unless I see visible (and sustainable) rebound in engagement, but I would like to note that such turnaround may not materialize by the end of this year.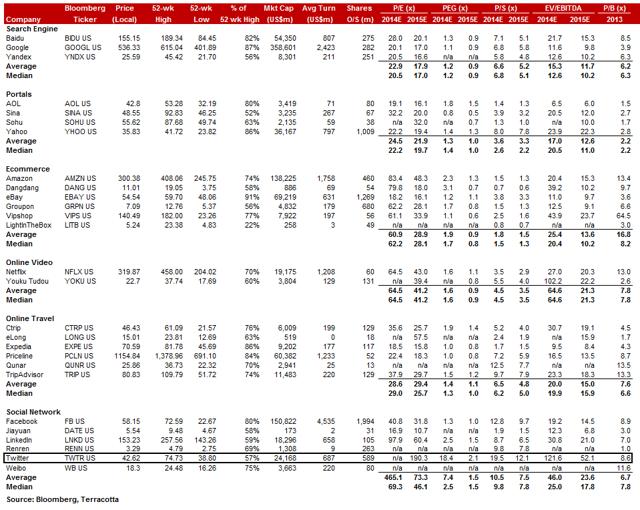 Disclosure: I have no positions in any stocks mentioned, and no plans to initiate any positions within the next 72 hours. I wrote this article myself, and it expresses my own opinions. I am not receiving compensation for it (other than from Seeking Alpha). I have no business relationship with any company whose stock is mentioned in this article.