El Paso Pipeline Partners (NYSE:EPB) has always been the red headed stepchild of the Kinder Morgan group. While it does offer a better yield than Kinder Morgan Energy Partners (NYSE:KMP) (8% vs 7.30%), its paltry 2% estimated distribution growth rate for 2014 has turned off many investors. That being said, El Paso should experience a boost to DCF short term from Kinder Morgan Inc (NYSE:KMI) recent asset dropdown.
El Paso buys natural gas pipeline assets from Kinder Morgan
On April 28, El Paso announced that it was buying various natural gas pipelines assets from its GP Kinder Morgan for around $2.0 billion. While this is technically a "sale", this type of transaction in the MLP industry is referred to as a dropdown. Upon closing, this transaction is anticipated to be immediately accretive to El Paso's DCF per unit. Below is a breakdown of the assets being sold/transferred to El Paso:
El Paso plans to fund this transaction via a mix of both debt and equity. Besides assuming the $1.012 billion of proportionate debt related to these assets, the company will also be issuing $97.2 million to Kinder Morgan in common units. At current prices, this would equate to roughly 3 million units. The remainder (about $890 million) will be funded via El Paso's credit facility. However, a equity and or debt offering seems likely short to medium term.
How will El Paso benefit from the dropdown?
As noted by Richard Kinder, these assets will generate substantial, stable cash flow to El Paso for many years to come. In addition, as noted in the 2014 outlook, these assets increased DCF should offset expected decreases related to unfavorable rate case settlements on the Southern Natural Gas ("SNG") and Wyoming Interstate Company ("WIC") pipelines.
Furthermore, Kinder Morgan is selling these assets at a very attractive multiple of only 9.0x 2013 EBITDA. Typically, midstream assets fetch much higher valuations, up to the mid-teens.
The company plans to use mostly debt to fund the transaction, issuing only a token amount of equity to Kinder Morgan. El Paso does have a rather a debt to EBITDA ratio of 3.70x. However, its unit price is simply too low right now (and cost of capital too high) to be used as a currency for the purchase. That being said, if El Paso's unit price were to approach $40 again, a unit offering would be all but certain to occur.
What does this sale mean for KMI?
Given that it owns over 40% of the common equity (90 million units) and 100% of the GP interest, Kinder Morgan will see a benefit from the move. Increased distributions from El Paso will trickle to Kinder Morgan as it is entitled to 50% of incremental increase via its IDRs.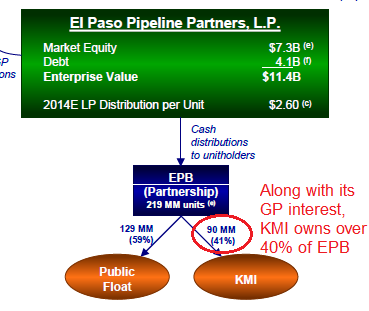 Furthermore, selling the assets will allow the company to reduce its debt and thus leverage. Currently, these legacy midstream assets are mostly cash flow neutral for Kinder Morgan, with interest expenses more or less equaling cash generation. That being said, having the assets in El Paso's MLP structure will by default increase their cash generation.
Conclusion
Make no mistake, if this transaction were have not to happen, El Paso may have been facing a nasty drop in DCF later on this year. Even with the dropdown, El Paso will still only be able to boost its distribution 2% in 2014, compared to 5% for KMP and 8% for KMI.
For Kinder Morgan, selling these assets to El Paso shores up the weakest link in the Kinder Morgan group. While the company is probably selling the assets at too low a multiple, as the GP, Kinder Morgan needs to make sure the transaction is accretive for El Paso unitholders.
Disclaimer: The opinions in this article are for informational purposes only and should not be construed as a recommendation to buy or sell the stocks mentioned. Please do your own due diligence before making any investment decision.
Disclosure: I am long KMI. I wrote this article myself, and it expresses my own opinions. I am not receiving compensation for it (other than from Seeking Alpha). I have no business relationship with any company whose stock is mentioned in this article.