By Dan France
They say timing is everything and China New Borun Corp (NYSE:BORN) probably couldn't have had worse timing for its recent IPO. The offering was completed during a period of market volatility and an environment in which planned IPOs were being postponed or withdrawn altogether. As of June half of the IPOs completed YTD were priced below expectations and BORN was no exception. BORN was initially expected to price in the $12-$14 range during the week of June 7. By mid-week the scaled down price range was $8-$9 and it finally priced on June 11 at $7. The shares sold off following the offering before recently stabilizing and finding support at around $5.
So what gives here? Was the $7 offering price the product of bad timing in the IPO market or did the market know something the underwriters did not? What accounts for the original price range of $12-$14 and even the scaled down price range of $8-$9 days before the offering? Were the investment bankers pricing the deal drinking too much "baijiu" or were they focused on solid fundamentals and a bright future for BORN? I believe the bankers knew what they were doing when they initially priced BORN and recent market volatility and indifference has created an outstanding investment opportunity.
BORN's Business
BORN is a leading producer and distributor of corn-based edible alcohol in China. Edible alcohol products are primarily sold as an ingredient to producers of "baijiu", a grain-based alcoholic beverage with alcohol content ranging from 18% to 68%. Consumption of baijiu in China is generally associated with a higher standard of living and consumption has grown in line with China's economy.
Edible alcohol in China is typically classified into Grades A, B and C depending on taste, ethanol content and impurities. The higher the grade the higher the price and margins the product commands. BORN's strategy is to focus on Grade B product.
The Company has a competitive advantage based on the way it produces edible alcohol. BORN has developed a proprietary Borun Wet Process that has a higher production yield, is environmentally friendlier, more energy efficient and uses less water than the dry milling process used by competitors. The wet process also enables them to produce corn germ as a by-product and additional revenue stream not available to producers using the dry milling method. Corn germ accounted for over 10% of total revenues in QIV 2009 and QI 2010. An application for patent protection for the Borun Wet Process has been accepted by The State Intellectual Property Office of the PRC and is currently under review.
By-Products Key Contributors to Revenues and Margins
By-products including DDGS feed and corn germ produced during production of edible alcohol accounted for approximately 30% of total revenues in 2009 and Q I 2010. By-products revenues as a % of total revenues increased from around 23% in 2007 and to over 31% in 2009.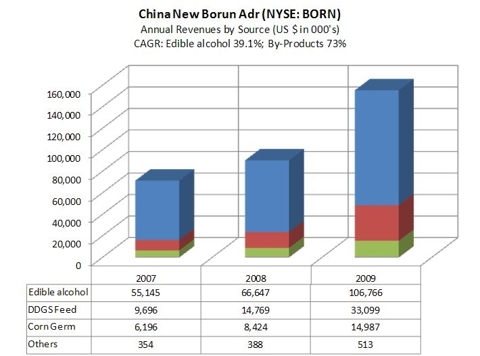 By-products will likely garner an even greater share of revenues in the future. Facilities are currently being constructed to manufacture liquid carbon dioxide ("LCO2") from waste carbon dioxide emitted during the Borun Wet Process. The first such facility was scheduled to begin producing LCO2 in May 2010. LCO2 is sold to the oil exploration and the carbonated beverage industries. BORN has presold anticipated production but the likely volume, pricing and impact on revenues and margins is unknown. LCO2 is in demand so the contribution from this new revenue stream should be significant.
Production Capacity to Increase by 46% in December 2010
The Company currently owns and operates two facilities with production capacity of 260,000 metric tons of corn-based edible alcohol. The first, located in Shouguang, Shandong Province has annual production capacity of 160,000 tons (90,000 Grade B and 70,000 Grade C). The other, located in Daqing, Heilongjiang Province currently has annual production capacity of 100,000 tons (70,000 Grade B and 30,000 Grade C). The Daqing facility is licensed to build up to 330,000 tons of production capacity. An additional 120,000 tons of capacity (Grade B) is currently under construction and expected to commence commercial production in December 2010. The Daqing expansion project will increase overall production capacity by 46% from current levels. The Company has been able to sell all of the products it produces while operating at or near full capacity so we can expect management to build out the remaining 110,000 tons of authorized capacity in the future as business conditions and capital resources allow.
Impressive Trailing Financial Performance with Strong Future Prospects
BORN has shown impressive growth in both revenues and net income since 2006 and is poised to nearly double its production capacity in the next two to three years. The key driver of revenue growth has been increased production capacity and management's ability to capitalizing on the 230,000 additional tons licensed at the Daqing facility would nearly double capacity from its current level of 260,000 tons.
The following charts reflect BORN's revenue and net income performance from 2006 to 2009. I estimated 2010 revenues at around $230 million by annualizing QI 2010 results. Review of historic quarterly operating results did not indicate discernable seasonal patterns for the Company's business although the market price of edible alcohol does fluctuate. The Company has been able to sell what it produces and they were operating at or near capacity in Q IV 2009 and Q I 2010. My 2010 estimate does not include revenues from LCO2 or from the capacity expansion at the Daqing facility scheduled to begin commercial production in December 2010. I therefore consider my 2010 assumptions to be conservative.
The growth in my 2011 estimated revenues to over $340 million includes incremental revenue from the 120,000 ton expansion at the Daqing facility. Based on recent market prices for the Company's products the Daqing expansion should generate revenues in excess of $110 million in 2011. Revenues from the LCO2 by-product are not included in the 2011 estimate because we lack information on volume and pricing. The Company was subject to a post IPO quiet period that recently ended so investors should be updated on the status of the LCO2 initiative hopefully when Q II earnings are released on August 5.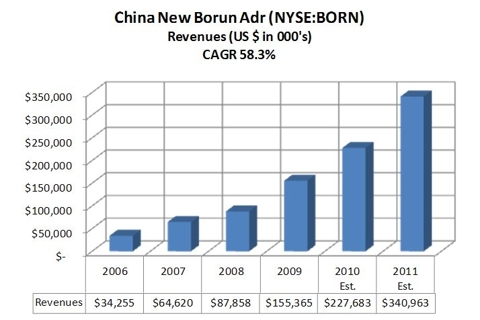 The estimated net income data for 2010 ($35 million) and 2011 ($52 million) assume consistent COGS, SG&A and income tax expense percentages so they should be reasonable. If my assumptions are correct BORN should generate around $1.35 eps in 2010 and over $2.00 in 2011 based on 25,575,000 ordinary shares and ADRs outstanding. If LCO2 contributes materially to revenues and margins, as expected, the eps estimates could prove to be conservative.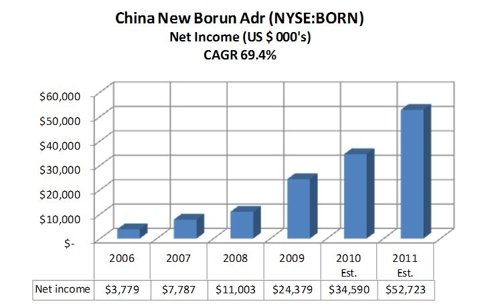 BORN Appears Undervalued
Based on BORN's impressive history and strong prospects its shares appear undervalued by any reasonable measure. With the stock currently trading around $5.75 the implied multiple for likely 2010 earnings is a little over 4. A multiple of 8 would imply a stock price of around $11, not far from the range the underwriters started with when they first priced the deal. Maybe the investment bankers weren't drinking too much "baijiu" when they originally priced BORN in the $12-$14 range after all! Patient investors who accumulate shares at these levels may very well be raising a glass to BORN in the not too distant future.


Disclosure: At time of article, LONG BORN