Kinder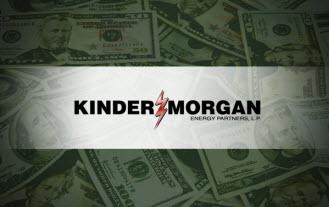 Morgan (NYSE:KMI) appears well positioned to provide dividend investors with an opportunity for both capital appreciation and income production. Firstly, the US oil and gas boom should augur organic growth, spur capital gains and buttress the dividend. Furthermore, Kinder Morgan is making all the right moves in regards to improving the balance sheet which should increase profitability. Finally, the company appears to be a great high yield buying opportunity for dividend investors. In the following sections I will lay out my bull case for dividend investors.
Kinder Morgan is well positioned to benefit from the US Oil & Gas Boom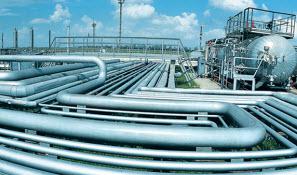 Kinder Morgan, Inc. reported strong first-quarter 2014 earnings from continuing operations the quarterly results were 10.6% higher year-over-year. Revenues increased 37.2% to $3,652.0 million year-over-year as well. The performance was due to higher volumes in its interstate pipeline network. Chairman and CEO Richard D. Kinder stated,
"We are excited about the future as we own and operate what we believe is a great set of midstream assets spanning the United States and western Canada. We have identified approximately $16.4 billion in expansion and joint venture investments at the Kinder Morgan companies that we are confident they will come to fruition and drive growth at KMI for years to come."
Kinder's natural gas pipelines segment saw its earnings grow more than 40% to $564 million. Due to an unusually cold winter, natural gas throughput was constantly close to capacity on several of the company's pipelines. Some venture U.S. demand for natural gas may rise more than 30% by 2024. Kinder stated:
"The demand for gas for LNG exports, electric generation, industrial use and shipment to Mexico are factors that bode well for the company's future. All of these facts I think are relevant to saying we are at the very beginning of what we view as a tremendous upswing in the need for natural gas transportation in the United States."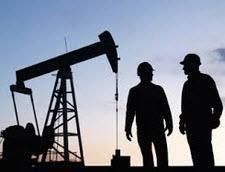 I submit peak oil is here and most, if not all, of the easy money has been made in the US oil patch. Nevertheless, vast reserves still exist in unconventional shale and deep water plays. With new oil and gas plays being discovered on a regular basis in rural areas with no infrastructure in place, a vast amount of upside lies ahead for Kinder if the company can execute on plan. Kinder has 16 billion in capital outlays currently budgeted just to keep pace with demand. This should underpin the company's results for some time to come if the company can bring the project in under budget and on time.
The company is making all the right balance sheet moves to create value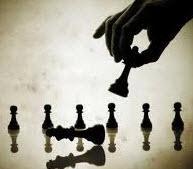 El Paso Pipeline Partners (NYSE:EPB) recently announced the company will acquire from Kinder Morgan 50% interest in Ruby Pipeline, 50% interest in Gulf LNG and 47.5% interest in Young Gas Storage. The transaction value is approximately $2 billion, including $1.012 billion of proportionate debt at Ruby and Gulf LNG, resulting in an equity purchase price of $972 million. The company heretofore declared that KMI would offer to sell these assets to EPB. This should reduce KMI's outstanding debt while allowing the company to continue to participate in the cash flows through the limited partnership agreement.
The company is focused on return of capital to shareholders with a robust dividend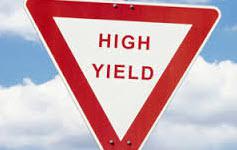 The company increased its quarterly dividend to $0.42 per share, 11% higher year-over-year. The current yield is 5%. The company reported cash available to pay dividends of $573 million, up 12% from last year. Kinder Morgan remains on track to meet or exceed its published full-year budget of $1.78 billion in cash available to pay dividends. The company's strong cash flow enabled it to raise its dividend. Kinder Morgan's strong cash flow this quarter was directly related to the company's interest in Kinder Morgan Partners. Kinder Morgan Partners reported strong quarterly results, allowing the partnership to raise its distribution by 5% to $1.38 per unit.
Kinder Morgan is a solid long-term growth story and pays a hefty dividend. These facts, coupled with the Fed's announcement that rates will remain at ultra-low levels for at least the foreseeable future leads me to believe the company is a better hedge against inflation than fixed income instruments such as bonds and CDs.
Kinder Morgan appearing fundamentally undervalued on a relative basis
Kinder Morgan has a net profit margin of 17.53 outpacing the company's peers and the industry by a wide margin. Furthermore, the company is trading for nearly for a significant discount to peers on the price to free cash flow basis.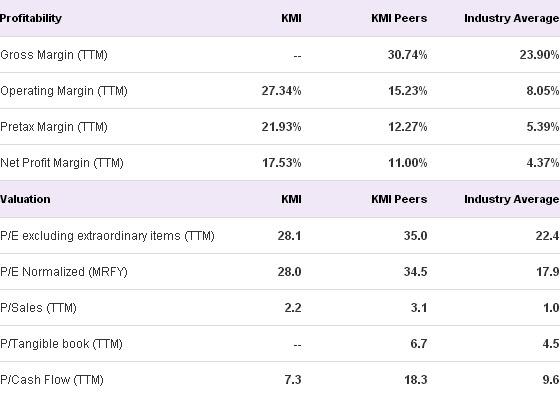 (Table provided by Scottrade.com)
Kinder's weak point is the heavy debt load. The company sports a total debt to equity ratio of 2.9, nearly twice as high as peers.

(Table provided by Scottrade.com)
Nevertheless, the company is well aware of the debt burden and appears well positioned to tackle it over the next few years as more new project hit the breakeven point. technically, the stock looks in good shape.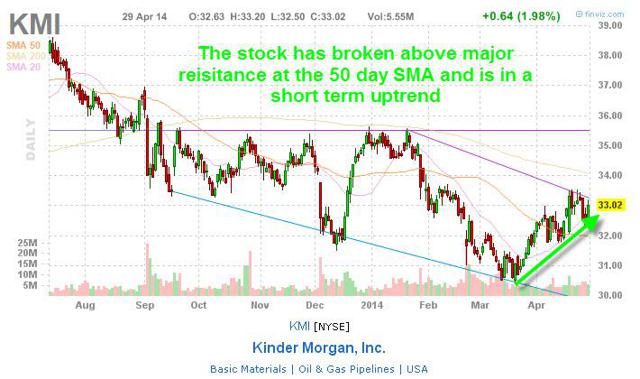 Click to enlarge
(Chart provided by Finviz.com)
Downside Risks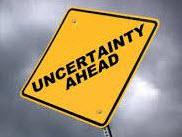 There are multiple downside risks for Kinder Morgan going forward. Not all the news was good. Kinder Morgan will have to double down on the company's efforts to ensure it continues to improve margins and bring new pipeline projects in on time. Furthermore, geopolitical uncertainty is on the rise as the Russia/Ukraine conflict appears to be escalating.
Conclusion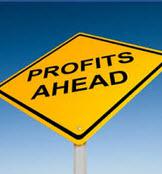 With the current tumultuous events in Eastern Europe bringing attention to the mounting energy requirements of global economies, Kinder Morgan would seem to have the wind at its back, so to speak. On top of that, what do you think is going to occur when the economies of the world begin to gain viable traction? You can be sure the demand for Kinder's products and services will skyrocket.
A model dividend investing approach is to construct a diverse portfolio of stocks with significant capital gain potential and exceptional dividend yields. I say Kinder Morgan definitely fits the bill.
Disclosure: I have no positions in any stocks mentioned, but may initiate a long position in KMI over the next 72 hours. I wrote this article myself, and it expresses my own opinions. I am not receiving compensation for it (other than from Seeking Alpha). I have no business relationship with any company whose stock is mentioned in this article.