The appointment should be welcomed by all Sunshine Heart (NASDAQ:SSH) investors.
As a long term investor in Sunshine Heart, I could not be more pleased with the appointment of a Clinical Operations Vice President of the caliber of Kimberly Olesen.
But the question remains as to what has attracted such a person to join a market minnow like Sunshine Heart.
There really should be no surprise. Kimberly Olesen's appointment follows on from appointments of other eminent professionals such as Dr Patrick Verta, Chief Medical officer of Sunshine Heart.
There is also the very experienced and senior Board, exemplified by John Erb as Chairman of the Company.
Is the potential for exponential growth the attraction? -
In my article, "Sunshine Heart: Potential '10 To 100 Bagger' Revisited - Part IV", I explored the potential for growth in earnings for Sunshine Heart at even relatively low levels of market penetration of its target market.
Hereunder is Table 2 from that article together with surrounding comment -
Table 2 is based on C-Pulse achieving the much higher rates of target market penetration of which I believe it is capable. At the upper bound shown in Table 2, it still only requires C-Pulse to achieve market penetration of 6 in every 100 patients out of its target market of 5.2M HF patients in the US and EU. At that level, Table 2 indicates a market cap in the region of $100bn (~500 times the current market cap). That is the almost unbelievable potential of C-Pulse. I discuss this "belief" aspect further below.
Table 2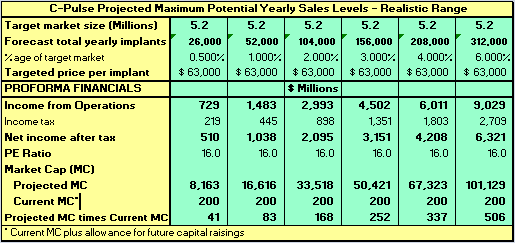 With the above tables readers can make their own judgment of what yearly sales levels might be achievable, and by when, to arrive at future yearly profit and market cap estimates for Sunshine Heart.

Of course, as Sunshine Heart makes progress and the wider community of investors becomes aware of and develops greater belief in C-Pulse's potential, the market will start to price in growth and profitability ahead of when it occurs (witness HeartWare (NASDAQ:HTWR) with a market cap of ~$1.6bn while still in loss making mode and with an ongoing incomplete destination therapy trial).
Perhaps Kimberly Olesen sees the potential for her new "Small Pond" to grow very big indeed and perhaps surpass even Medtronic's (NYSE:MDT) Market Cap. That would be a good reason for making the move.
Is Medtronic the "mystery investor"?
The so-called "mystery investor" is very obviously interested in following Sunshine Heart and having observer status so it will be well positioned to make a bid for the Company when Sunshine Heart gains PMA approval for C-Pulse following the completion of the current pivotal trial.
Such an investor could have a strong interest in seeing the progress of the current pivotal trial in the US and the post market trial in the EU accelerated.
If the "mystery investor" is in fact Medtronic, that would be a good enough reason for releasing a senior executive, very experienced in clinical trials, to assist Sunshine Heart in bringing C-Pulse to full commercialization at the earliest possible date.
It might also be a very exciting challenge for Kimberly Olesen to catch a sprat and grow it into a mackerel.
About Sunshine Heart's C-Pulse
Sunshine Heart C-Pulse heart assist device is highly efficacious, has low technical risk and a multi-billion dollar market potential.
This article is intended primarily to address the appointment of Kimberly Olesen.
Matters of efficacy, technical risk and market potential of the C-Pulse heart assist device are dealt with extensively in my article, "Sunshine Heart: Potential '10 To 100 Bagger' Revisited - Part IV"referred to above and also in my previous articles.
Suffice it to say that in C-Pulse's 20 patient feasibility trial, 60% of these NYHA Class III and ambulatory Class IV advanced HF patients improved by at least one NYHA Class (a very significant improvement in quality of life) and 25% of the 20 patient cohort have become asymptomatic for Heart Failure (NYSE:HF) and have been weaned off the device.
This result is unheard of with drug therapy where generally the best that can be expected is a slowing in the worsening of the condition.
The C-Pulse technology is long proven counter-pulsation therapy applied in a different, innovative, and far safer methodology outside the blood stream. The materials used in C-Pulse manufacture are tried and proven high tech medical materials. The target market is estimated at 5.2 million advanced HF patients in the US and EU. Only a tiny percentage of these patients have to be implanted to achieve multi-billion dollar revenues.
Caution: The information above is not intended to replace the advice of a doctor. I disclaim any liability for any decisions you might make based on this information.
Additional caution: As always, please do your own research before any buy or sell decisions. Use of information and research in the article above is at your own risk.
Investing in micro cap companies is not suitable for all investors and can be risky. It's important that investors thoroughly perform their own due diligence and analyze the potential risks. Due to illiquidity, share prices can fall despite strong fundamentals and possible inability to raise sufficient additional cash to continue to fund ongoing operations is always a serious concern. Fuller details of risks associated with Sunshine Heart as identified by the company may be found with their form 10-12B/A registration filing with the SEC and their other SEC filings.
Disclosure: I am long SSH. I wrote this article myself, and it expresses my own opinions. I am not receiving compensation for it. I have no business relationship with any company whose stock is mentioned in this article.
Editor's Note: This article covers one or more stocks trading at less than $1 per share and/or with less than a $100 million market cap. Please be aware of the risks associated with these stocks.