As Ford (NYSE:F) followers are already aware, Ford whiffed on earnings last Friday. Ford's earnings of 25 cents per share were hampered by currency devaluation in South America, $100M in weather related freight and $400M in warranty reserve adjustments. The freight and warranty adjustments accounted for approximately 12 1/2 cents ($500M divided by 3.946B shares) of earnings. The stock pulled back on the news, but remains in an upward trend from a February price of 14.50.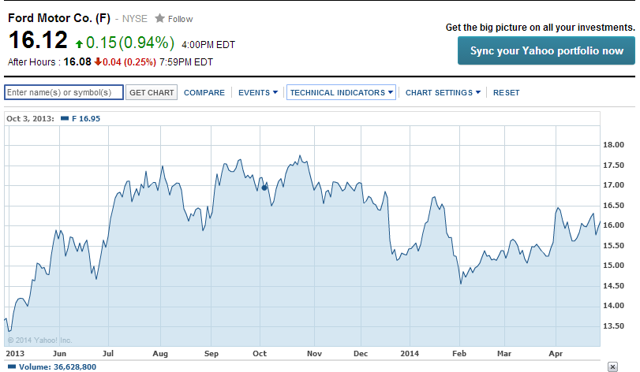 Source: Yahoo Finance
While the warranty reserve may impact earnings, it creates an opportunity to buoy earnings in future quarters if Ford is conservative in its estimates. This is indicated by an exchange between Ford CFO Bob Shanks and Mike Ramsey of the Wall Street Journal:
Mike Ramsey - Wall Street Journal

And just as a follow-up, I think it was 2007, wasn't there inverse of this that was beneficial? There was a big readjustment of warranty reserves some time I think it was 2007, am I crazy or does anyone remember those?

Robert Shanks - Executive Vice President and Chief Financial Officer

It could have been because one of the things that as I mentioned, we only hold these reserves for about six or seven years. So when that oldest year, if you will, is ready to run off as we move into the next calendar year. If there is anything left in that reserve that hasn't been used, we release it. So it's possible that could have happened back in 2007, somewhere in that timeframe. I actually kind of remember something like that as well, Mike, but I know we've had situations like that.
Ford's earnings would have been 37-38 cents (compared to expectations of 31 cents) had the warranty adjustments and freight not occurred. This shows the underlying strength in Ford's operations. In fact, analysts have remained rather firm on their earnings estimates going forward.
That, combined with Ford beating earnings in eight out of the past nine quarters makes Ford's case rather compelling.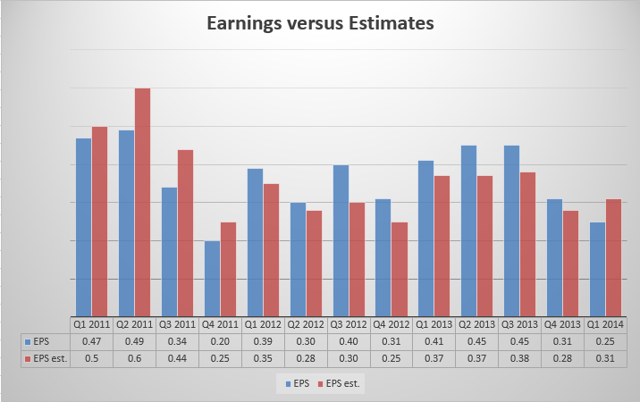 Source: CNBC
With the changing of quarterly data, combined with the selloff, Ford's stock dropped to below 11 times forward earnings, before bouncing back over the last two trading sessions.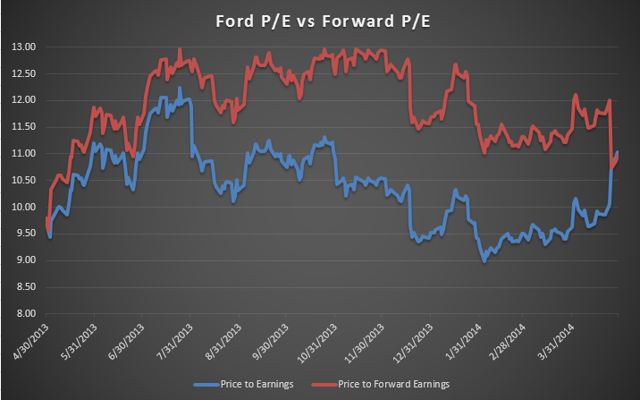 I still like using Ford's forward earnings and a reasonable forward PE multiple (calculated using a probability distribution) to come up with a moving price target.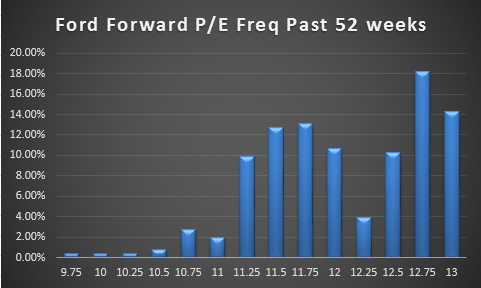 Based on this analysis, there is a 57% chance of Ford trading at 12 times forward earnings. At 12 times forward earnings, combined with earnings estimates provided by Sentieo, Ford's upside becomes apparent.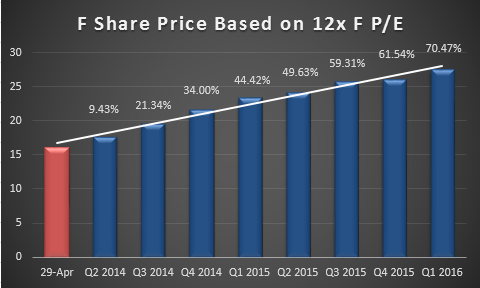 If Ford gets back to earnings expectations, the stock has a great chance at $20 per share by the end of 2014 and $25 per share by the end of 2015.
Disclosure: I am long F. I wrote this article myself, and it expresses my own opinions. I am not receiving compensation for it (other than from Seeking Alpha). I have no business relationship with any company whose stock is mentioned in this article.