BP (NYSE:BP) remains my top oil and gas pick in the energy sector. The company has outsized rebound potential given its disastrous Gulf of Mexico oil spill in 2010 from which the company has not yet fully recovered. BP might also be a suitable investment for income investors who want to get exposure to a decent-yield income investment in the energy sector. I generally believe that the energy sector (both onshore and offshore drilling) is good for a few surprises in the coming years. Demand/supply dynamics (depleting reservoirs, limited supply, increasing demand) definitely favor fossil fuel players like BP.
Share performance
BP has been doing well lately, just like most large-cap oil and gas companies. Oil and gas firms had a volatile first quarter and the majority of energy companies recovered nicely from the January sell-off which was the result of weak Q4 2013 results. BP is now about to exceed its 52-week High at $51.02.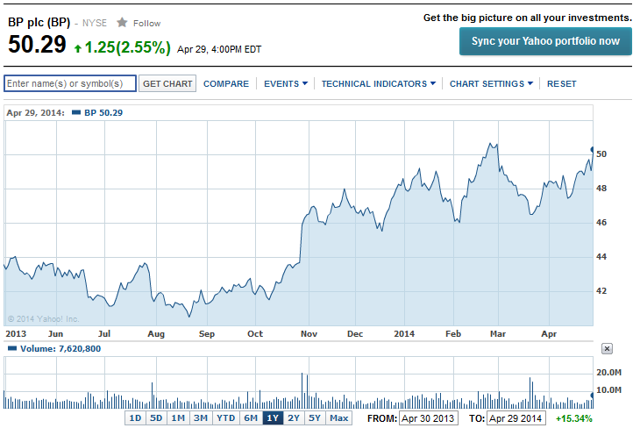 (Source: Yahoo Finance)
Though BP has recaptured its momentum, the oil major is still seriously lagging its US peers. Over a five-year performance measurement period, BP has hugely underperformed other large-cap oil and gas majors: ConocoPhillips (NYSE:COP) gained 131% over the last five years while Chevron (NYSE:CVX) returned 88% and Exxon Mobil (NYSE:XOM) 49%. Over the same time BP gained only 15%. Four years after the Deepwater Horizon implosion in the Gulf of Mexico, BP still hasn't managed to return to pre-crisis share levels.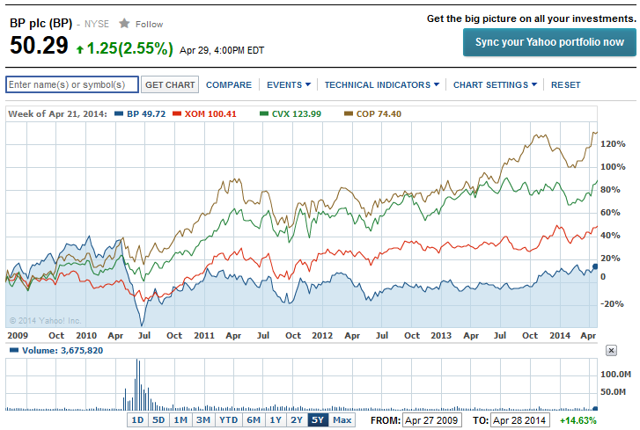 (Source: Yahoo Finance)
BP's first quarter results
BP's first quarter results highlighted what many analysts already expected: A sequential rebound in underlying business replacement cost profit before interest and taxes (RCPBIT). The company also posted solid q-o-q earnings increases in both its upstream and downstream segments (see below). BP's underlying RCPBIT increased to $5.3 billion compared to $4.2 billion in Q4 2013 (a q-o-q increase of 26%) but fell 28% compared to the first quarter of 2013. BP's operating cash flow also rebounded strongly from $5.4 billion in Q4 2013 to $8.2 billion in the most recent quarter (a jump of 52%).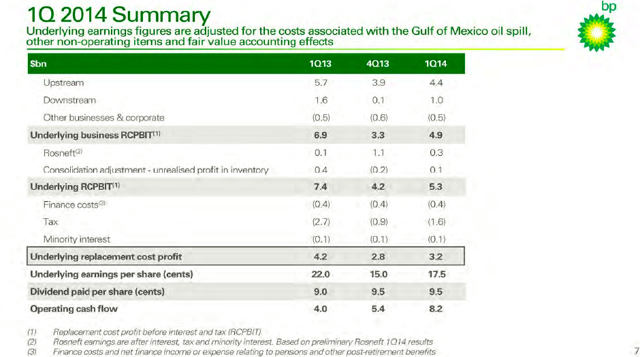 (Source: BP 1Q 2014 Results Presentation)
Oil spill costs
With respect to BP's oil-spill related liabilities for business economic loss claims, I like to refer to earlier articles of mine (here and here). BP still cannot reliably quantify its remaining liability for economic losses. BP showed a charge of $40 million in the first quarter for running the Gulf Coast Restoration Organisation.
Market valuation
I like BP for a variety of reasons: First, its stock price is seriously lagging its peers which signals above-average rebound potential. Secondly, BP is a global resource player with first-class access to strategic fossil fuel resources and faces favorable demand/supply dynamics. Thirdly, BP outperforms its US peers in terms of dividend yield, and fourth, BP is still the cheapest oil and gas major in the peer group.
BP presently trades at about ten times earnings which reflects a peer group leading earnings yield of approximately 9.8%. BP also trades at a 13% discount to the peer group average P/E ratio of 11.76. While BP is the company with the most appealing earnings valuation, the peer group remains cheap as well with a forward P/E ratio of less than twelve.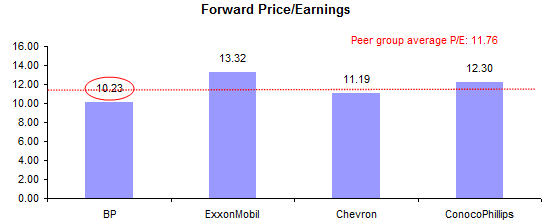 (Source: Achilles Research, Finviz.com)
As indicated above, BP offers investors a solid dividend yield of 4.53% which represents a solid premium to the peer group average dividend yield of 3.47%. The increase in share prices of oil and gas majors since the beginning of February has reduced yields across the board.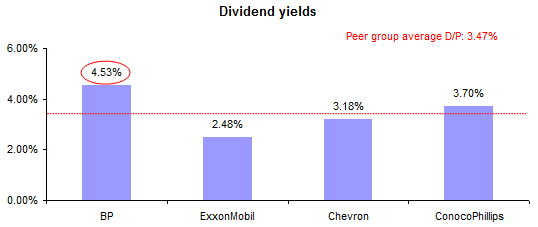 (Source: Achilles Research, Finviz.com)
A summary valuation table containing valuation ratios for the peer group as well as premiums/discounts to the respective peer group averages is provided below:

(Source: Achilles Research, Finviz.com)
Conclusion
BP is my favorite pick in the energy sector and I could see BP double over a period of five years especially if the energy firm is capable of sustaining first quarter momentum in both upstream and downstream businesses. The stock trades cheaply and retains serious upside potential stemming from cash flow and EPS growth, multiple expansion and asset divestitures as well as share buybacks. A resolution to the litigation issues following the oil spill in the Gulf of Mexico could also be a powerful catalyst for BP's share price. Long-term BUY on valuation, dividend yield, solid first quarter business performance and the very real possibility of a resolution of oil spill related litigation issues.
Disclosure: I am long BP. I wrote this article myself, and it expresses my own opinions. I am not receiving compensation for it (other than from Seeking Alpha). I have no business relationship with any company whose stock is mentioned in this article.