Context
Smith & Wesson (SWHC) is one of the leading gun manufacturers in the United States. In the aftermath of the gun control dialogue spurned by the mass-shootings of the last few years, gun sales have really taken off. In the past year we have seen the stock rise from under $8 to $15 dollars as gun sales surged.
The company has achieved enormous revenue growth over the past five years due to secular conditions in the gun market.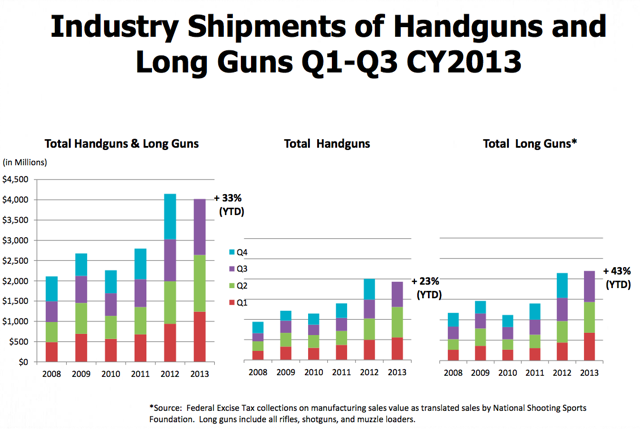 Of course, Smith & Wesson has managed to grow earnings in line with the industry growth.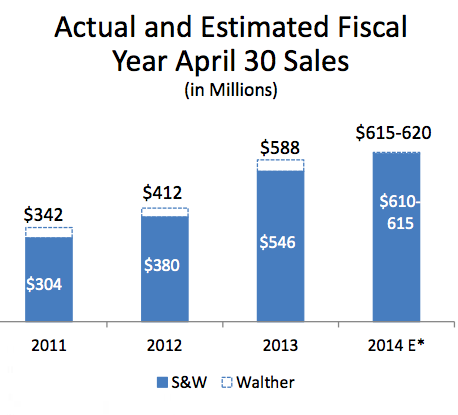 However, even during this span with double-digit growth and stable 40% gross margins, the stock has remained cheap at just over 10x forward-year earnings.
Underwater Shorts
Interestingly, with each reporting period, the short interest in Smith & Wesson continues to grow. It is time to question the sustainability of such a heavy short position as the price continues to rise. Nobody wants to be short a company where the fundamentals continually improve. The bears may have been banking on market saturation but the current year NICS background checks which accurately projects gun sales has remained steadfast. Looking at the last disclosure, we finally see a sizeable dip in short interest, and in the nick of time.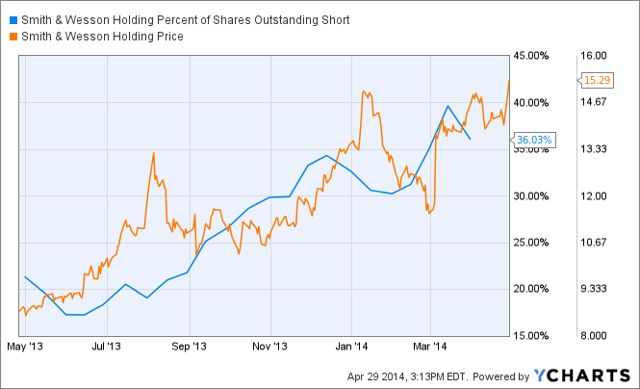 Bear Hunting Season
What's the best way to kill a bear? With Smith & Wesson. Management is well aware of intrinsic value of the company and the heavy short interest. They have taken a number of steps to shake the shorts including a tender offer and some share repurchase, but the bears haven't relented until now.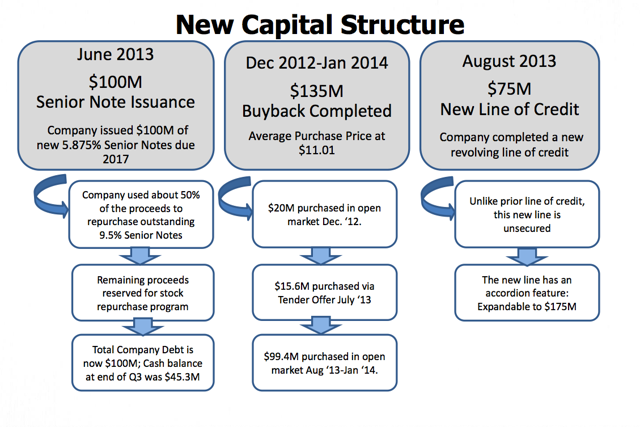 While trying to shake out the shorts, management has created tremendous value for shareholders. Management continues to utilize free cash flow and to leverage the balance sheet to buy back shares, and they recently announced a new repurchase program with $30 million authorized starting on the 1st of May.
Taking Cover
At this point, it seems that the bears are finally taking cover.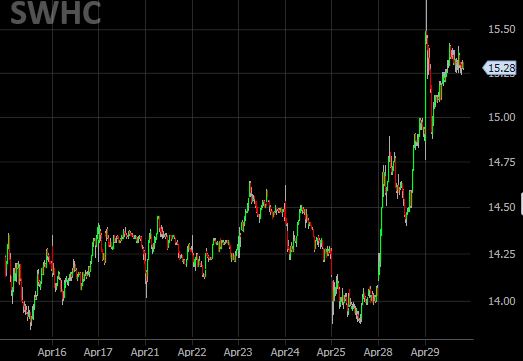 With only ~3.5 million shares changing hands over the past few days, even assuming that all those shares were bought to cover, a huge amount of shares are still short. Apparently the bearish investors want out before the new round of repurchases starts again. Now is the time to build a position and to watch the show.
Note: Ruger (NYSE:RGR) should perform similarly to Smith & Wesson, but I prefer repurchases to dividends.
Disclosure: I am long SWHC. I wrote this article myself, and it expresses my own opinions. I am not receiving compensation for it (other than from Seeking Alpha). I have no business relationship with any company whose stock is mentioned in this article.