In order to create a dividend stock portfolio that can outperform the market by a big margin, I have used the following screen. It is based on attempt to search for highly profitable companies that pay rich dividends and that have raised their payouts at a high rate for the last five years. Those companies also would have to show a very low debt and a very low payout ratio.
The screen's method that I use to build this portfolio requires all stocks to comply with all following demands:
The stock does not trade over-the-counter (OTC).
Dividend yield is greater than 3.0%.
The annual rate of dividend growth over the past five years is greater than 5%.
The payout ratio is less than 100%.
Forward P/E is less than 15.
The PEG ratio is less than 1.50.
Total debt to equity is less than 1.00.
The ten stocks with the lowest payout ratio among all the stocks that complied with the first seven demands.
I used the Portfolio123's powerful screener to perform the search and to run back-tests. Nonetheless, the screening method should only serve as a basis for further research. All the data for this article were taken from Yahoo Finance, Portfolio123 and finviz.com.
After running this screen on April 30, 2014, before the market open, I discovered the following ten stocks: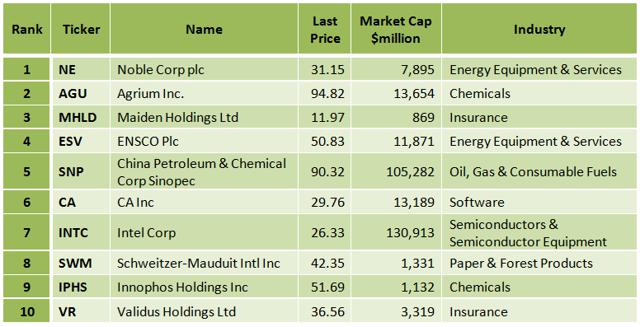 The table below presents the dividend yield, the payout ratio, the forward P/E and the total debt to equity for the ten companies.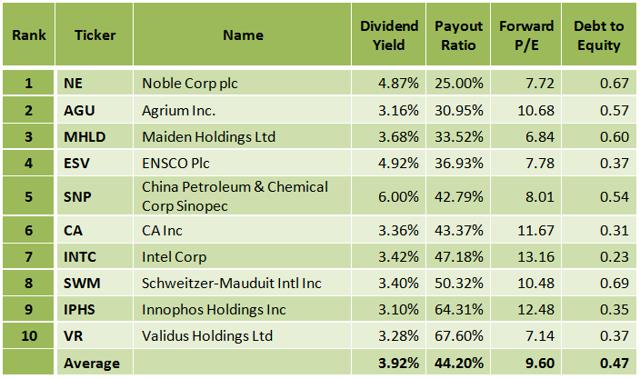 Noble Corp. (NYSE:NE)
Noble Corporation operates as an offshore drilling contractor for the oil and gas industry. It provides contract drilling services with a fleet of 77 offshore drilling units. Noble Corporation was founded in 1921 and is headquartered in London, the United Kingdom.
Latest Quarter Results
On April 16, Noble reported its first-quarter year 2014 financial results, which beat EPS expectations by a big margin of $0.34 (48.60%) and beat on revenues. The company reported first quarter 2014 net income of $256 million, or $0.99 per diluted share, compared to $174 million, or $0.68 per diluted share, for the fourth quarter 2013. Revenues for the first quarter of 2014 were $1.3 billion compared to $1.2 billion in the fourth quarter of 2013 and $971 million in the first quarter of 2013.
In the report, David W. Williams, Chairman, President and Chief Executive Officer of Noble Corporation plc noted:
Our contract drilling margin improved to 54 percent in the first quarter, up from 50 percent in the fourth quarter of 2013, as new rig additions contributed to a 7 percent increase in revenues while contract drilling costs were essentially flat in the quarter. In addition, a reduction in operating downtime to 4.5 percent and higher bonus revenue further supported the increase in quarterly revenues.
Dividend
Noble has been paying uninterrupted dividends since 2005. The forward annual dividend yield is very high at 4.87% and the payout ratio only 25%. The annual rate of dividend growth over the past three years was very high at 29.5% and over the past five years was extremely high at 36.6%. I consider that besides dividend yield, the consistency and the rate of raising dividend payments are the most crucial factors for dividend-seeking investors, and NE's performance has been impressive in this respect.
Valuation
Noble's valuation metrics are extremely advantageous; the enterprise value-to-EBITDA ratio is very low at 6.14, and the stock is trading way below book value, the price-to-book value is only 0.93. According to Yahoo Finance, NE's next financial year forward P/E is very low at 7.72 and the average annual earnings growth estimates for the next 5 years is high at 12.40%. These give an exceptionally low PEG ratio of 0.62, one of the lowest PEG ratios among S&P 500 companies. PEG Ratio - price/earnings to growth ratio is a widely-used indicator of a stock's potential value. It is favored by many investors over the P/E ratio because it also accounts for growth. A lower PEG means that the stock is more undervalued.
Technical Analysis
Personally I am using only fundamental analysis for my investment decisions. After many years of experience, and after having tried all kinds of decisions making including technical analysis, I have reached the conclusion that relying on fundamental information is giving me the highest return. Nevertheless, some investors are successfully using technical analysis to find the proper moment to start an investment (I am not talking about traders, my analysis is only for investors). The charts below give some technical analysis information.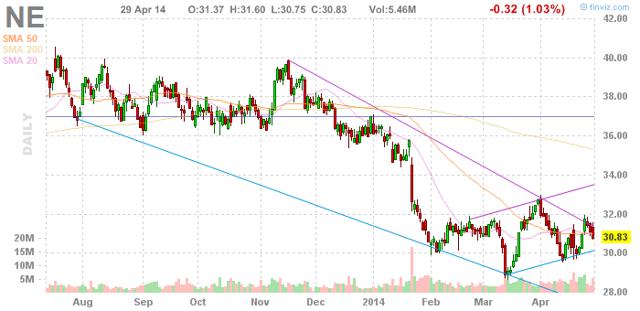 Chart: finviz.com
The NE stock price is 0.51% below its 20-day simple moving average, 0.56% below its 50-day simple moving average and 12.87% below its 200-day simple moving average. That indicates a short-term, mid-term and long-term downtrend.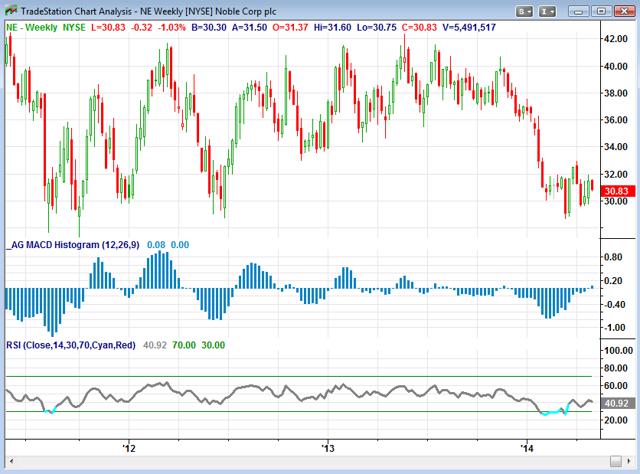 Chart: TradeStation Group, Inc.
The weekly MACD histogram, a particularly valuable indicator by technicians, is at 0.08 and ascending, which is a strong bullish signal (a rising MACD histogram and crossing the zero line from below is considered an extremely bullish signal). The RSI oscillator is at 40.92, which does not indicate oversold or overbought conditions.
Analyst Opinion
Analyst opinion is divided, among the 37 analysts covering the stock, five rate it as a strong buy, eleven rate it as a buy, thirteen rate it as a hold, four rate it as an underperform, and four analysts rate it as a sell.
TipRanks, is a website that ranks analysts according to their performance. According to TipRanks, among the analysts covering NE stock there are only seven analysts who have the four or five star rating, two of them recommend the stock, and the other five analysts have a hold rating on NE stock. On March 03, 2014, Standpoint Research upgraded Noble Corporation from Hold to Buy with a price target of $38. Analyst Ronnie Moas said the sell-off has created a buying opportunity and is positive on the 4.8% dividend yield. I consider Mr. Moas' analysis very valuable, since he has 5-Star rating from TipRanks for the accuracy of his previous calls.
Conclusion
Noble has compelling valuation metrics and strong earnings growth prospects. The company is expanding its fleet. According to Noble, it began 2014 with the delivery of two additional jackups. By the end of 2014, it expects to have taken delivery from shipyards of its final two ultra-deepwater drillships and two of its final three high-specification jackups, largely concluding its current rig construction program.
These fleet additions should provide significant contributions to future financial results as NE's fleet mix continues to shift toward a premium weighting. Furthermore, the planned spinoff of much of the standard jackup fleet by 2014 year end should add value to shareholders.
I consider Noble's stock as a real good combination of value and growth high-yielding dividend stock, and in my opinion, after the retreat in its stock price, it is now an excellent opportunity for a long-term investment in a good company at a cheap price.
Back-testing
In order to find out how such a screening formula would have performed during the last year, last 5 years and last 15 years, I ran the back-tests, which are available by the Portfolio123's screener.
The back-test takes into account running the screen every four weeks and replacing the stocks that no longer comply with the screening requirement with other stocks that comply with the requirement. The theoretical return is calculated in comparison to the benchmark (S&P 500), considering 0.25% slippage for each trade and 1.5% annual carry cost (broker cost). The back-tests results are shown in the charts and the tables below.
Since some readers could not get the same results that I got in some of my previous posts, I am giving, in the charts below, the Portfolio123 exact codes which I used for building this screen and the back-tests. The number of stocks left after each demand can also be seen in the chart. I am also giving a table which readers can use to copy and paste codes directly into the Portfolio123's screener.


Universe(NOOTC)=TRUE
Yield > 3
Div5YCGr% > 5
Between(PayRatioTTM,1,100)
ProjPENextFY < 15
PEGLT < 1.5
DbtTot2EqQ < 1.0
One year back-test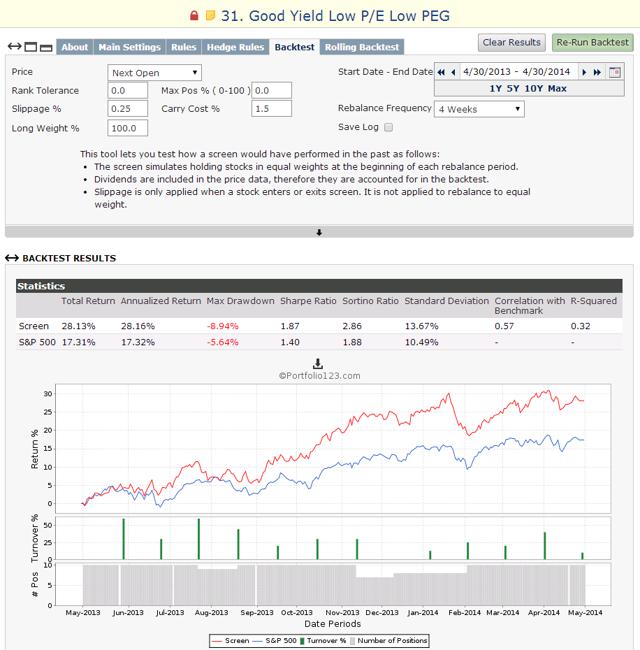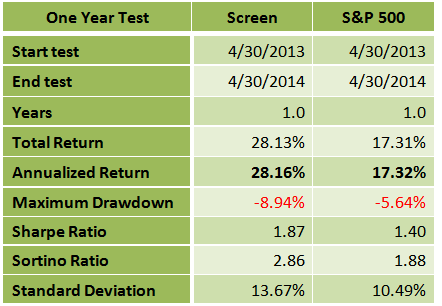 Five years back-test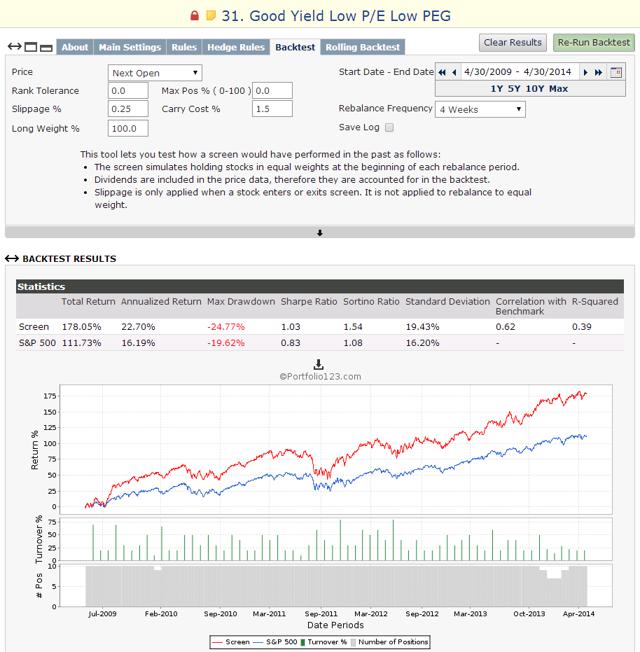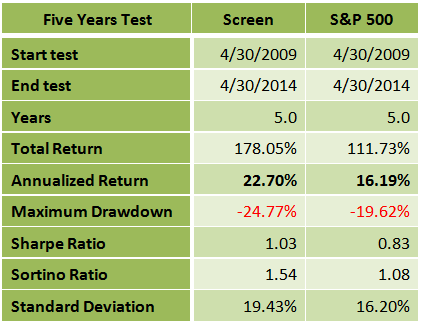 Fifteen years back-test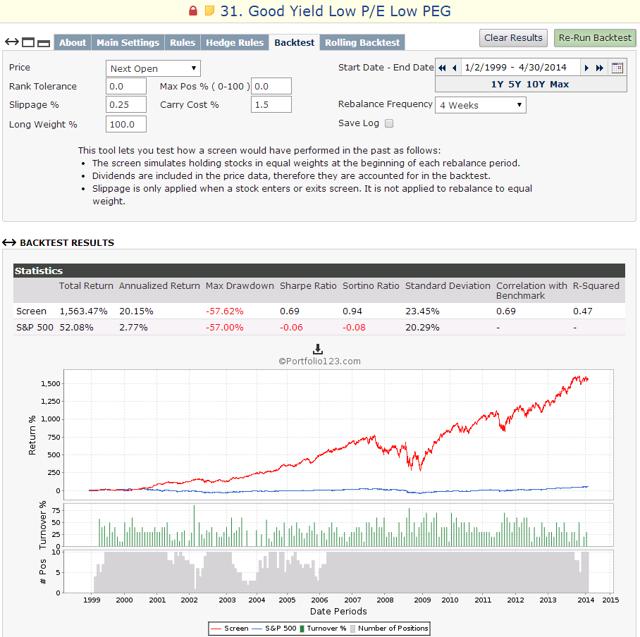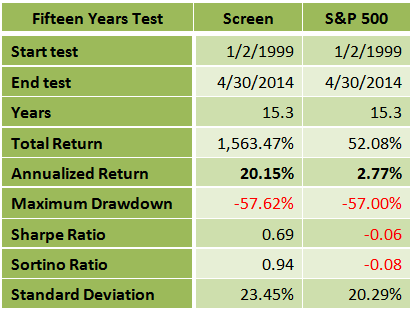 Summary
The dividend growth screen has given much better returns during the last year, the last five years and the last fifteen years than the S&P 500 benchmark. The Sharpe ratio, which measures the ratio of reward to risk, was also much better in all the three tests. One-year return of the screen was high at 28.16%, while the return of the S&P 500 index during the same period was at 17.32%.
The difference between the dividend growth screen to the benchmark was even more noticeable in the 15 years back-test. The 15-year average annual return of the screen was at 20.15%, while the average annual return of the S&P 500 index during the same period was only 2.77%. The maximum drawdown of the screen was at 57.62%, while that of the S&P 500 was at 57%.
Although this screening system has given superior results, I recommend readers use this list of stocks as a basis for further research.
Disclosure: I have no positions in any stocks mentioned, but may initiate a long position in NE over the next 72 hours. I wrote this article myself, and it expresses my own opinions. I am not receiving compensation for it (other than from Seeking Alpha). I have no business relationship with any company whose stock is mentioned in this article.