This one's gonna sting. For the 2nd day in a row I did not check the schedule of earning reports due to a very busy schedule and, unlike Akamai Technologies (NASDAQ:AKAM), I actually have some decent sized exposure to Acme Packet (NASDAQ:APKT). The tiny silver lining is it's a good reminder of the reasons why I have been cutting back almost every position going into earnings. (Click to enlarge)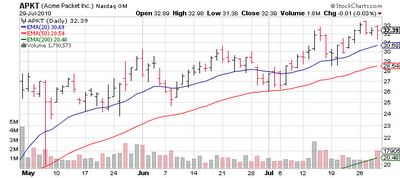 Going into the day I have a 9% unrealized gain in the stock which shall vanish and then some, I am sure. From there it will be exactly the same situation as Netflix (NASDAQ:NFLX) and Akamai (this is starting to be a pattern)... if (when) it breaks the 50-day moving average ($28.50s) I have to cut it back sharply. And if it does not regain that level soon, we'll most likely cut bait and revisit it later in the year. But the prognosis for today is PAIN. Time for damage control. (Note to readers - never try to launch a mutual fund during earnings season.)
The report was very good, but revenue guidance was not raised ENOUGH and with these type of companies you have to keep raising the bar. EPS guidance on the other hand, actually went up quite a lot, so it is quite a hammering for doing nothing wrong except not raising guidance enough versus analysts. They actually did raise revenue versus their own forecast ($214-$218M versus $204-$208M). All in all it's an overreaction but the market price is the market price and today it will be substantially lower.
Via Reuters:
Acme Packet Inc's quarterly results narrowly topped Wall Street expectations, but the company gave a weak revenue outlook for the year

.

The company, which makes session border controllers that are used to connect networks operated by service providers and enterprise customers, was down 13% at $28.15 in trading after the bell.

For the second quarter, the company earned $9.7 million, or 14 cents a share, compared with a profit of $1.7 million, or 3 cents a share, in the year-ago period.

Excluding items, it earned 18 cents a share. Revenue rose 62%

to $53.3 million.

Analysts were expecting earnings of 17 cents per share, on revenue of $52.5 million

Acme Packet forecast 2010 revenue of $214 million to $218 million, the lower end of which is in line with analysts' view of $214.4 million.

The company

expects full-year 2010 adjusted profit view of 72 cents a share to 74 cents a share, above Street view of 68 cents.
Disclosure: Long Acme Packet in fund; no personal position