Over the past several years the three largest states by population in the Northeast (New York, New Jersey, and Massachusetts) have seen far more people moving out of the state than moving in. Not only are home and rental prices among the highest in the country in these states, so are income and property taxes. In fact, over the past several decades the country has seen a shift in population from the Northeast to the states with significantly lower tax rates in the South and West.
An untapped opportunity to take advantage of this growing trend can be found in Puerto Rico. This past week hedge fund billionaire John Paulson and Puerto Rico's Department of Economic Development and Commerce hosted a two-day conference aimed to lure wealthy investors to the island. Paulson is expected to invest $1 billion by the end of 2015 in land and property in the commonwealth.
Puerto Rico is desperately trying to kick start its economy and pay down the $70 billion in public debt it is currently saddled with. Despite having its credit rating downgraded to junk status, the Puerto Rican government was able to sell a record $3.5 billion in general obligation bonds in March 2014.
"We proved that Puerto Rico is not Detroit, it's not Greece," Gov. Alejandro Garcia Padilla said at the meeting's opening. "We proved that Puerto Rico is not heading to a default on its obligation, but to a fiscal and economic recovery."
The political leaders of Puerto Rico are offering substantial tax-breaks to U.S. citizens to become residents of the territory. New residents pay no local or federal taxes on capital gains. The marginal tax rate for a resident of Manhattan can be over 50% of ordinary income. Property taxes are also considerably lower in Puerto Rico than anywhere in the continental US.
Paulson believe that real estate prices have bottomed out and business conditions are improving. "We are investing here because we feel we are getting involved in the ground floor," he said. "I think tomorrow the island will develop into the Singapore of the Caribbean. Opportunities to buy real estate here won't last much longer."
Signs that the eight-year recession in Puerto Rico may be coming to an end can be seen as investments in the island's largest bank, Popular, Inc. (NASDAQ:BPOP) have been picking up significant momentum over the past two years. Despite the appreciation in share price the past two years, the stock is still undervalued when compared to price-to-book multiples banks of BPOP's size trade at. Mid-sized banks like BPOP typically trade at 1.5-2 times book value. BPOP is currently trading at .70 times its book value.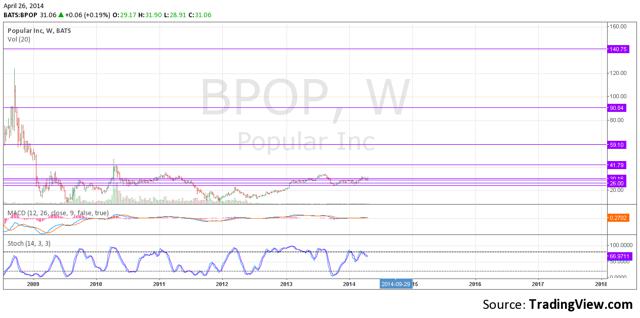 For investors with greater risk tolerance, continued strength in BPOP could lead the way to much larger percentage increases in the share prices of three smaller banks on the island, First Bancorp (NYSE:FBP), OFG Bancorp (NYSE:OFG) and Doral Financial Corporation (NYSE:DRL). If Puerto Rico is successful with its campaign in attracting new business to the island, improved real estate values and improved business conditions will provide catalysts that could drive share prices up by 40% or more.
DRL is undoubtedly the riskiest of the bunch, but with that risk comes the greatest potential reward. Share prices of DRL have been absolutely devastated during the Puerto Rican recession. The stock has had a 1-for-20 reverse split on two separate occasions, in August 2007 and again this past July 1, 2013. Volume has exploded in the stock since it has dipped below $10 which is a sign that buyers are stepping up to the table to purchase the stock. The slightest hint of good news could easily send the price of the stock to $15.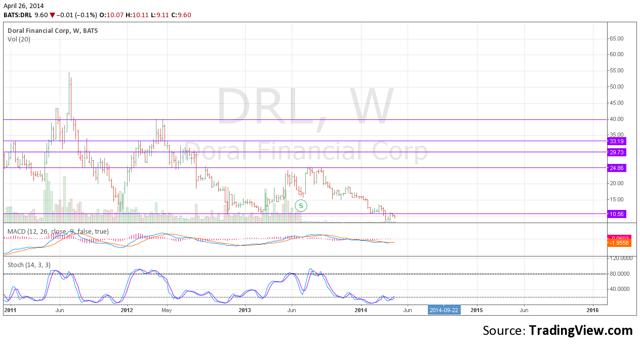 FBP and OFG are much more financially sound companies than DRL. Share prices are currently being valued 90% of book value for FBP and 1.08 times book value for OFG.
Puerto Rico's economy seems to have bottomed out. In March the economy shrank by less than 1%, compared to losing 2.5% of its size in February. As we saw in the US from the financial crisis of 2008-09, once the economy bottomed out and housing prices stabilized, the banks began their turnaround. Think of how many banks were thought to be left for ruin back in March 2009. That is the shape that these PR banks are in now.
Another great sign of an economic turnaround is that Governor Padilla's proposed financial plan to balance the budget does not involve selling anymore debt. Governor Alejandro Garcia Padilla's chief of staff Vila Biaggi said, "It is a budget that will serve as a foundation to building Puerto Rico's recovery."
The biggest risks to the bank stocks are if the economy keeps sinking and housing prices keep declining. There is also the risk of a black swan, such as a hurricane which would be absolutely disastrous to recovery efforts.
For investors interested in the three smaller banks, watch the activity in BPOP. Sustaining a $30 price for BPOP could pave the way to the significant increases in the share prices of DRL, FBP, and OFG. If the economic turnaround is successful in Puerto Rico the percentage gains will be much greater in the smaller banks than BPOP. DRL offers the greatest potential reward, but buyer beware, as the stock could eventually become worthless should the economic recovery fails.
Disclosure: I have no positions in any stocks mentioned, and no plans to initiate any positions within the next 72 hours. I wrote this article myself, and it expresses my own opinions. I am not receiving compensation for it (other than from Seeking Alpha). I have no business relationship with any company whose stock is mentioned in this article.
Editor's Note: This article covers one or more stocks trading at less than $1 per share and/or with less than a $100 million market cap. Please be aware of the risks associated with these stocks.