Vanguard Natural Resources (NYSE:VNR) is in the middle of a huge shift in its corporate policy. Late last year, the company announced a major acquisition of natural gas properties in Southwestern Wyoming. This was a major milestone for Vanguard, as it would mark its first-ever investments into capital expenditures for production growth.
Q1 2014 Overview
For Vanguard, Q1 2014 was a mixed quarter. While production came in strong, DCF per unit was much weaker than expected. Below is a summary of the quarter: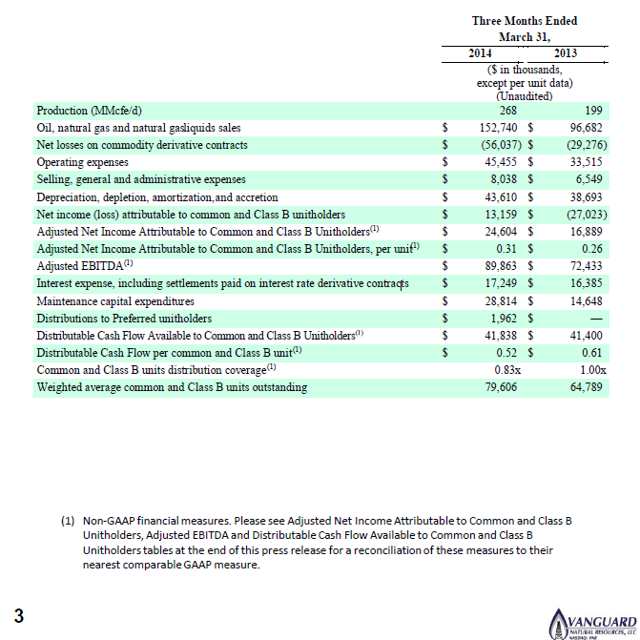 Click to enlarge
For the quarter, Vanguard saw its production rise to 268 MMCFE/D, up 21% from 221 MMCFE/D last quarter. Do note that Vanguard changed its reporting from BOE/D to MMCFE/D this quarter, making comparisons difficult. This was due to its shift towards the company becoming primarily a natural gas producer. In terms of the production mix, natural gas led the way, constituting 67% of Q1 production, with oil and NGLs splitting the rest.
Oil and gas sales (revenues) were $152.7 million, up 40% from $108.3 million last quarter. By far, the biggest driver of revenue growth for Vanguard was natural gas, with its realized price up to $3.96 per MCF, an increase of 70% from last year. Oil prices held steady, up slightly to $87.99 per BBL. NGLs were somewhat weaker than expected, with its prices down to $36.72 per BBL.
Adjusted EBITDA, a key metric of profitability for MLPs, came in at $89.8 million, a record high for Vanguard. This was up 23% from last year's $72.4 million and 24% from last quarter's $73.3 million.
Vanguard posts disappointing DCF per unit: What was the cause?
One area of weakness for Vanguard in Q1 2014 was its DCF and coverage ratio. For the quarter, these metrics both declined, with DCF falling to $0.52 per unit and the coverage ratio worsening to 0.83x. Vanguard did issue preferred units recently, however, this still does not explain the sharp fall in DCF per unit this quarter.
When looking at the adjusted EBITDA numbers, Vanguard "should" have posted much higher DCF. In general, increases in this metric translate directly over to DCF. However, it appears as if another factor was in play here, namely a massive increase in maintenance capital expenditures. As can be seen, Vanguard's maintenance capex doubled Y/Y to $28.8 million. Indeed, they are up big even compared to last quarter's $14.5 million.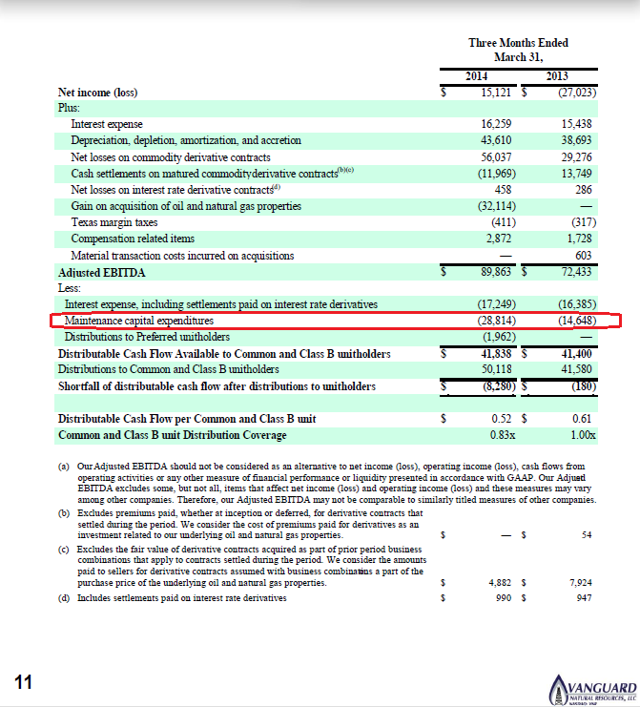 Click to enlarge
However, there is no cause for concern. This increase in maintenance capex was already baked into Vanguard's FY 2014 guidance. For the year, the company expects to spend $114 million, or about $28.5 million per quarter.
However, the question still remains: Why did Vanguard post such disappointing DCF numbers? The answer is quite simple: The timing of the Wyoming transaction.
While this acquisition is expected to be immediately accretive to DCF, the timing of closing (February 3) likely impacted DCF this quarter. Remember that Vanguard is increasing its production by nearly 55% via this acquisition. One month of lost cash flows and production is significant, and is the likely cause for the weakness in DCF.
Just to give a rough estimate, Vanguard likely would have seen its production increase by 40 to 50 MMCFE/D if this extra month were added. In terms of revenues, this production could have added anywhere from $10 million to $18 million to EBITDA, depending on the mix between natural gas and liquids.
Conclusion
Vanguard Natural Resources operates via a simple model: buy mature, low decline, production on the cheap, hedge the production to lock in cash flows, and pay out the "margin" as distributions to its unitholders. This strategy has served its unitholders well, with the company paying stable monthly distributions with modest increases every few quarters.
With a 8.10% yield, Vanguard is a stock worth considering for income investors. That being said, with the stock near its all-time high, I would wait for a dip before initiating a position.
Disclaimer: The opinions in this article are for informational purposes only and should not be construed as a recommendation to buy or sell the stocks mentioned. Please do your own due diligence before making any investment decision.
Disclosure: I am long VNR. I wrote this article myself, and it expresses my own opinions. I am not receiving compensation for it (other than from Seeking Alpha). I have no business relationship with any company whose stock is mentioned in this article.