April Forex Roundup
The forex market in April was characterized by an unusually low level of volatility. Some pairs traded between tight ranges not seen since the late 1990s. A 50 pip range for currencies such as the USD/CAD persisted for several weeks and it was not until the last few days of the month did we see some real movement in the prices.
Despite the lack of price movement, the major factors affecting the market have not been insignificant. The crisis in Ukraine, deflationary concerns, data released indicating the slow recovery from the debt crisis and the relatively high exchange rate have all weighed in heavily on financial decision making in Europe. As Draghi contemplates QE, analysts believe he is faced with the most important decision of his career. With the ECB renowned for inaction, a misstep with the delicate balancing act required to push the EU along the path to recovery could spell a return of recessionary fears. This may result in an audit of the effectiveness and functions of the ECB and a major shakeup could ensue. The economic data from Europe broadly show that unemployment is falling while manufacturing and sentiment is mixed. Worryingly, the inflation rate estimates continue to drop with the latest information showing a 0.7 Flash Estimate y/y.
The Australian dollar was stimulated by better than forecasted economic data and the recovery of the American, Japanese and Euro markets, but this was offset by the declining Chinese growth and the possibly related reduction in commodity prices. Central Australian financial bodies are eager to see the major driver of growth and national income shift from the resources sector to other industries such as manufacturing, finance and technology. The historically high Australian dollar tempers exchange-rate sensitive exports and so the Reserve Bank will most likely look to keep rates on hold well into 2015. In any case, Australia has been a destination for carry trade funds and cash-rich Chinese investors seeking to avoid risking their recent earnings by denominating it in the falling yuan. This capital inflow has propped up the AUD to a large degree and the RBA would not want to exacerbate this unexpected inflow by increasing the interest rate further. The similarly commodity driven economy of Canada faces similar issues, however despite the prevailing positive economic sentiment, it will look to the resurging US economy to compensate for the decrease in Chinese exports. The only problem being the US economy is not growing as much as desired. Economic data for Australia show that inflation, building approvals, retail and business confidence is down while the trade balance and employment is up.
The slowdown of the economy in China may only be temporary but it is having a rippling effect across almost all financial markets. The US specifically is not immune to this reduction in growth as China is her second largest trading partner. It could be argued that this is a major handbrake on the expansion of the US economy. Rising stock market indices indicate generally solid growth, but the question is whether the economic stimulus is filtering down to households and unemployment remains a large concern with the Fed. Chairwoman Yellen seemed to announce prematurely that rates will finally lift in 2015, however Fed members seemed to retract that statement on her behalf by reiterating that growth is slower than desired and it all comes down to the numbers, especially employment data. Nevertheless it does seem a real possibility that rates will rise in 2015 and consequently so will the USD. With US economic data in April, manufacturing and exports are down, employment is mixed but sentiment up and so is retail and home sales.
The NZD economy seems to be outperforming regional counterparts and has raised rates for the second time in two months. It was the first developed country to exit record-low borrowing costs. Despite the fall in dairy products, its financial health is going from strength to strength. Many analysts believe the NZD is headed for parity with the AUD and even the USD. Chinese capital inflow, Australian economic growth and strong immigration will push it along this path. Building and exports are up while business confidence and inflation are down.
Overall the British economy is doing better than the EU; made evident by the EUR/GBP pair which has declined to 0.82. Retail sales, borrowing, unemployment and manufacturing all produced better than forecasted data and at the beginning of the month, FSB's Carney said that financial markets should prepare for higher rates. GDP grew slightly below forecast and by no means is the progress a smooth ride, but sentiment is positive and the economic plan is on track for Britain to make a full recovery from the deep recession.
Bank of Japan's president Kuroda said recently that the Central Bank will continue easing until 2% inflation is stable, but it's a important acknowledgement that Japan is finally emerging from its deflationary cycle. Japan seems to be moderately closer to a full throated recovery and the Bank of Japan's full year forecast for 2014 is an increase of GBP of 1.1% (though down from the 1.4% forecast in January). Japanese retail sales and optimism are up but exports and manufacturing are down.
Market Characterised by Low Market Volatility
Many major currencies traded between a narrow band in April representing a multi-year drop in volatility. According to Bloomberg, the waters calmed as global central-bank balances sheets continued to grow, driving more liquidity into financial markets as economies worldwide recovered. Perhaps this price stability was also created by the uncertainty surrounding the Russian invasion of the Crimea and the potentially drastic measure of European QE; the major market players are just waiting to see what happens next. Some currencies such as the Swedish Krona, South African Rand and the Chinese Yuan bucked the trend and the price moved considerably. The lack of price action nevertheless presented market participants with some interesting trading opportunities - trading between ranges and anticipating breakout opportunities. The GBP/JPY for example has produced a perfect triangular range and as this goes to print, we still expect a breakout in either direction at any time (see also the EUR/JPY chart).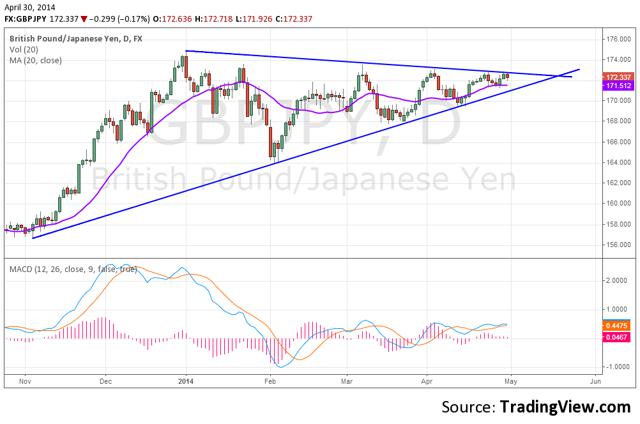 The EUR/CHF is an example of a pair that offered breakout opportunities that were easily identifiable during the April trading period.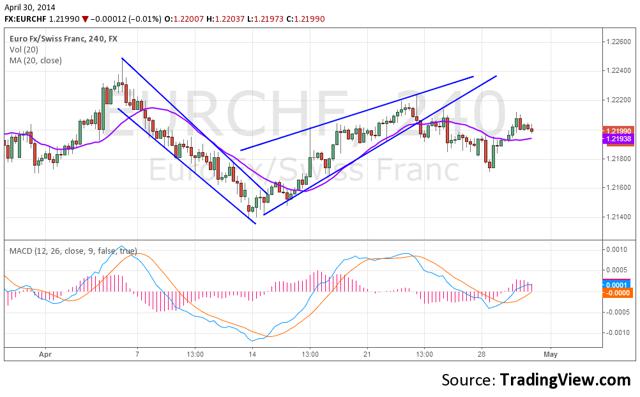 What Traders Can Expect in May
We expect market volatility to return in May but all eyes will be on inflation data and the reaction of Draghi to this information. Oil and natural gas prices may rise should Russia invade Ukraine but I can't foresee Western troops entering this conflict. I don't believe there is an appetitive for war as EU economies continue to recover from the GFC. There will be a prolonged period of heightened tension and the euro may suffer instability due to this crisis on its doorstep. With this in mind, safe haven currencies such as the Swiss CHF and the Swedish krona become attractive.
China will continue to see a reduction in economic growth, but many analysts believe this to only temporary. The reduction of foreign imports and building in East Asia will affect the AUD, CAD, NZD and USD to some degree but this will be offset by other emerging economies. We may continued range trading with these currencies.
The major economies will most likely continue to grow and May will be a month of increased talk with regards to raising interest rates. Although global rates will most likely not rise (except in minor economies), central banks will be able to give traders an indication of the conditions in which they will be able to raise interest rates or even perhaps a specific forecast or target.
We should see unemployment fall in Europe and US while manufacturing and inflation in Western countries should increase. We head into May with broadly positive economic sentiment.
Disclosure: I have no positions in any stocks mentioned, and no plans to initiate any positions within the next 72 hours. I wrote this article myself, and it expresses my own opinions. I am not receiving compensation for it (other than from Seeking Alpha). I have no business relationship with any company whose stock is mentioned in this article.