Swiss private banks have agreed to assist US authorities by providing comprehensive details about Morgan Stanley (NYSE:MS) and Goldman Sachs (NYSE:GS) bank accounts that might indicate potential tax evasion by American clients.
By working with the Department of Justice, the two megabanks will not have to face prosecution in the United States if investigations show that they have handled tax evader's accounts. However, while avoiding prosecution, they may still face financial penalties when handing over possibly incriminating details. These penalties could be as high as half the value of the undeclared accounts that set up for clients.
DOJ Bank Probes, Categorized
Essentially, the Department of Justice is conducting three types of investigations. There are category 1, category 2, and category 3 investigations. While banks do not have to opt in to the program, choosing to opt out draws unfavorable attention from the Department of Justice.
In private discussion, banks and their attorneys have complained that they think the program is too rigorous. Moreover, they are unclear how the Department of Justice will use the information they gather when Switzerland has secrecy laws for bank clients that prevents their identities being disclosed.
Skepticism is not shared by Justice Department Spokeswoman Dena Iverson, who made the statement that the program is just one approach to catching tax evaders and that investigators have access to multiple law enforcement strategies to discover information about account holders, who thought they could remain anonymous indefinitely.
Category 1 Investigations
In Category 1 investigations, banks are scrutinized for criminal actions. They are not allowed to provide self-reports. Julius Baer Group AG and Credit Suisse Group AG (NYSE:CS) fell under this category. Currently, Credit Suisse should prepare for settlement because it has accrued some $795 million in legal fines.
Category 2 Investigations
The investigation of Morgan Stanley and Goldman Sachs Group Inc falls under a category 2 investigation. Under this category, the Justice Department program can go through bank books to find out how the banks arranged Swiss accounts for their US clients. A category 2 probe allows investigators to sift through bank books, gather information on how the accounts are set up, and even review how much money is in the accounts. An independent examiner then reviews the information. The Department of Justice expects to complete its processing of category 2 banks by the end of June this year.
In total, 106 Swiss private banks have joined the category 2 program as a preventative measure as it is not always easy to discover the ties that clients may have to the US. Some clients, for example, may use a US residence permit or have a second passport. It is believed that Morgan Stanley and Goldman Sachs chose category 2 as a precautionary measure when dealing with the Department of Justice. It is a better-safe-than-sorry approach-better than claiming they did not have any questionable accounts, only to find out this was not the case at all.
Category 3 Investigations
Besides averting suspicion by volunteering for category 2, an additional benefit to this choice may be the ability to get downgraded to a category 3 level. At this level, a bank does not face any penalties, because they have been cleared of any suspicion of assisting American tax evaders.
As of 2013, Goldman Sachs' private bank in Switzerland had $12 billion under supervision while Morgan Stanley's private bank in had $50.7 billion under supervision. In Morgan Stanley's case, some of the assets under management came from their Hong Kong and Singapore branches.
Outlook for GS, MS Investors
Relative to other megabanks, such as J.P. Morgan (NYSE:JPM) and Bank of America (NYSE:BAC), Goldman Sachs and Morgan Stanley have fared decently in 2014.
While the press recently swirled around Goldman's potential closing of its dark pool Sigma X, and concerns arose regarding the dent this could leave in the firm's trading profits, the firm posted solid Q1 results--lower than expected net income, but still topping "street" estimates. Goldman Sachs could also stand to gain market share by holding onto its commodities business, in the wake of Barclays' (NYSE:BCS) and J.P. Morgan's exits, due to regulatory pressures and underperformance.
Morgan Stanley shone in Q1, particularly next to poor results from JPM and BAC, with profits up $1.18 billion from the previous time last year and bond revenues up 9%.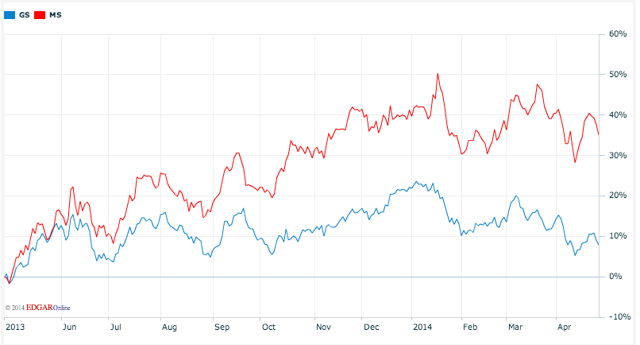 (Nasdaq.com)
These latest investigations are troubling, until further clarification of potential losses are released via the investigations, shareholders should consider taking some profits in these mega banks.
We invite readers wishing to read and join the discussion about Goldman Sachs, Morgan Stanley, and other megabanks to click the +FOLLOW button above the title of this article.
Disclosure: I have no positions in any stocks mentioned, and no plans to initiate any positions within the next 72 hours. I wrote this article myself, and it expresses my own opinions. I am not receiving compensation for it (other than from Seeking Alpha). I have no business relationship with any company whose stock is mentioned in this article.