Around 4-5 hours before the market opens, Twitter (NYSE:TWTR) shares are down around 11-12% due to earnings which were announced after the close yesterday. I looked into the numbers and compared it with Facebook (NASDAQ:FB) to see if a shorting opportunity still exists. I've come to the conclusion that TWTR will drop further and justifiably should trade at a discount to FB rather than at a premium.

As the table above shows, total active users rose by 6% quarter-on-quarter or 25% year-on-year. Sales per user dropped to $0.98 while gross margin increased to 66%. I have decided to use gross margin here for some comparables as it is cleaner than operating and net profits and does not need adjusting.
If we look at Facebook numbers (below) and compare user growth, we see there is a huge contrast. When Facebook had 242m users (as TWTR did last quarter) it raised that figure to 305m or 26% quarter-on-quarter. TWTR only did this over the course of a year! Twitter's current growth trend looks similar to Facebook's in the 2012 (see the numbers in the box).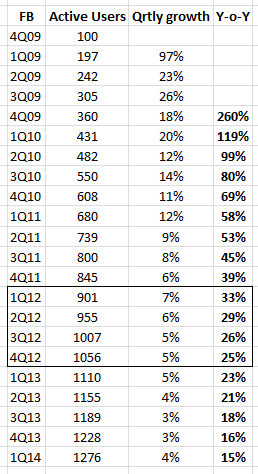 Let's assume that all else is equal. Where was Facebook trading at during these particular growth figures which are similar to Twitter's today? The table shows that FB had a 5% growth in users quarter-on-quarter in both 3Q12 and 4Q12, while year-on-year users grew 26% and 25% respectively.
I took market cap figures as stated on ychart's website (http://ycharts.com/companies/FB/market_cap). I used the numbers 2 weeks after Facebook announced earnings in order to eliminate short-term noise. In other words, FB announced 3Q12 on Oct 23rd 2012, I used the market cap from Nov 6th 2012.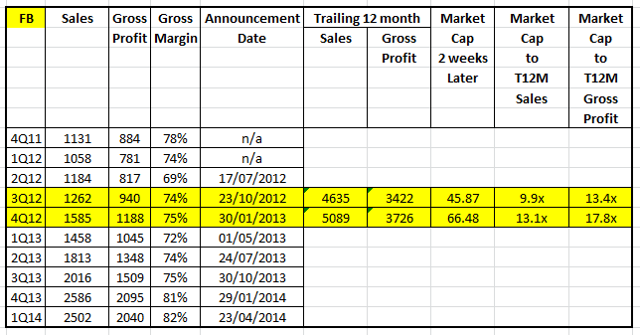 Something you may notice is the significantly higher gross margin that Facebook has. (Please note that sales and gross profit figures were taken from morningstar.com). Let's ignore this for the moment. Facebook was trading at a Price-to-Trailing 12M Sales of 9.9x and 13.1x while Price-to-Trailing 12M Gross Profit was 13.4x and 17.8x. These are two scenarios that can be used. In addition, I used estimates for 2014 and 2015 and applied Facebook multiples. The results are shown below: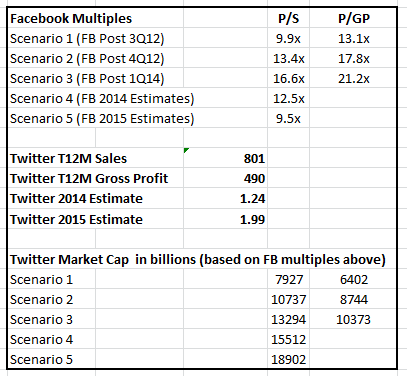 As outlined above, scenario 1 and 2 applies Facebook multiples when it had very similar growth to Twitter's. This results in a market cap range of $6.4-10.7 billion, around half of today's market cap. If we applied Facebook multiples to current Twitter estimates then we still come short with a range of $10.4-18.9 billion.
Now let's look at the $1.24 billion sales estimate. If we assume that sales per user remains constant at $0.98 then Twitter would have to increase users by 14.5% per quarter in order to achieve its sales figures. 1264 at 98 cents is $1.24 billion. See the table below. Considering that growth is in the single digits this is very unlikely. The only way for Twitter to increase sales is if its Sales per user increases.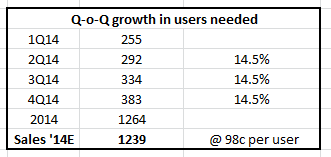 Now if Twitter follows Facebook's growth from 1Q13 onwards we come up with the below user forecast. I assume here that Twitter is at the same stage as Facebook was in 4Q12 when it had 25% user growth year on year. As the table below shows, Twitter could have 287 million users at year-end or 340 users at the end of 2015. Even at $1 per user this means $1.1 billion in sales in 2014 and $1.3 billion in sales in 2015.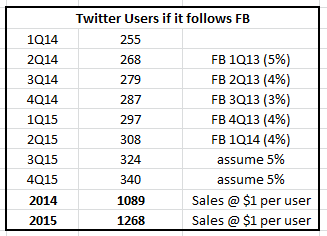 Of course one could argue that Twitter will increase sales per user, grow users faster and will trade at a higher multiple. The way I see it is that Twitter should at best trade at Facebook multiples, a company that is making profits, has higher margins, is growing and has a very charismatic leader. I look around me and I see people on Facebook, not Twitter. Of course this is an entirely different discussion.
Anyway, my conclusion is you can still make money shorting TWTR as even my most optimistic estimate is $18.9 billion. TWTR yesterday closed at $24 billion, while pre-market it is down 11-12%. It would have to drop by 21% total to reach my optimistic valuations. Furthermore anything that goes even slightly wrong going forward will result in significantly lower valuations.
Disclosure: I have no positions in any stocks mentioned, but may initiate a short position in TWTR over the next 72 hours. I wrote this article myself, and it expresses my own opinions. I am not receiving compensation for it (other than from Seeking Alpha). I have no business relationship with any company whose stock is mentioned in this article.