Screening for Growth & Income
When running screens to discover attractive candidates for our growth and income portfolios we are always conscious of the trade-off between yield and growth. In general terms, although there will be exceptions to this statement; there is an inverse relationship between growth and dividend yield. In other words, in order to achieve high growth you must be willing to give up yield and vice-versa.
On the other hand, if you are thorough in your due diligence process, occasionally you can find stocks that offer both above-average growth and above-average dividend income. Although these are rare to find, they can dramatically enhance your portfolios total return when they are found. Upon running this week's screens, we discovered several of these rare opportunities. Since we believe you make your money on the buy side, we can thank the recent weakness in the stock market for making them available.
In order to identify these candidates, we screened for the following characteristics: First of all, each candidate had to offer a dividend yield that was at least equal to the yield available from investing in a 10 year treasury bond. Second, and most importantly, we sought companies, that based on consensus earnings forecasts, were expected to grow future earnings at 10% or better. Finally, each candidate had to be selling at a valuation that was equal to or preferably below our calculations for earnings justified True Worth™.
The following five companies currently meet our screening criteria. There were other choices that showed up, however, these are the five we liked the best based solely on the perspective provided by our EDMP F.A.S.T. Graphs™. We are currently conducting a more comprehensive examination of each selection, and strongly suggest you do the same before considering investing. On the other hand, most of these names should be familiar to most readers.
Growth Yield
The primary idea behind these selections was to identify stocks that could provide an above-average total return without sacraficing yield. Secondarily, we sought companies that provided the potential to grow their dividends at a high rate. We refer to this as growth yield. The rationale underlying this objective is that you deserve a raise in pay each year.
Figure 1 below summarizes these five selections and lists them based on the highest to lowest five-year estimated total return. This estimated total return calculation is based on each company meeting their estimated earnings growth targets and then the stock market subsequently capitalizing those future earnings based on widely accepted formulas for valuing a business.
Of course, the reader should be aware that none of these estimates may actually come to pass. Also, understand that these numbers represent mathmatical calculations that are based on the consensus growth assumptions. Therefore, they are calculations based on normal valuations applied to earnings, and not forecasts. However, we believe they do represent reasonable targets to shoot for.
Figure 1 Summary Fundamental Data & Forecasts
click to enlarge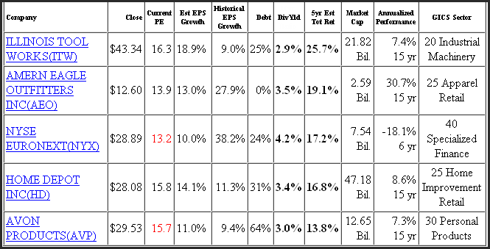 Our EDMP F.A.S.T. Graphs™ provide investors the advantage of being able to instantly determine how well a company has performed as an operating business over various time frames measured. Additionally, they validate the undeniable relationship between long-term price movement and earnings performance.
These fundamentally-based graphs validate that inevitably and ultimately stock price will move to its earnings justified level, it's just a matter of time. Since dividends and earnings are functionally related future earnings performance will also be a major determinant of future dividends paid.
Reading the Graphs
When reviewing our historical F.A.S.T. Graphs there are key elements that need to be understood in order to derive the most benefit from these "tools to think with". First is the orange line with white triangles which is drawn by multiplying each year's earnings per share by one of three generally-accepted formulas for valuing a business. In essence, this line represents what we call True Worth valuation.
The two shaded areas relate to earnings. The green shaded area represents total cumulative earnings, and the light blue shaded area represents the dividends paid out of those earnings.
Finally, the black line represents monthly closing prices plotted. The trend line correlation between the black price line and the orange value line is a key feature these charts portray.
Five Growth & Income Candidates
Figure 2A below looks at our first candidate, Illinois tool Works (NYSE:ITW), a leading manufacturer of components and fasteners for general industrial applications to include specialty products in the automotive, construction, food and beverage, industrial packaging, power systems and electronics, polymers and fluids to name just a few of this conglomerates many businesses. Illinois Tool Works (ITW) operates in over 850 different business segments across 57 countries.
Figure 2A ITW 15 yr. EPS Growth Correlated to Price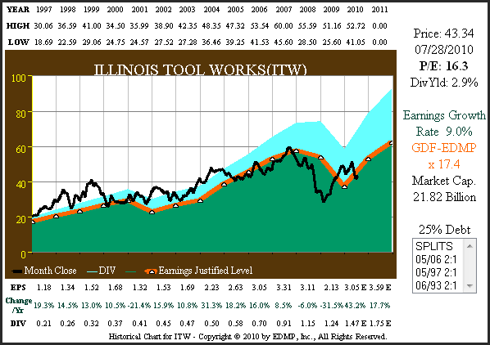 There are several important takeaways that can be gleaned from Figure 2A which correlates earnings, stock price and dividend income for Illinois Tool Works. First and foremost, from the orange earnings justified valuation line we can see that this conglomerate has generated reasonably consistent earnings growth since 1997. However, the company's operating results do display a modest amount of recession sensitivity as can be noted by the dips in the earnings line for the recessions of 2001 and the great recession of 2008.
It's also clearly evident from Figure 2A that monthly closing stock prices, as depicted by the black jagged line, follow earnings over time, notwithstanding short-term bouts of volatility. The graph shows that even though the price line can become temporarily disconnected from earnings, in due course, price will move back to earnings.
Figure 2B below calculates the performance to include a table on dividends associated with Figure 2A above. Notice how the dividend growth rate has correlated to the earnings growth rate from one year to the next. Also, even during periods of temporary earnings weakness, Illinois Tool Works (ITW) has remained committed to dividend payments.
Figure 2B ITW 15yr. Dividend & Price Performance History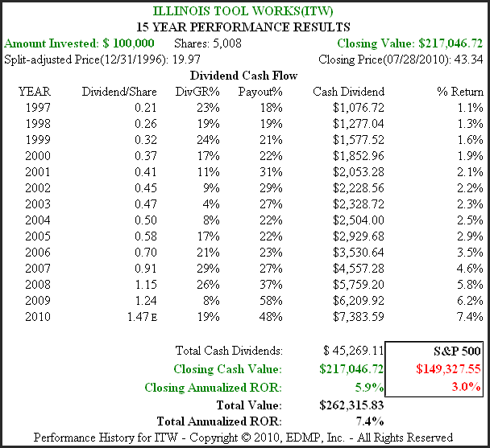 Figure 2C below calculates future earnings growth estimates based on the consensus of 22 analysts reporting to FirstCall. Illinois Tool Works is estimated to grow earnings at 18.9%, therefore, its current P/E ratio of 16.3 provides a PEG ratio valuation that is below one which indicates attractive valuation for a fast-growing company.
The five-year estimated total return of 25.7% listed at the top of the chart assumes that Illinois Tool Works achieves its earnings growth and trades at a PEG ratio valuation of 18.9. Of course, dividend income, as indicated in the light blue shaded area, and estimated at the bottom of the chart is expected to grow consistent with earnings growth.
Figure 2C ITW Consensus Earnings Forecast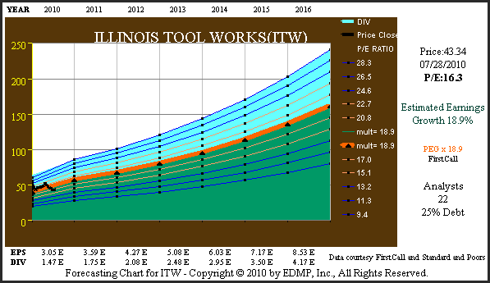 Figure 3A below looks at American Eagle Outfitters (NYSE:AEO). Once again, you can see how well this company has historically performed on an operating basis. Their average earnings growth has been extremely high at over 27% per annum. However, earnings growth has also been inconsistent over short periods of time. The explosive growth from 2004 to 2007 led to a precipitous drop in 2008 and a smaller decrease in 2009.
Figure 3A AEO 15yr. EPS Growth Correlated to Price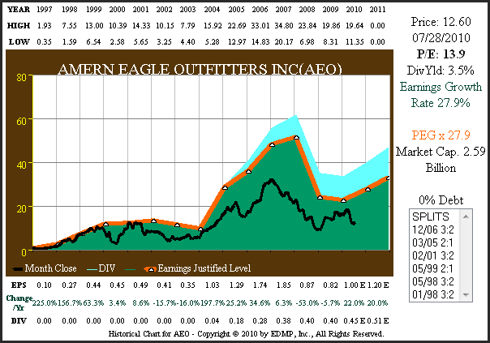 Figure 3B below calculates the performance associated with Figure 3A. American Eagle Outfitters only instituted a dividend starting with calendar year 2004, and therefore, doesn't have a long-term, established dividend history.
Although they only raised their dividend modestly in 2008, and did not raise their dividend in 2009, strong profitability allowed American Eagle Outfitters to at least keep their dividend intact. As earnings growth resumes, it's expected that dividend growth will follow suit.
Figure 3B AEO 15yr. Dividend & Price Performance History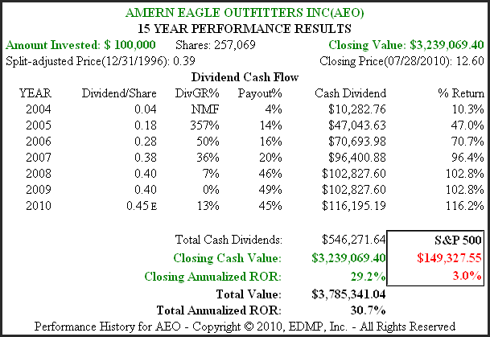 Figure 3C below calculates the future estimated earnings growth of American Eagle Outfitters based on the consensus of 30 analysts reporting to FirstCall. The consensus expects American Eagle Outfitters to grow earnings at a compounded rate of 13% per annum between now and calendar year 2016.
Since American Eagle Outfitters price line is touching the earnings justified orange line, it's currently at fair value. Once again, assuming they hit these earnings growth targets and the market capitalizes those earnings at an earnings justified P/E ratio of 15 times earnings then their estimated future return, including dividends, would equal 19.1% per annum.
Figure 3C AEO Consensus Earnings Forecast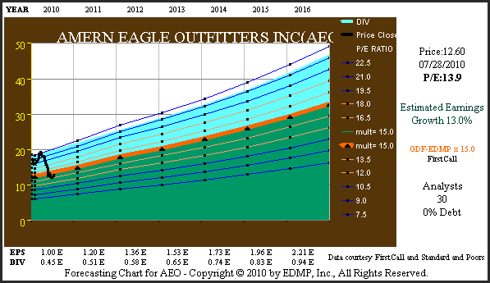 Figure 4A below looks at NYSE Euronext, Inc. (NYSE:NYX), the holding company created by the combination of NYSE Group, Inc. and Euronext N.V. which commence trading on April 4, 2007. This combined company has six equity exchanges and six derivative exchanges in five countries. NYSE Euronext is a global operator of financial markets and provider of trading strategies.
Like most IPOs, NYSE Euronext went public at very lofty valuations of 40 to 50 times earnings. However, over time, their stock price adjusted to earnings realities. Now that they are currently trading at a P/E ratio of 13.2 and offering a dividend yield in excess of 4%, we feel that they appear attractively valued.
Figure 4A NYX 6yr. EPS Growth Correlated to Price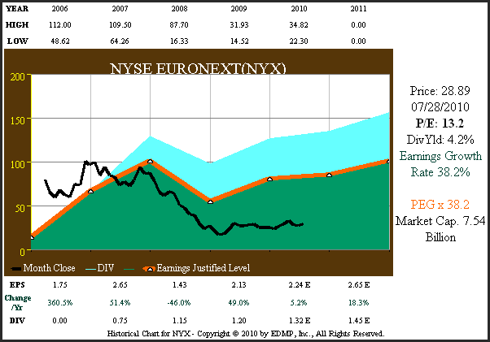 Figure 4B calculates the performance associated with Figure 4A above. Based on the lofty valuation that the stock market placed on NYX initially, long-term shareholders have suffered compounded annual losses exceeding 20% per annum.
However, this past performance is not indicative of the true potential of this enterprise based on fundamental values. Now that valuation is attractive, future shareholder returns should be quite different.
Figure 4B NYX 6yr. Dividend & Price Performance History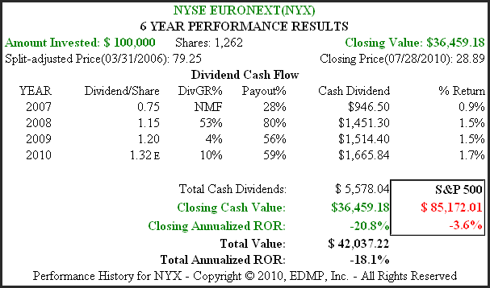 Figure 4C below calculates the future return potential for NYSE Euronext Inc. based on the consensus of 23 analysts reporting to FirstCall. The consensus estimate of 10% future earnings growth would imply a compounded annual return of 17.2%, once again, assuming those estimates are achieved in the market capitalizes those future earnings at 15 times earnings.
Figure 4C NYX Consensus Earnings Forecast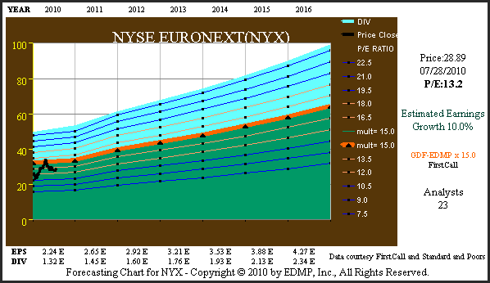 Figure 5A looks at Home Depot (NYSE:HD) since calendar year 1997. Once epitomized as a quintessential example of a growth stock, Home Depot has more recently morphed into a growth and income stock. This is clearly evident by looking at how consistent earnings growth for Home Depot was up through calendar year 2007 before the great recession of 2008 took its toll.
Figure 5A HD 15yr. EPS Growth Correlated to Price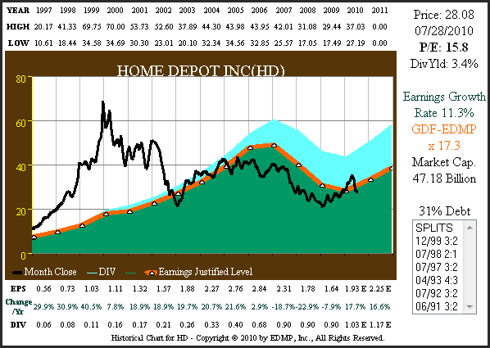 Figure 5B below calculates the performance associated with Figure 5A above. Even though Home Depot was paying a modest dividend since 1997, it's clear from the payout percentage column (payout ratio) in the dividend cash flow table in Figure 5B that Home Depot didn't become serious about paying a dividend until calendar year 2008, at which time their payout ratio had increased to a level more consistent with a dividend paying stock.
Figure 5B HD 15yr. Dividend & Price Performance History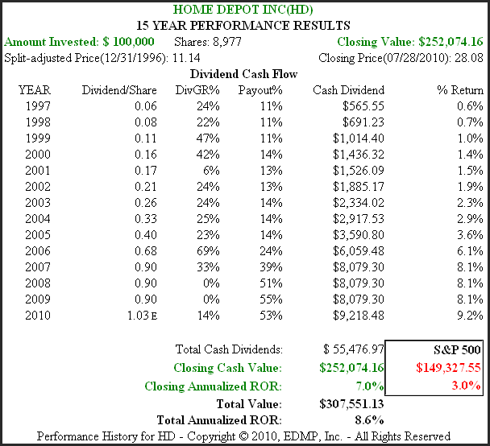 Figure 5C below calculates the future return potential for Home Depot of 16.8% per annum based on the consensus earnings estimates of 30 analysts reporting to FirstCall. Because Home Depot carries a higher price earnings ratio than American Eagle Outfitters or NYX it ranks fourth out of five regarding total estimated return potential.
However, of the five choices cited this article Home Depot is forecast to grow earnings at the second highest estimated rate of 14.1%. Assuming that dividends follow suit, then it's logical to assume that their dividend would be the second fastest growing of the five examples in this article.
Figure 5C HD Consensus Earnings Forecast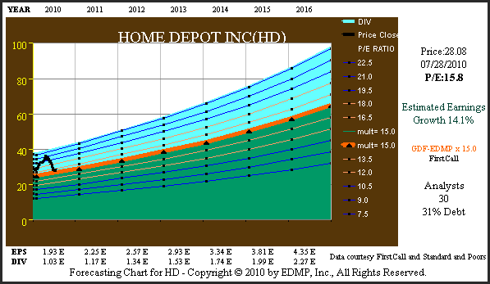 Figure 6A looks at Avon Products (NYSE:AVP), one of the world's leading manufacturers and marketers of a broad array of cosmetics, fragrances, fashion jewelry, apparel, to name just a few of their product categories. As depicted in Figure 6A, Avon Products has consistently grown their earnings with only a few bouts of cyclicality in between.
Note how stock price was severely impacted by the great recession before recovering back to True Worth™ valuation as earnings held up reasonably well. At its current levels, Avon Products' stock price is trading at what has historically, at least, represented an attractive or low valuation.
Figure 6A AVP 15yr. EPS Growth Correlated to Price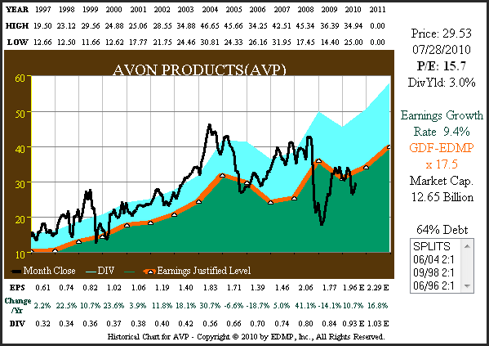 Figure 6B calculates the performance associated with Figure 6A above. Overvaluation at the beginning of this period, coupled with undervaluation led to shareholder returns that were approximately half of Avon's earnings growth achievement. However, their dividend, which has consistently grown, has enabled long-term shareholders to earn a quite respectable total return of over 7% per annum.
Figure 6B AVP 15yr. Dividend & Price Performance History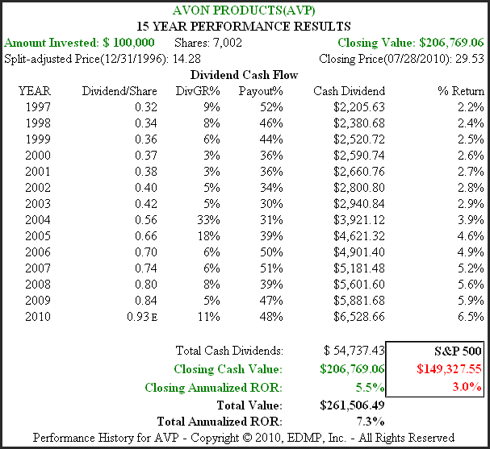 Figure 6C below calculates a five-year estimated return of 13.8% for Avon Products Inc. Once again, this estimated return is based on the consensus of 17 analysts reporting to FirstCall. As an interesting aside, Avon Products just reported that their second quarter 2010 profit doubled.
Figure 6C AVP Consensus Earnings Forecast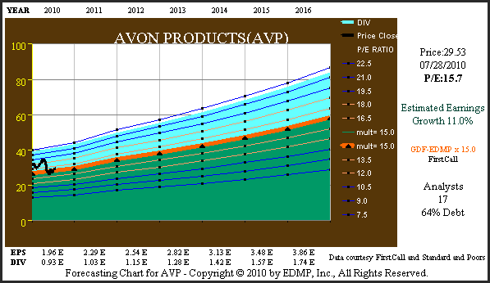 Conclusion
The five companies reported on above are, for the most part, not typical examples of dividend paying stocks. Only Illinois Tool Works and Avon Products possess a long history as dividend payers. These two blue chips have typically been considered growth stocks rather than dividend stocks. The other three examples have very short records of paying dividends. However, they appear to be maturing into long-term dividend payers going forward.
When viewed collectively, this group of companies appear to be capable of generating very strong total returns for their shareholders. Additionally, when viewed collectively, they also offer an above-average dividend yield that is expected to grow at a faster rate than most dividend paying stocks would offer.
Therefore, we present this group as interesting candidates to turbo-charge the portfolios of investors seeking dividends and dividend growth. However, we again caution that a more comprehensive research effort be conducted before investing.
Disclosure: Long AVP and AEO at the time of writing.