JinkoSolar (NYSE:JKS) was founded in 2006, and its production headquarters are located in Jiangxi and Zhejiang provinces, while its global marketing efforts are directed from Shanghai. The company listed on the NYSE in May 2010, and has developed itself into a world-class photovoltaic power enterprise. JKS had a global market share of 5.6% in 2013, as it shipped 2GW of solar modules across the world. It was the first Chinese PV manufacturer to achieve profitability, and is the lowest-cost manufacturer among its peers. The stock price also rose close to 400% in 2013, putting it as one of the best performers globally. JKS had 2.3GW of silicon ingots, wafers and cell vertical capacity and 2.5GW of module capacity at the end of 2013. The company plans to further increase its module capacity to 3GW-3.5GW. In addition, JKS has also aggressively started developing its downstream solar power plant pipeline. By end-2013, a total of 230MW projects had been built and connected to the electric grid. JKS plans to complete another 400MW of downstream projects in 2014 and spin off its downstream business via a listing in HK or US around the beginning of next year.
The Photovoltaic (PV) supply chain can be broken into three stages:
Upstream - crystalline silicon materials
Midstream - wafers, cells, modules
Downstream - photovoltaic power plant and system applications
Downstream companies significantly outperformed midstream and upstream companies in 2013. On the upstream side, a lot of new production capacity will be added by the end of this year or early next year. Hanwha, Tokuyama, SunEdison, GCL and Daqo are all planning capacity expansions. It is quite uncertain whether the solar demand can absorb this new capacity. However, this year's winners could be midstream manufacturers. Midstream players are more cautious on production capacity expansion, and are achieving capacity expansion by buying out distressed tier 2 assets at significant discounts to book value. This subset of companies is showing much more discipline and is growing capacity in line with demand forecasts, unlike previous cycles. Module price longer-term trends may still be downwards due to technological improvements and reductions in Feed-in Tariffs (NYSE:FIT), but the module prices should remain stable in the near future due to the current demand/supply dynamics. This will give the midstream players time to implement cost reduction strategies in order to keep more stable margins in the long run. JKS is targeting processing costs of USD 0.35-0.36 per watt, which will continue to be industry-leading. Based on the current cost reduction pace, the PV industry should be able to achieve 20% CAGR in terms of installation over the next 5 years. Midstream producers arguably have less execution risk as opposed to downstream manufacturers as solar enters new geographies, therefore may have a higher margin of safety.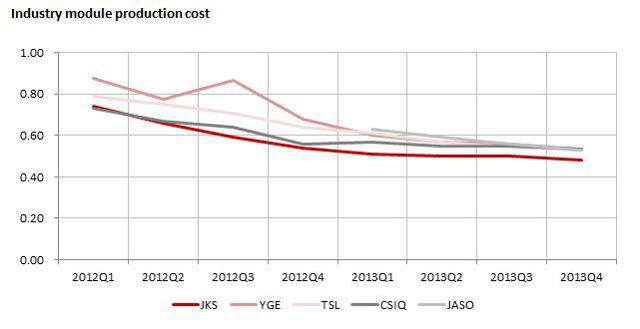 JKS' biggest advantages are its cost control ability and integrated production chain. JKS is able to take advantage of Jiangxi's cheaper labor cost for its labor-intensive processes. JKS had a comprehensive strategy to acquire distressed assets and equipment during the down cycle, which allowed it to expand rapidly and achieve best-in-class costs versus its peers, which it has been able to maintain over the last 18 months. We increasingly believe that the Chinese government will adjust this year's PV installation expectation in the coming two months. The original installation target of 6GW for ground stations will be raised, possibly to 8GW. If so, the Chinese government's target of 14GW of total installation will be more achievable. As a result, solar components' demand in the second half of the year will really take off and component prices should continue to stabilize. This will cause further gross margin expansion for JKS in the second half. JKS' downstream business is also worthy of attention. The company plans to spin off its downstream portfolio and list it in Hong Kong or the U.S. by early 2015. This could create significant value rerating of its downstream power plants, as it lowers the cost of capital for downstream projects.
However, based on our valuation, we first only consider the direct impact on revenue and income due to FIT income decrease and sale of power plants. We have not considered the beneficial effects of the spin-off and valuation of the company, and see the spin-off as a call option.
According to our estimates, JKS 2014 should achieve an EPS of $4.30, which includes $0.95 from the sale of power plants (we assume that JKS will sell 100MW of power plants) and FIT income, and EPS will be $4.85 conservatively in 2015. Therefore, based on the current price of $26.76, the corresponding 2014 & 2015 PER should be around 6.3x & 5.5x respectively. The stock looks very attractive given the growth prospects of the Solar PV industry, especially when you look at it against its historical PE band. JKS is definitely a growth stock trading at value multiples.
Price-to-Book

Price-to-Earnings

Company

2014E

2015E

Historical

2014E

2015E

Historical

JA Solar (NASDAQ:JASO)

0.6

0.6

0.3-1.7x

12.6

10.8

4.0-9.0x

Trina Solar (NYSE:TSL)

1.0

0.9

0.5-2.5x

8.8

6.0

6.0-11.0x

Canadian Solar (NASDAQ:CSIQ)

1.9

1.3

0.4-2.4x

7.4

6.1

6.0-12.0x

JinkoSolar

2.2

1.6

0.4-3.0x

6.3

5.5

3.0-9.0x

Yingli Green Energy (NYSE:YGE)

5.4

4.9

0.4-7.0x

N/A

N/A

N/A
Recently, the US launched another round of investigations to address a loophole that allowed Chinese manufacturers to avoid being taxed from buying cells from Taiwanese manufacturers, processing the cells into modules, and selling these modules in the US without having to pay a tariff. The preliminary ruling for this investigation is expected to be announced in June 2014, and the market expects that the US will impose a tax penalty on the Chinese manufacturers. Given the above, it is unlikely for US and China to enter into a trade agreement in the near term, one similar to that between China and Europe. Although the tax rate imposed by the US is yet to be determined, investors see the upcoming ruling as a major risk for Chinese solar companies. Fortunately, for JKS, only 12-15% of annual shipments go to the US; thus the impact of the ruling on JKS is expected to be limited. In early 2014, JKS issued convertible bonds and ADS to improve its balance sheet and raise money for project development. JKS now has a net gearing of 83%, in contrast to 140% in Q3 2013. As JKS constructs and holds more power plant projects on its balance sheet, its ability to pay back existing debt and to take on new projects is limited; investors are therefore focusing on whether or not the company can spin off its downstream projects in a timely fashion. JKS' net gearing will only be 57% after selling off its existing power plant projects and repaying the debt associated with them.
Disclosure: I am long JKS, CSIQ, JASO, YGE. I wrote this article myself, and it expresses my own opinions. I am not receiving compensation for it. I have no business relationship with any company whose stock is mentioned in this article.
Additional disclosure: Business relationship disclosure: The article has been written by a senior analyst at Central Asset Investments. Central Asset Investments is not receiving compensation for it (other than from Seeking Alpha). Central Asset Investments has no business relationship with any company whose stock is mentioned in this article. This article provides general information only. It does not constitute an offer to sell or the solicitation of an offer to buy any interests in any securities, investment product or fund. Investor should consult their own financial advisors prior to making any investment decisions and should not rely solely on these statements or any information presented in order to make such investment decision. Investors should verify the accuracy of any information mentioned in this article. CAI may or may not have an interest in the companies mentioned in this article.