"WHERE'S THE DAMN PRODUCT?!", Apple (NASDAQ:AAPL) shorts screamed, while watching the stock rocket from $520 to $590 in a matter of roughly three trading days. Margin calls were likely made to a select lucky few.
And look, I know that sucks. I've been on the short end of high flyers before and it's never a feeling you want to celebrate. But, the continual shrieks of the shorts have been silenced by Apple's impressive performance over the last quarter. The facts are the facts. These shrieks, I'm predicting, will continue to be silenced as we watch Apple operate through the rest of 2014. So, hop aboard the long train with us, will you?
Apple reported EPS of $11.62, which beat by $1.44 - and revenue of $45.65 billion, which beat by $120 million. Both lines smashed estimates in what was supposed to be Apple's weakest quarter.
In addition to posting its fantastic numbers, Apple also announced a 7:1 stock split, raised its buyback from $30 billion to $90 billion, and raised its dividend by 8% to $3.29.
One of the items I didn't get to touch on, post-earnings, was the analyst sentiment coming off the report. Apple was on the receiving end of five price target increases, as Seeking Alpha pointed out in a timely fashion:
Apple has received 5 PT hikes to go with one upgrade (from CLSA) following its iPhone-driven FQ2 beat, dividend/buyback increases, and split announcement.
Jefferies (Buy) isn't crazy about FQ3 guidance (it thinks FQ2 demand pull-in is a factor), but is pleased with the pickup in iPhone sales growth and recommends buying shares "ahead of what we believe will be a successful iPhone 6 launch."
Canaccord (Buy): "While our survey work indicates iPhone will likely lose share over the next several months to refreshed Android products, we believe Apple will win back meaningful high-end market share during [2H14]."
Nomura (Neutral) is more cautious, noting growth was just 0.4% Y/Y outside of China and Japan. But it also sees "little risk of a material negative disappointment in the coming months."
I really couldn't be happier. Those who have read me know that I've been an Apple perma-bull since I've started writing on Seeking Alpha, and many years before that.
I never had the free capital to take a substantial position in the company, nor did it ever seem like the timing was right. On a whim, I dabbled in some Apple calls before the earnings report and am damn glad that I did. My calls expire on June 21 of this year, and I fully expect Apple to be well over $600 by that time. I plan on holding these calls up until then and then likely exercising them to start a long-term position in Apple.
What is going to drive Apple through $600 with such ease, you ask?
First, we can expect the giant to continue its robust buyback. Lowering the outstanding means putting a bid under the stock and enticing new money into the company who are looking for the attractive return of a stock being bought back by the company.
Second, once the stock splits, there will be an even bigger influx of retail demand for Apple stock to enter the market. The entire constituency of common folk that simply think that $500 is "expensive" and $50 is "cheap" for a stock - without knowing a thing about how a market cap is calculated - will pile into Apple's stock.
Further, in new news, Apple raised "only $12 billion" in their recent debt offering, according to Seeking Alpha:
Apple's offering size is below the $17B it raised a year ago, and had been reported to be looking to raise this year. Investors have placed over $40B worth of orders.
As expected, interest rates are low: 10-year bonds are offered to yield only 77bps more than comparable Treasuries, and 30-year bonds just 100 bps more.
The 7-part offering, which will help pay for additional buybacks, will increase Apple's total debt load to $29B. The company's cash/investment balance is at $150B, of which $18B is in the U.S
With the amount of money Apple has raised in the last couple of years, $40 billion +, "only" raising $12 billion could be less of a product of disinterest and more of a product of the planet Earth simply running out of money to give to the company.
I mean, that's kind of a joke; but, seriously, there's only so many billions to go around. $40 billion in a two year stretch is raising money at a good clip. It's a responsible amount that doesn't decimate Apple's debt to equity ratio and keeps the balance sheet strong for the technology giant.
The bear argument about the product holds no water. We know Apple is going to be coming out with new products - we know they're likely going to continue to aggressively revamp the Apple TV - trying to command a serious presence in the set top box niche. And, we also know that the iWatch is coming at some point soon. Apple has a knack for holding us in suspense - then, when we do finally lay eyes on the product, it blows our doors off. I'm predicting the Samsung Galaxy Gear watch becomes an archaic looking fossil by the time Apple's watch offering hits the market.
I remember Apple's first foray into phones, with the iPhone. I remember looking at the display on the iPhone for the first time thinking, "this can't even be real - these icons looks like they're painted on the surface of the screen." It was like nothing I'd ever seen - I'd rather re-live that feeling each time I open up a new Apple product every 8 years than rush the company to put out a product that isn't going to make the hair stand up on my arms every 2 years.
So, shorts, the products are coming - and they're going to be wicked. As an old Apple scholar, I just have this feeling.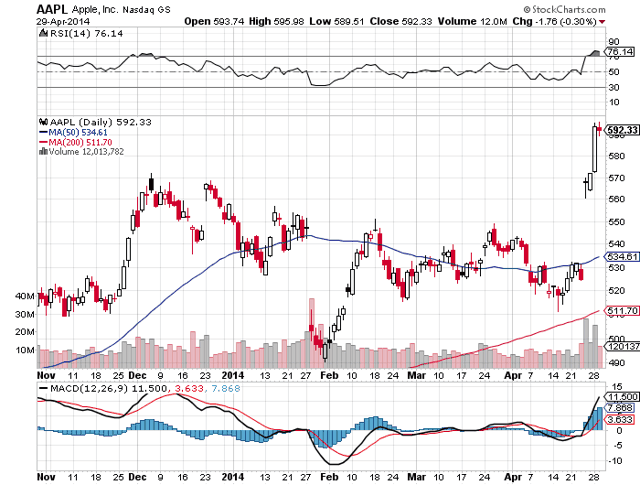 So, let's take a quick look at the price movement over the last six months. See if you can spot the current trend!
Looking at the chart as of yesterday, I am expecting a bit of consolidation around this point for the company - once the RSI corrects and trading becomes healthy again, I'll be looking for the split, the buyback, and retail sentiment behind Apple to switch into overdrive, as the company will likely plow through $600 - or the split adjusted equivalent.
I continue to contend and argue that Apple could potentially be the best long-term investment for growth one could make right now. The company pays a dividend, has an immaculate balance sheet, still isn't even close to supersaturating the market on things like Mac and iTunes, and trades at a P/E as if it were an industrial mega cap, not a technology company that continues to innovate.
With the futures barely red this morning pre-market, Apple has pared its gains slightly, off $0.92 to $591.31 in light pre-market trading.
Best of luck to all investors and congrats again to Apple longs that are with me for the ride.
Disclosure: I am long AAPL. I wrote this article myself, and it expresses my own opinions. I am not receiving compensation for it (other than from Seeking Alpha). I have no business relationship with any company whose stock is mentioned in this article.