Not long ago, I had the thought that there has got be to a media content bubble with all the options we have for getting video content. I ditched cable in 2009 and got along just fine with watching videos and movies on YouTube, owned by Google (GOOG, GOOGL) and very occasionally renting a movie from a Redbox Kiosk, which is owned by Outerwall (NASDAQ:OUTR).
According to a new report by Experian Marketing Services, 7.6 million American households ditched cable and/or satellite TV in the last 4 years.
No more cable TV for the 7.6 million Americans, including myself, means we should have obviously been watching less TV and/or video, right?
That's not been the case at all.
I wanted to get a more objective perspective of what the American populace has been doing with their time over the last 10 years, especially given that so many jobs were lost in the last recession that have yet to be recovered.
I took a look at the Time Use Survey's done by the Bureau of Labor Statistics to compare "TV Watching" time from the years 2003-2012 to the time spent on "Working and working-related activities" in the same time period.
The time use survey table for working and working-related activities, which includes job searching, looks like this: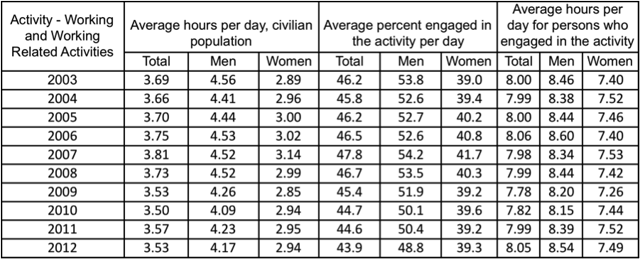 One of the most notable parts to this survey are the percent of Men that are engaged in the activity of work. It's dropped from 53.8% to 48.8%, or 5 full percentage points from 2003-2012.
The next table shows time use survey data on TV watching: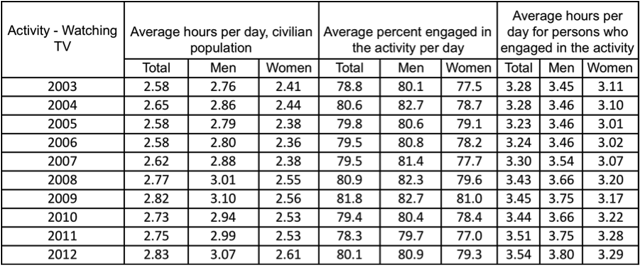 Roughly 80% of the civilian population watches TV on any given day, and of that 80%, Men watched about 3.80 hours of TV, and Women 3.29 hours in 2012.
In both cases, the trend of the American populace's TV or video content watching has been on the rise.
A chart of the average hours per day of working or working-related activities compared to TV watching looks like this: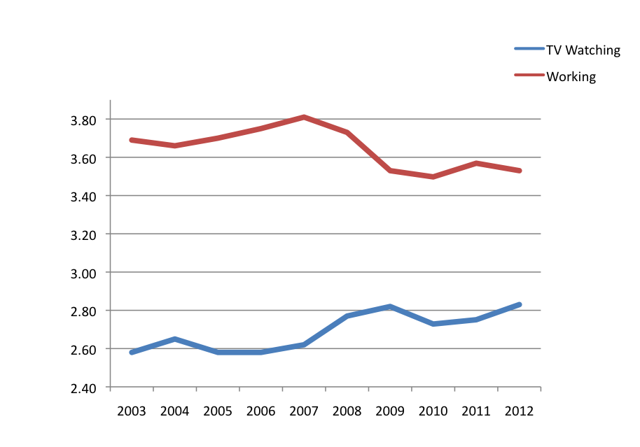 The conclusion here is that as Americans are working less, they're watching more TV and/or video content with their freed-up time.
In percentage terms, Americans are watching 9.7% more TV in 2012 vs. 2003, and are working about 4.3% less in 2012 vs. 2003 on a per capita basis.
It's critical to distinguish generic TV watching from traditional cable providers like Comcast (NASDAQ:CMCSA) to the contemporary streaming video providers as noted below, that are all fiercely competing for market share.
The aggregate increase in watching TV, or for argument's sake, just "content," gives justice to the success that's been had on the companies that provide the content like Netflix (NASDAQ:NFLX), Redbox, the pay per downloads available from Apple iTunes (NASDAQ:AAPL) and YouTube, all of whose services I can say I myself have used for content.
Many of the stocks in the companies that provide video content have done well to extremely well over the last decade as more and more time has been devoted to TV watching by the American populace.
Chart of Netflix: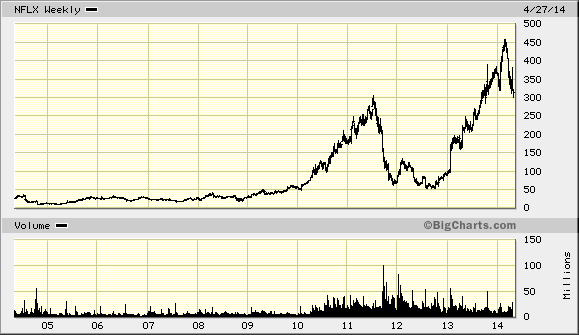 Chart of Outerwall (Redbox):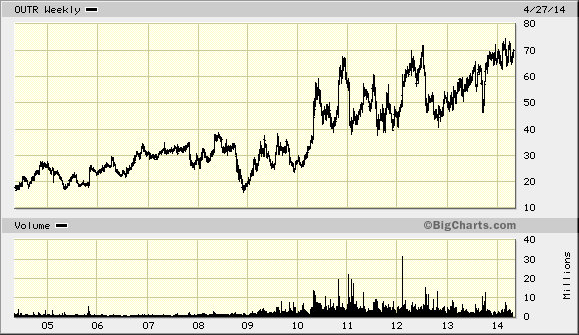 Chart of Apple: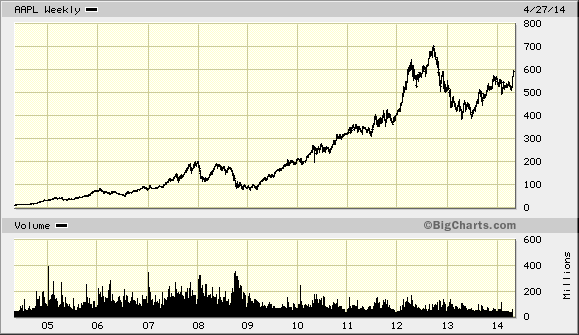 Chart of Google: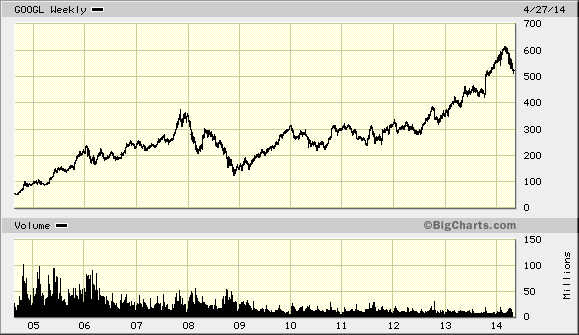 It should not come as any surprise that Amazon (NASDAQ:AMZN) wants to get a piece of the TV video content-watching obsession of the American populace. Amazon recently introduced a set-top box for streaming video called Fire. It's not just the Fire set-top box, but the content it'll sell just like Apple iTunes, YouTube and all the other content providers that sell instant access of the content the American populace demands.
Ultimately, competition amongst the content providers will be fierce, but what helps is that the American populace's appetite for video content has been getting stronger and stronger over the years, and at the moment, does not seem to be subsiding.
Investors should certainly take note of this trend of aggregate TV and video content watching.
Whether or not there is a content bubble or this period of time in American history is simply a TV-watching bubble is to be determined.
For now, the aggregate pie of consumers' appetite for TV and video content is tremendous. The winners of who will be the providers of the content, some that have already profited tremendously, should continue to profit from the current trends. The caveat is the competition will get more and more fierce, especially as Amazon now enters the realm of streaming video with its new set-top box, Fire.
A great risk to this content providing industry is a decline in aggregate hours spent watching TV and video-related content, in my opinion. For now, this does not seem to be the case. Take note of the Time Use Survey's done by the BLS and other research organizations like Experian Marketing Services for such demographic trends.
Disclosure: I have no positions in any stocks mentioned, and no plans to initiate any positions within the next 72 hours. I wrote this article myself, and it expresses my own opinions. I am not receiving compensation for it (other than from Seeking Alpha). I have no business relationship with any company whose stock is mentioned in this article.