Momentum stocks have been hammered in the past couple of weeks. The rest of the market has held up fairly well, but as we get into the "Sell in May and go away" time frame, it might be time to play "defense". The market appears to be rotating out of pricey momentum stocks and into sectors that provide value and generous dividends. If there is a market decline, investors who are in defensive sectors, and stocks that provide value and solid yields will likely be well-positioned. With this in mind, here are some stocks that offer value, rebound potential, and strong yields:
Apollo Investment Corporation (NASDAQ:AINV) is a business development company, or "BDC". This company announced a secondary offering of roughly 12 million shares in late February, and the stock dropped on that news. The other reason why this stock has been weak seems to be due to concerns that business development companies will be excluded from the Russell Index when it is re-balanced. This has caused concern that this sector will be weak for another month or so, however, at this point the decline in stocks like Apollo Investment seems to be overdone and an ideal buying opportunity. One analyst in a Barron's article points out that many investors are probably viewing this as a buying opportunity; the article details the views of one analyst at Robert W. Baird, who states:
"There's no doubt in my mind that smart institutional investors will buy these stocks, and not be turned away just because of the index changes."
Apollo Investment Corporation shares were trading for about $8.80 per share before the secondary offering and the news of the Russell Index changes. It now trades for about 10% less, at just around $8 per share. This is just a case of irrational and temporary selling, because this company is not worth 10% less in the long run (because of an index change), especially since we remain in a low interest rate environment. With the stock now trading at extremely depressed levels and with a Relative Strength Index or "RSI" of just 30, it is also oversold. I believe this pullback is overdone and that the shares could be poised to show strength again soon. The fundamentals for this sector remain strong, and not long ago, insiders were buying for about $8.62 per share: On February 28, 2014, Edward Goldthorpe (an officer) purchased 10,000 shares for $8.64 each in a transaction valued at $86,400. On the same day, Jeannette Loeb (a director) bought 13,500 shares at $8.62 per share in a transaction valued at over $100,000. On February 10, 2014, Gregory Hunt (an officer) purchased 10,000 shares in a transaction valued at roughly $84,000.
Now, investors can buy into the same high-yielding stock for much less than what insiders paid just a few weeks ago. I would not be surprised to see more insider buying soon, and since this is an investment company, it might be preparing to buy a significant amount of stock as well. Short sellers who have jumped into this sector due to the well-advertised changes to the index will also likely be a source of buying when they cover these positions.
Apollo Investment Corporation makes debt and equity investments in many sectors, which include healthcare, technology, distribution, and more. Its investment portfolio includes well-known companies like Booz Allen Hamilton (NYSE:BAH), Chesapeake Energy Corporation (NYSE:CHK), and others. The fees, capital gains, and other income it earns is used to pay shareholders a yield of 10%.
On April 16, analysts at JPMorgan upgraded this stock with an overweight rating and set a $8.50 price target. The JPMorgan analyst noted Apollo Investment's "improved capital structure and investment prospects". Investors who take advantage of this pullback could be poised to collect a very generous yield, plus around 8% in capital gains if the shares rebound to the $8.50 level, in the coming weeks. Furthermore, the next 20 cent per share quarterly dividend is expected around mid-June, which means investors won't have to wait long before the next generous payout is made. There has been a lot of selling in this stock, but investors who average in and buy into this weakness could be poised for a major rebound very soon. The 10% yield, beaten-down share price, and rebound potential could make this a defensive way to play the market for the rest of the year.
Here are some key points for Apollo Investment Corporation:
Current share price: $8
The 52-week range is $7.28 to $9.21
Earnings estimates for 2014: 90 cents per share
Annual dividend: 80 cents per share, which yields about 10%
Seadrill Limited (NYSE:SDRL) is another beaten-down stock that investors should consider. It was trading for about $40 per share earlier this year, but recently dropped below $35 over concerns about the strength of the offshore drilling industry.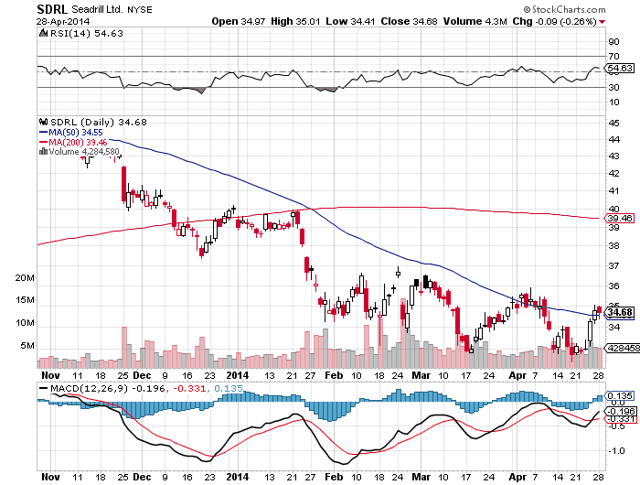 Seadrill is a leading provider of offshore drillships, jack-up rigs, semi-submersible rigs, and tender rigs. It has a very modern fleet, which means its equipment is likely to remain in high demand. Other companies in this sector with older fleets are more likely to be impacted by softening rates, because old equipment requires more maintenance and can be less efficient. Seadrill is one of the largest companies in this industry, and it continues to grow. It has over 70 units in both shallow and ultra-deepwater areas. It expects to add several new rigs to its fleet in 2014, which should fuel more growth.
Seadrill's website states "Our primary objective is to profitably grow our business to increase long-term distributable cash flow per share to our shareholders." The company has lived up to this goal with consistent dividend increases. In 2007, Seadrill paid a quarterly dividend of just 25 cents per share. Due to regular increases, the quarterly dividend payment is now 98 cents per share. This provides a yield of almost 12%, although some investors are concerned about a potential dividend cut if earnings come in weaker than expected. One other potential downside risk to consider is the debt load. On the balance sheet, Seadrill has about $1.16 billion in cash and just over $15 billion in debt. If there is a major downturn in the oil industry, that debt load could put significant pressure on this stock. However, oil prices remain strong and management has been successful in dealing with the debt load. Furthermore, with the shares way below the 52-week high of about $48, some of this potential risk already could be priced into the stock. The beaten-down share price and high yield could make this an ideal stock to play defense this summer.
Here are some key points for Seadrill Limited:
Current share price: $34.68
The 52-week range is $32.40 to $48.09
Earnings estimates for 2014: $3.28 per share
Annual dividend: $3.92 per share, which yields 11.9%
Data is sourced from Yahoo Finance. No guarantees or representations are made. Hawkinvest is not a registered investment advisor and does not provide specific investment advice. The information is for informational purposes only. You should always consult a financial advisor.
Disclosure: I am long AINV, SDRL. I wrote this article myself, and it expresses my own opinions. I am not receiving compensation for it (other than from Seeking Alpha). I have no business relationship with any company whose stock is mentioned in this article.