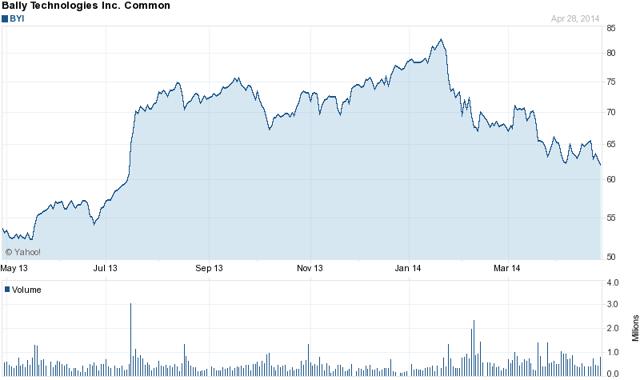 Bally Technology (NYSE:BYI) is a worldwide gaming company that designs, manufactures and distributes gaming devices and casino management systems in the gambling industry. The company is down roughly 20% in 2014 due to weakness in slot machine sales and reported downward pressure in the industry. However, the company reported quarterly record revenue last quarter and projects strong growth going forward. In late 2013, Bally Technology acquired SHFL Entertainment, a leader in automatic card shufflers, roulette chip sorters, electronic table systems and mobile applications. SHFL gives Bally Technology an added presence in Asia and Australia.
6 months ended Dec. 31

($ millions)

2013

2012

Y/Y % change

-Electronic Gaming Machines

$ 159.4

$ 165.3

-3.6%

-Gaming Operations

$ 199.2

$ 200.2

-0.5%

-Systems

$ 161.6

$ 108.0

49.6%

-Table Products

$ 14.3

$ -

N/A

Total Revenue

$ 534.5

$ 473.5

12.9%

Gross Profit

$ 344.1

$ 305.6

12.6%

Operating Income

$ 101.5

$ 110.2

-7.9%

GAAP Diluted EPS

$ 1.51

$ 1.57

-3.8%

Adjusted Operating Income

$ 138.1

$ 110.2

25.3%

Adjusted EPS

$ 2.02

$ 1.57

28.7%
International Game Technology (NYSE:IGT), one of Bally's main competitors, expressed concern over weak domestic sales in their gaming operations segment, which saw an 8% revenue decline last quarter. This negative impact reported on January 23, 2014 was the start of the sell-off in Bally Technology's stock. However, this sell-off has been overdone, as Bally has been far less affected by IGT's guidance. Gaming operations for Bally are only down 1% compared to IGT's 8% decline. Bally's revenue has also increased 19% during the same time period where IGT's revenue was only up 2%. Bally's stock has been negatively affected by unrelated competitor weakness. During the last conference call, Bally management was asked specifically about IGT's guidance and responded by saying,
In terms of our business spread across the various business areas that we have, it doesn't affect us that badly as it probably affects other companies. And in terms of revenue and business visibility, we have not seen any major change in the situation. The GGR weakness has affected Gaming Operations revenue to a certain extent but not as much as it has probably affected the other vendors in the business."
Long-term growth
As state budgets continue to tighten and states look for more revenue streams, many are looking toward gambling revenue as a new source of income. Today 30 states have at least 1 casino and many states are pushing through to legalize or expand parts of the gambling industry. In 2013, New York voted to allow up to 7 casinos to open within the next decade. Pennsylvania, which already has 12 casinos, will now allow bars to add gambling machines in 2014 and 2,500 establishments are expected to apply for licenses. Bally's saw rapid revenue growth when Illinois approved video gambling in bars back in 2012. Just last quarter the company sold 1,025 video gambling tables in Illinois. As states begin to accept gambling in bars and online, Bally should see its market expand rapidly. As an industry leader, Bally is in a great position to continue to grow revenue and earnings through state expansion in gambling.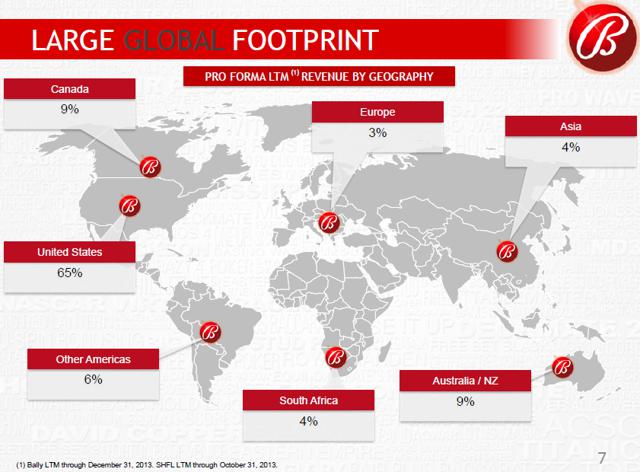 Source: Bally Technology Investor Presentation March 2014
Bally Technology has a global footprint and will benefit from international gambling expansion in Asia. Macau is the new Las Vegas with rapid expansion and casinos reporting record profit growth. Macau is the dominate gambling destination with 2013 revenue of approximately $45 billion compared to Las Vegas collecting roughly $6.5 billion. Macau is also still expanding with revenue growth around 20% in 2013. Wynn Resorts (NASDAQ:WYNN) and MGM Resorts (NYSE:MGM) will be opening new casinos in Macau in 2016. Bally can still further its international reach in Macau and the SHFL acquisition will help the company in doing so.
Short-term catalyst
Bally's stock price has taken a beating as a result of International Game Technology reporting industry weakness. This has led to the stock being undervalued and ready to appreciate. The company has a trailing P/E of 18.4, a forward dividend of 13.3 and'15 P/E of 12.5. Analysts expect 1 year EPS growth of 20% and 3-5 year EPS growth of 15%. Management expects 2014 adjusted EPS to increased 25-30% over 2013 to $4.30-$4.50.
The company is set to release earnings May 1, 2014. With low expectations and an EPS consensus of $1.12, the company is set-up for a strong earnings release. As it stands now the company is historically cheap and will appreciate rapidly with an earnings beat or any positive reports in the industry. Of the 16 analysts covering Bally Technology there are 4 strong buys, 6 buys, 5 holds and 1 sell with an average price target of $82 or 30% higher than the current value.
Conclusion
Bally Technology has made strategic acquisitions and improvements to its product platform to maintain its leadership in the industry going forward. As casinos shift to systems management and online gaming, Bally Technology is set to benefit. The company has seen a 50% increase in its systems segment revenue thus far in FY 2014 and expects this trend to continue. Bally Technology will also benefit from states making a shift toward legalizing various aspects in the gambling industry to improve budgets. An expansion of gambling across Asia is opening up new markets to the company, especially after the acquisition of SHFL.
The company is currently trading at historically low P/E levels and has very little downside from its current $62-$63/share price range. The stock has been lumped together with rival IGT, even though Ballys has been far less affected than IGT on top and bottom line numbers. This has given investors a golden opportunity to win big. Potential investors should pay close attention to the company's earnings release on Thursday to see if they continue to avoid reported industry weakness.
Disclosure: I am long BYI. I wrote this article myself, and it expresses my own opinions. I am not receiving compensation for it (other than from Seeking Alpha). I have no business relationship with any company whose stock is mentioned in this article.