Cessna's senior vice president of business development for China (which is part of Textron's (NYSE:TXT) Aviation division), announced that the construction of facilities to produce the Citation XLS+ business jet and Caravan turboprop for sale in China is complete.
This is good news for Textron as both business jet and general aviation results have been bad in the last few years. Assembly of both aircraft types will stop the declining revenue of the Textron Aviation division. Chinese orders will trickle and hopefully stream into the new production facilities.
There is a risk however that China will compete in the near future with Textron in the Cessna/Beechcraft parts of Textron Aviation. Instead of becoming a competitor Textron should try to become a partner in this process.
COOPERATION WITH CAIGA
As described in Crawling From The Pit Or Falling Back Textron started a Joint Venture with China Aviation Industry General Aircraft Company (CAIGA) to assemble Cessna Caravans. General Aviation is one of the spear points of the Chinese government (and because of this it also applies to the Chinese aviation industry).
Assembly of the Cessna Citation is also good news for Textron. The Citation XLS+ received a certificate from the Civil Aviation Administration of China which allows deliveries in China this year. Sales of Cessna Citations have decreased dramatically and Chinese orders will fill the order book and add to future revenue.
In a few years Textron might regain the position of annually delivering the largest number of business aircraft in the world.
(Source: Confero, derived from information published by manufacturers)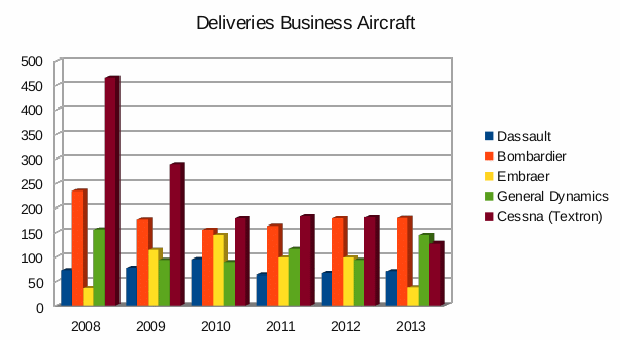 Textron and most other business aircraft manufacturers don't provide financial information which can be used to compare them. This comparison is based on delivered aircraft as these figures are more reliable than orders. For Cessna only the Citation aircraft are included.
The main competitors are:
CAIGA position in China's aerospace industry
China Aviation Industry General Aircraft Company (CAIGA) is a 100% state-owned company under the umbrella of Aviation Industry Corporation of China (OTC:AVIC). CAIGA describes itself as:
"CAIGA is developing the whole industry chain and whole value chain, and expanding worldwide. In China, it commands 5 major industry bases in Zhuhai, Guizhou, Shijiazhuang, Jingmen and Shenzhen with a development model consisting of the whole industry chain, including R&D and manufacturing, general aviation operation, customer support and service. Its business spectrum covers parts and components manufacturing, final assembly and delivery, pilot training, aviation club, general aviation operation, business aviation, FBO (Fixed Base Operator), maintenance, leasing and various sectors, building a brand new industry morphology."
In China CAIGA is responsible for implementing the Chinese government policy for general (and business) aviation and is the most ambitious of the main Chinese aerospace manufacturers.
CAIGA acquired US manufacturer Cirrus Aircraft in 2011. "We have more acquisition plans," CAIGA's CEO Meng Xiangkai said "But our globalization push isn't just limited to mergers and acquisitions."
To put this in context the acquisition of Cirrus Aircraft didn't result in a loss of US jobs or revenue, but an increase because an additional production facility was opened in China for the Chinese market.
Textron should try (as it is probably doing already) to become a partner for the activities of CAIGA marked in bold. The remarks of CAIGA's CEO could also be interpreted as also making the "globalization push" with joint ventures.
More details on the Chinese aviation industry and connections with US and European aerospace manufacturers can be found in this instablog.
TEXTRON
Textron is a conglomerate mainly focused on aerospace. Textron has the following divisions:
Bell is the helicopter division. A broad range of helicopters are maintained and manufactured for civilian and military use.
Textron Systems produces defense products and services. Some are also aviation related such as Lycoming engines or unmanned aerial systems.
Industrial makes industrial products such as golf carts or automotive fuel systems.
Financial supports customer purchases of Textron products.
Textron Aviation is the fixed wing aerospace division of Textron. Cessna produces aircraft types that range from single-engine aircraft to the (small) Citation business jet. Beechcraft produces fixed-wing aircraft ranging from the Bonanza to King Air series.
(Source: Confero, from financial reports published by Textron)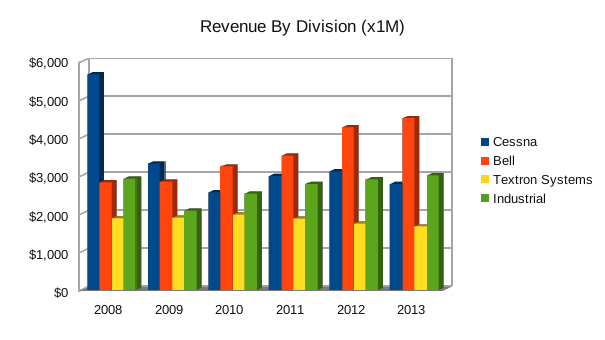 (Source: Confero, derived from financial reports published by Textron)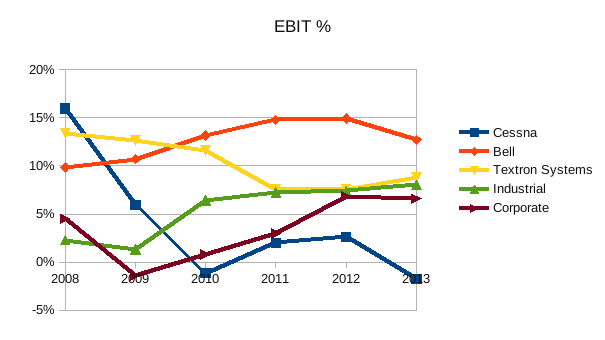 Textron Aviation is the problem division of Textron as both Cessna and Beechcraft are in it. Cessna has the lowest EBIT% of all Textron divisions and Beechcraft recovered from a bankruptcy in 2013.
The new Textron Aviation division and previous results for Cessna and Beechcraft are detailed in New Textron Aviation Division Offers Growth Opportunities, But Still Risky where the EBIT% graph of Cessna and Beechcraft is also taken from.
(Source: Confero)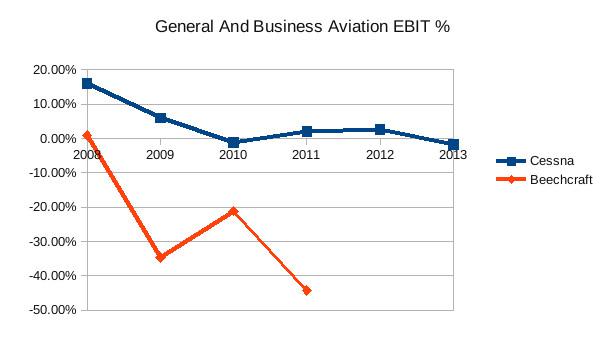 CONCLUSION
Completing the production facilities to assembly the Cessna Citation and Caravan is an important milestone for Textron to recover from recent difficult years. The Beech/Cessna integration in Textron Aviation created a market leading position.
Although CAIGA is a competitor which might threaten the position of Textron in the general aviation market, Textron seems to be in the process of becoming a partner. As a partner Textron will hugely benefit from China's expansion in general aviation.
When managed and negotiated properly 2014 might be the key turning point for Textron's Aviation division to return to past profit and EBIT% with growing revenue.
Disclosure: I have no positions in any stocks mentioned, and no plans to initiate any positions within the next 72 hours. I wrote this article myself, and it expresses my own opinions. I am not receiving compensation for it (other than from Seeking Alpha). I have no business relationship with any company whose stock is mentioned in this article.