The markets are absurd at the most unpredictable of times, so investors should not be surprised when the market ignored good news from Ballard Power (NASDAQ:BLDP). The firm announced a key agreement with United Technologies Corporation (NYSE:UTX) in its quarterly earnings press release. This development was lost in the headline numbers. Ballard re-affirmed break-even adjusted EBITDA and revenue growth of 30 percent. With the share price down 30 percent since the company was last analyzed in a negative light, what should investors do next? There are five things to consider.
1) Speculators blink
Investors are becoming risk averse in a hurry, and are lowering exposure to companies with high price to sales multiples. Tesla (NASDAQ:TSLA) is down around 22 percent from a $265 yearly high. In the energy cell sector, FuelCell Energy (NASDAQ:FCEL) is down 54 percent, while Plug Power Inc. (NASDAQ:PLUG) is down 59 percent. Tesla is relatively less speculative than Plug and FuelCell, Tesla has thousands of employees while earnings and sales grew over the last five years. Nevertheless, a contraction in Tesla's stock price multiple will be negative for all players.
2) Weak first quarter
Ballard grew revenue grew to $14 million, but sales were particularly weak in two areas:
Telecom backup power revenue decreased 55 percent to $2.9 million
Development stage markets dropped 31 percent to $1.7 million
On the bright side, revenue from Engineering Services grew 185 percent to $7.4 million.
3) Cash balance increases
Ballard's cash reserve grew to $41.6 million, but this was due primarily from warrants executed as part of a previous equity financing last year. Raising cash through the stock market will prove more difficult in the future. Plug Power spoke favorably about future deals, only to then announce the offering of 22,600,000 shares for $5.50 per share. Plug shares closed recently at $4.81.
4) Forecast attainable
Ballard reaffirmed a breakeven year on revenue growth of 30 percent. This is attainable, so long as gross margins improve in the second half of this year. In Q1, gross margin dropped slightly by two points: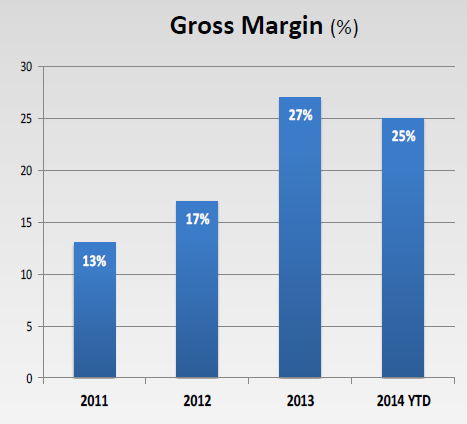 Source: Ballard Power Press Release
The anticipated revenue growth is within the range of past growth rates: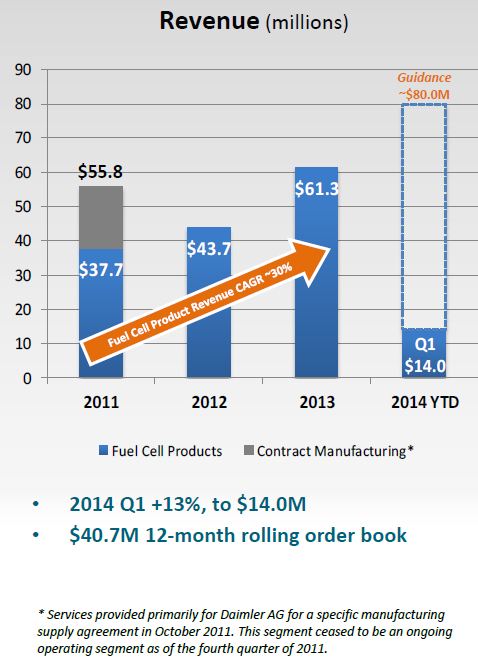 The break-even EBITDA looks ambitious, but Ballard reduced losses by a wide margin between 2012 and 2013. It is conceivable that the company will meet guidance: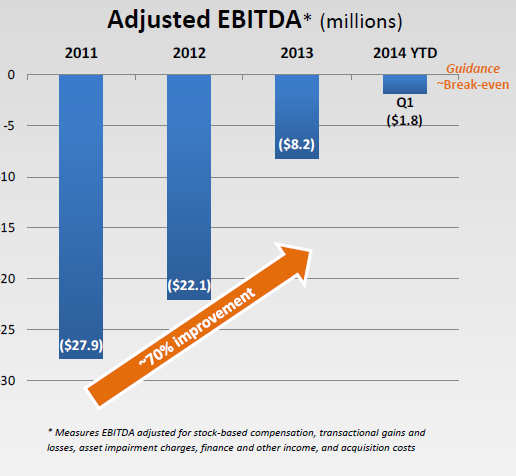 5) New markets
Ballard cited new market opportunities in the emerging markets. As with any growth opportunities in unproven, there are risks that potential customers will delay deals. Still, Ballard shipped over 2,500 samples to major companies. This includes Motorola and Nokia Solutions and Networks (NYSE:NOK).
6) IP portfolio acquired
Most significant in Ballard's first quarter was its acquisition of intellectual property. The Engineering segment grew the quickest in the quarter. The IP could have licensing revenue potential. The IP will help the company enhance Ballard's service offering and existing fuel cell products.
Bottom line
Speculators pumped Ballard Power shares to as high as $8.38, as they envisioned a strong future for the company. Even today, its strategic strength in the fuel cell market did not change. Even with the new IP deal with United Technologies, the reality is that Ballard will not be profitable in 2014. The ease for raising cash was in the past, which means investors will be only react positively to improving gross margin and revenue growth. New deal announcements are also possible. Given Ballard's share price was up from unsustainable momentum over the last year, impatient investors will more likely continue to sell the stock. Investors with the patience to accept that Ballard will be range bound for the next while could accumulate shares on weakness.
Disclosure: I have no positions in any stocks mentioned, and no plans to initiate any positions within the next 72 hours. I wrote this article myself, and it expresses my own opinions. I am not receiving compensation for it (other than from Seeking Alpha). I have no business relationship with any company whose stock is mentioned in this article.