Among the first things likely to jump out at anyone about the shipping container producer TAL International (NYSE:TAL) is probably its safe dividend yield that has approached 7%. It is nearly as high as it has sustainably been in recent years after the stock sold off pursuant to a somewhat disappointing First Quarter report. Maybe the most obvious concern involves the possibility of obtaining substantially lower rents for products that are under contracts that begin to expire in 2015. Thus, if one invests with a twelve-month horizon, there probably is not much to worry about-though stocks are priced for the future, right?
On Wednesday, April 23rd, the company reported earnings per share of $0.92 and missed by $0.04. Moreover, pre-tax income of $1.41 per share was down 13.5% YoY. In management's discussion that is recorded on the Transcript, I noted positives and some intertwining negatives:
A 5.2% increase in leasing revenue, attributed to ongoing fleet growth and investment in new and sale leaseback containers; partially offset by a 4% reduction in average per diem rates.

Per diem also negatively impacts renewal or releasing of existing units.
Pricing difficulties are anticipated for "The next several years."
However, rates would need to remain at currently low levels "For several years to impact a large portion of this portfolio, even then the impact would be spread out over a long period of time." This is a concern discussed later.

$1.3 million reduction in interest expense attributed to lower rate on debt, which has been lowered by nearly 50 basis points, to 3.85%.

Rebalanced their swap portfolio and locked in lower rates on the swap portfolio, which may be favorable to a P/E in comparison to EV/EBITDA valuation.
CFO John Burns said "In particular it's about refinancing the facilities that remain above that average."

$7.2 million decrease in gain on sale YoY, "Largely due to the ongoing moderation of disposal prices. Dry container disposal prices were down nearly 20%..."

Continues to be impacted by lower level of disposal volume of high margin original TAL units.
Sale of older units are typically generating lower gains because they were purchased for prices higher than net book value.
Operating Expenditures are another important topic. The CEO, Brian Sondey, says they "Should be more stable…" However, there are some open issues as sale inventory has increased and TAL pays to store containers, which has an effect on OpEx. Repairs also have bearing. Management points out that its OpEx to Revenue of 6% is below that of other industry players. Further, YCharts does illustrate that the ratio has been trending favorably: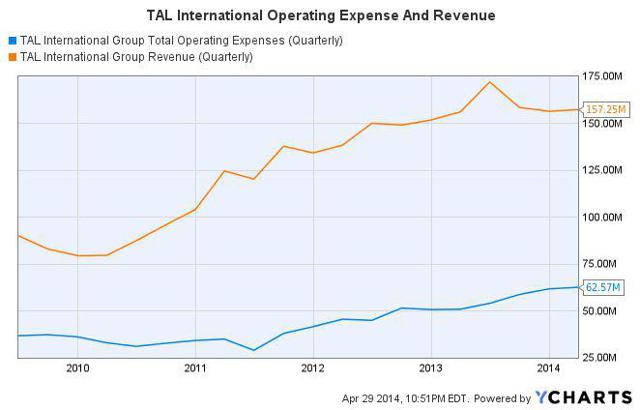 There are several risks specified in the corporation's Form 10-K. Three are emphasized here:
TAL is a cyclical company and stock, "during periods of weak global economic activity, we typically experience decreasing leasing demand, decreasing equipment utilization, lower average rental rates, decreased leasing revenue, decreased used container resale prices and significantly decreased profitability. These effects can be severe."
Largest customer (17% of revenues), and other customers, have been undergoing financial restructurings due to losses. Further, its five largest customers account for 50% of revenues. Client default is a possibility.
Competition includes 10 other major leasing companies and smaller firms. (This is a probable reason for the lower rates that currently prevail).
Though slightly out of favor, some analysts remain enthusiastic about the stock. It could now be a contrarian pick.
In a nine page report issued on April 28th, JPMorgan reiterates its Overweight rating while lowering its price target to $46 from $47. The $46 figure is based on an 8.2 multiple of Enterprise Value to 2014E EBITDA of $531M (down from $543). The rationale:
Specifically, we believe constrained container supply, coupled with a rebound in global trade, will lead to favorable leasing dynamics over the next 12 months.
Similarly, Sterne Agee analyst Sal Vitale maintains a Buy rating and lowers his target from $60 to $58. Remarkably, this estimate is based on a 5% dividend yield on a projected $2.90 in 2014 payments to shareholders. While this target does seem to be optimistic, it is notable that the payout ratio is forecast to remain manageable:

TAL's dividend payment has increased substantially over time, pursuant to being cut five years ago, most recently in February. At this time, it should prevent significant depreciation of the share price while paying investors who are willing to see things through. The stock can still move lower, though; and upside is not guaranteed.
Here is a graphic from YCharts summarizing recent yield and share price information: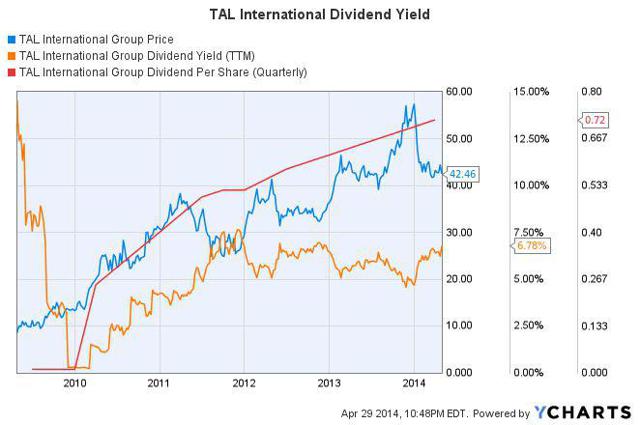 As mentioned previously, what might be a pivotal issue to investors is the rates that the company can obtain in the future for containers that are currently fetching substantially above market prices. Sondey clarifies:
...Leases that we wrote in 2010 and 2011, pretty much start expiring, I'd say, in the middle of the year (2015)…and through 2020 (Source: Q1 Transcript).
Leases purchased then are roughly 30% higher than present market rates; each 1% reduction in rates is estimated to lead to a $2 million decrease in revenue on those containers. About 20% expire in 2015 (Source: 10-K, Sterne Agee).
Some of the frequently cited reasons for investing in companies involve their abilities to increase earnings and pay higher dividends. Future pricing difficulties and OpEx issues are valid reasons for analysts to lower price targets, as we have witnessed a decrease in forecast EBITDA. If there is any further disappointment, the dividend might not increase again, and it is not being modeled.
There is also a chance that things can get better at TAL International. If the share price moves lower, the yield increases, so it could be near a bottom. JPMorgan and Sterne Agee agree that the situation may remain attractive to some now. However, though the payout should be sustainable through the year, there are serious considerations.
Disclosure: I have no positions in any stocks mentioned, but may initiate a long position in TAL over the next 72 hours. I wrote this article myself, and it expresses my own opinions. I am not receiving compensation for it (other than from Seeking Alpha). I have no business relationship with any company whose stock is mentioned in this article.