Headquartered in Roanoke, Va., Advance Auto Parts, Inc., the largest automotive aftermarket parts provider in North America, serves both the do-it-yourself and professional installer market.
Following the closing of the General Parts International, Inc. acquisition, Advance Auto operates 5,297 company-operated stores, 105 WorldPac branches, and services approximately 1,400 independently-owned Carquest branded stores in 49 states, Puerto Rico, the Virgin Islands and Canada.
The shares of AAP caught my attention last year when it announced its acquisition of General Parts International. When this strategic move actually closed on January 9th , 2014, it created the largest automotive aftermarket parts provider in North America, with annual sales of more than $9.3 billion.
Looking into the industry and business model, I see transitory and secular developments enhancing the industry's sales growth in 2014.
First, with extreme winter temperatures gripping the country, the industry is benefiting from a sharp acceleration in parts failure rates.
Second, the high rates of deferred spending on safety-related maintenance and repairs in the last several years is reaching a tipping point for which such maintenance/repairs can no longer be postponed.
It is no coincidence then, that Advance is indicating that all of its geographic markets are achieving above-plan comp sales growth, with the largest gains achieved in the cold weather markets.
The shares "gapped" up 11% on February 6th after the company announced its 2013 4th quarter earnings. The highlights from that quarterly report were responsible for that huge increase in share price.
Advance's 4Q13 operating EPS increased 7% to $0.94 vs. $0.88 a year ago - well ahead of the analyst consensus view of $0.79. This was the third consecutive earnings report that exceeded analyst expectations.
Importantly, this earnings "beat" was driven by improving same-store sales and a subsequently better-than-anticipated expense rate. As reported, the company's gross profit rate was 50.1%, a 15 basis-point increase from fiscal 2012.
The company continued to be on my radar, and when a spate of profit-taking ensued, I decided to initiate a position at $116.26 on April 15th.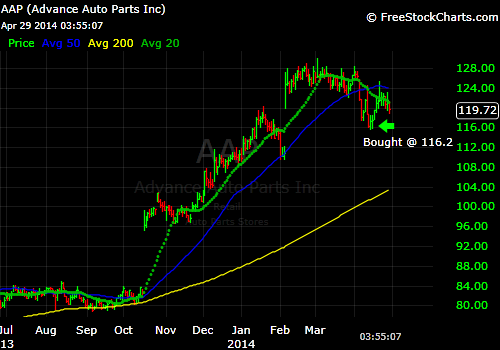 The daily chart presented above indicated to me that the fundamental story had now aligned with the technical picture, as the previous "gap" was now filled when the shares traded down to the $115 level.
Sales and EPS results from the core Advance business are exceeding expectations, as the company is participating in an industry-wide recovery. Based on the solid fundamental picture that Advance Auto presented prior to the General Parts acquisition, one could start to make a case that the stock was indeed worthy of purchase without Genuine Parts.
In my view, the General Parts International purchase is a "game changer," as it delivers scale by providing Advance with complete coast-to-coast coverage across North America, creating a company with scale, reach and expanded growth opportunities benefiting shareholders.
This presence in new markets allows Advance the ability to expand its geographic footprint in an efficient manner. That will be accomplished with the addition of 1,246 company operated stores and 1,418 independently owned Carquest locations, providing Advance with an immediate platform and scale across North America, full market coverage and the opportunity to position the company as the market leader in the commercial business.
What should not be underestimated is the significant earnings accretion and synergies that can evolve, as management has indicated the ability to generate annual synergies of $160 million within three years of closing.
The acquisition is estimated to deliver significant 2014 Cash EPS accretion of more than 20% excluding one-time costs to achieve synergies.
Management's initial guidance for 2014 EPS is for $7.20-$7.40/share. 2015 estimates are averaging $8.32. Applying a multiple of 16-17 to these estimates yields my target price of $135- $140 .
Of course, one can argue that Advance should be given a "premium" multiple to the market, in light of the headroom for improvement at core Advance stores and the long-term accretion from the acquisition of GPI.
Summary & Conclusion: The stock is down from a recent high of $129 in March, with no change in the fundamental story. Therefore, I believe the shares of Advance Auto Parts in the $115-$120 area provides a good entry point for investors to initiate positions.
Please note: AAP reports earnings on May 15th.
Best of luck to all.
Disclosure: I am long AAP. I wrote this article myself, and it expresses my own opinions. I am not receiving compensation for it (other than from Seeking Alpha). I have no business relationship with any company whose stock is mentioned in this article.