EMC Corporation (EMC) is one of the largest providers of cloud computing solutions. As such, it offers software and services which enable storage, encryption, protection, and management of data to leading corporations. EMC recently reported earnings and guidance which caused the stock to pull back. For a number of reasons, this pullback appears to be an ideal buying opportunity for investors seeking dividend growth as well as strong rebound potential.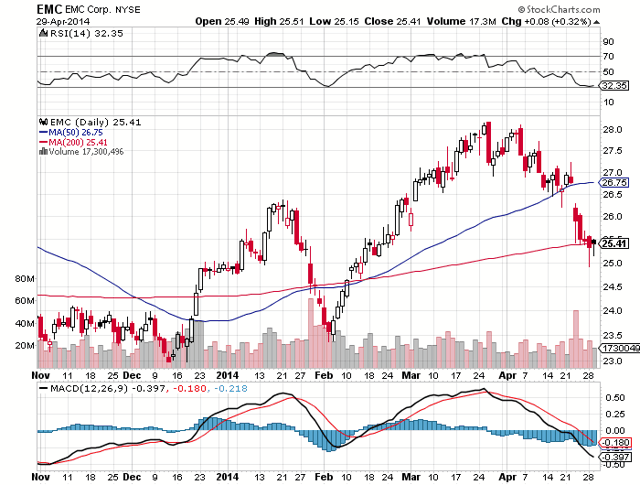 As the chart above shows, EMC shares have been in a solid uptrend since February, and the stock traded for about $28 just a couple weeks ago. However, a sell-off in tech stocks and guidance in the earnings report has pushed this stock down. This has created an ideal entry point for a few reasons. First of all, EMC shares are now trading near a major support level which is the 200-day moving average, currently at $25.41 per share. This means the stock might have limited downside risks, since this is such a strong support level.
Secondly, EMC shares now have a Relative Strength Index of just 32, which indicates the stock is oversold, and therefore, potentially due for a rebound. Where might this stock rebound? I believe it could be headed back to around $26.75 per share, which is the 50-day moving average. There are also some significant fundamental reasons why investors should consider buying this stock for a rebound:
1) EMC reported solid financial results, but the guidance was a little light, which is what seems to have pressured the stock. For the first quarter of 2014, revenues came in at $5.48 billion, which resulted in net income of $560 million. In terms of guidance, the company now expects $1.90 per share in earnings, which is slightly lower than previous estimates of $1.95 per share. This stock is down nearly 10% from recent highs, so a 5 cent per share difference in the guidance is a great buying opportunity. EMC finished the quarter with over $8 billion in cash, which gives it a very strong balance sheet and lowers potential downside risks for investors.
2) A recent Barrons article summarizes the very bullish views that many analysts have for EMC shares. Most of the price targets are around $31, but there is also one for $36. These analysts weighed in on the stock after earnings results and guidance were announced, so this is the latest analysis available, and these are some of the most recent price targets. One of the analysts does a great job of summarizing the positives for EMC shares in the article, which states:
Amit Daryanani, RBC Capital Markets: Reiterates an Outperform rating, and a $31 price target. "Fundamentally, we think EMC is an attractive large-cap holding, especially as we enter into H2:14 where we see several catalysts: i. Exiting June-qtr with a healthy ($150M+) backlog enabling comfort around H2:14 estimates, ii. VMAX: product refresh that should drive sales and margins higher, iii. Compares: EMC starts to benefit from favorable y/y compares in H2:14 and iv. Pivotal: assuming Pivotal can sustainably maintain 35%+ growth, we think a possible IPO in 2015 could help EMC's stock as well."
3) Money managers need to put money to work in relatively safe stocks that offer plenty of liquidity. If you are a hedge fund or mutual fund manager, you need to put millions and even billions of dollars to work. Money managers need to also invest money in stocks that offer some income through dividends. These managers also need to invest in high-quality companies that offer reasonable valuations. Finally, fund managers can't afford to invest a lot of money in high-risk stocks that might blow up overnight. These are all reasons why I expect fund managers to buy up EMC shares, and this should eventually push the stock back up soon.
4) Dividend growth: EMC Corporation just raised the dividend by 15%, from 10 cents per quarter to 11.5 cents per quarter. This provides a yield of roughly 2%. EMC initiated a dividend just about a year ago, and since it just raised it, the company appears to be prepared for annual dividend increases. This could make EMC an ideal dividend growth stock, especially since it has a strong balance sheet and plenty of earnings power to continue dividend increases.
With a strong balance sheet, the potential for dividend growth, and the stock at oversold levels, the potential downside risks appear minimal. This especially seems true, since the stock is trading at strong support levels now and for just about 12.5 times earnings estimates. For another cheap tech stock that offers higher potential risk at just around $2.65 per share, but also higher potential rewards with an analyst price target of $8 per share, read this article on Ceragon Networks (NASDAQ:CRNT).
Here are some key points for EMC Corporation:
Current share price: $25.41
The 52 week range is $22.10 to $28.26
Earnings estimates for 2013: $1.86 per share
Earnings estimates for 2014: $2.07 per share
Annual dividend: none
Disclaimer: Data is sourced from Yahoo Finance. No guarantees or representations
are made. Hawkinvest is not a registered investment advisor and does
not provide specific investment advice. The information is for
informational purposes only. You should always consult a financial
advisor.
Disclosure: I am long CRNT, EMC. I wrote this article myself, and it expresses my own opinions. I am not receiving compensation for it (other than from Seeking Alpha). I have no business relationship with any company whose stock is mentioned in this article.