Twitter (NYSE:TWTR) has enjoyed high, steady growth for years. The social media company bears resemblance of Facebook (NASDAQ:FB) during its hyper-growth phase. The question every investor wants to know is if Twitter can keep growing to justify its valuation. Simply looking at MAUs or the current quarter's revenue growth does not give the whole picture.
Twitter's Q1 2014's results were impressive. It beat earnings and revenue estimates with 0 EPS and $250.4M revenue, $9.6M above estimates. With a forecast for $1.2B-$1.25B for FY14 estimate, in-line with analyst estimates of $1.2B, investors are extremely disappointed, sending shares down 10% after hours. Many are probably puzzled why results that beat estimates and forecast in-line with analysts estimates are disappointing to investors. There are good reasons for that.
Twitter's Growth Problems In Key Markets Stagnating
Twitter's growth in the U.S. has slowed down considerably. In the U.S., there are about 57M Monthly Active Users (MAUs) out of 255M total worldwide. That's not encouraging when Facebook has about 200M just in the U.S. Then consider that most of Twitter's MAUs are overseas where it receives very little ad revenue. According to Twitter's Q1 2014 report, it received $70M from international revenue of out $250M in total revenue. The U.S., having about 1/4 of the users, ends up making over 2/3 of the revenue.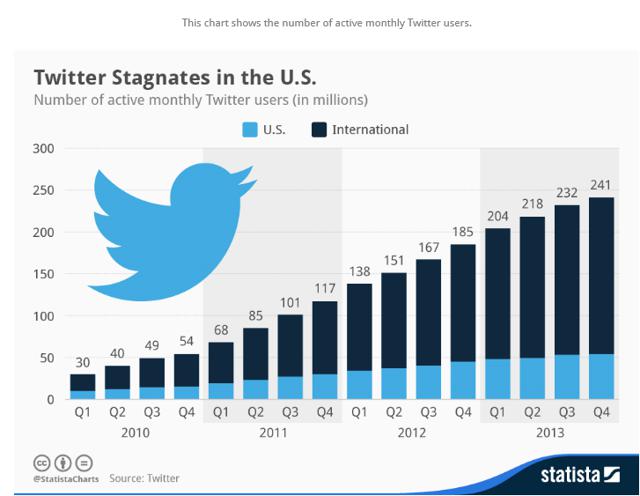 Click to enlarge
Twitter's user growth is in rapid deceleration for both U.S. and worldwide. The U.S. growth deceleration is the most alarming, sharply dropping off at Q4 2013. Twitter should not be experiencing this low growth rate when it is nowhere near saturating the population of the U.S. Most people in the U.S. know about Twitter, but it seems the vast majority are not interested in opening an account.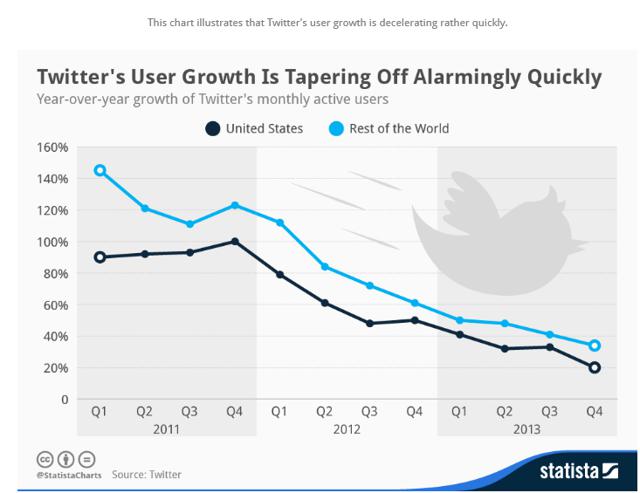 Click to enlarge
If you look at the penetration rate, Twitter has under 20% for the U.S., while growth is slowing down. In comparison, Facebook has about 4x the penetration rate in the U.S. If Twitter continues this trend of growth deceleration, we should see an under 10% growth rate by 2018 for the U.S. That would put Twitter at under 40% penetration rate. Basically by 2018, Twitter's penetration rate will be about half of Facebook.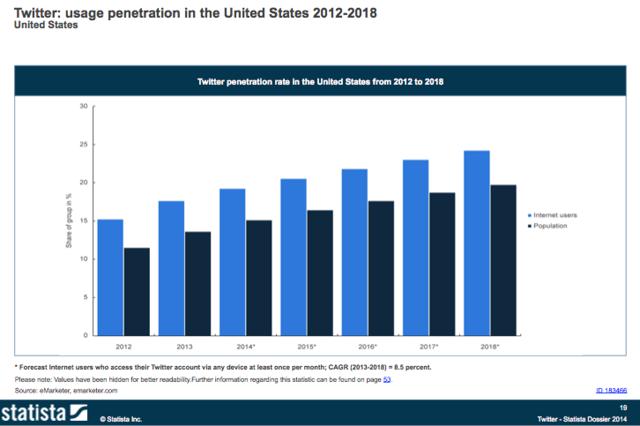 Click to enlarge
Twitter's top 5 penetrated countries are all overseas, accounting for part of the $70M total in international revenue. This is not good news when ~70% of its revenue is from the U.S. Twitter will have to either drastically increase overseas market revenue or accelerate U.S. MAU growth.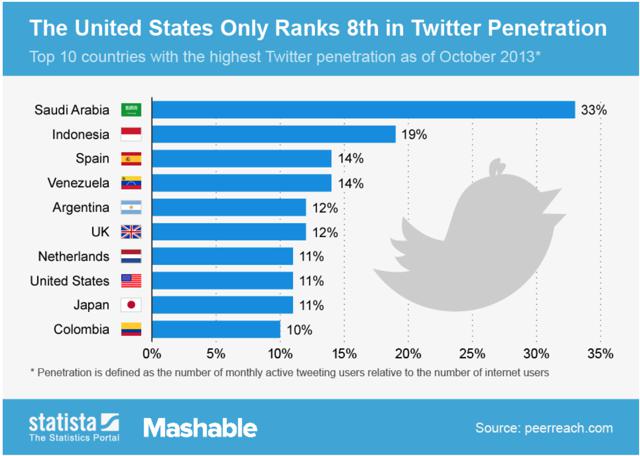 Click to enlarge
Adding to Twitter's bad news, only 37M of 284M new accounts are still tweeting by Feb 2014. Regardless of how you look at the data, most Americans are not using Twitter, and most of Twitter users are not tweeting. Social media networks need active users to stay alive. Twitter is not a news site where people come to read and mostly remain silent. If users are not active, they are not engaged enough to be loyal for the long term.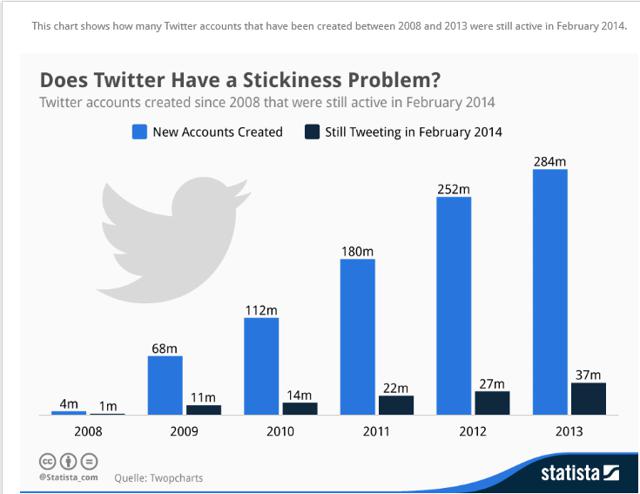 Click to enlarge
Why Does Twitter Have A Loyalty Problem?
Twitter has always been known for its fast pace and short 140 letter texts flying across the network. Because of its simplicity, it was very popular. However, this is also its weakness. In contrast to Facebook, Twitter has little that would keep a user from abandoning it. Facebook users make detailed personal profiles, upload pictures, create events, etc... that is close to resembling a digital diary/scrapbook. Facebook accounts are very personal, and therefore, carry sentimental value. There's a high loyalty user rate, because of the lengthy time already invested in it. Twitter recognized its weakness and created its most recent profile page for users that looks almost identical to Facebook's page.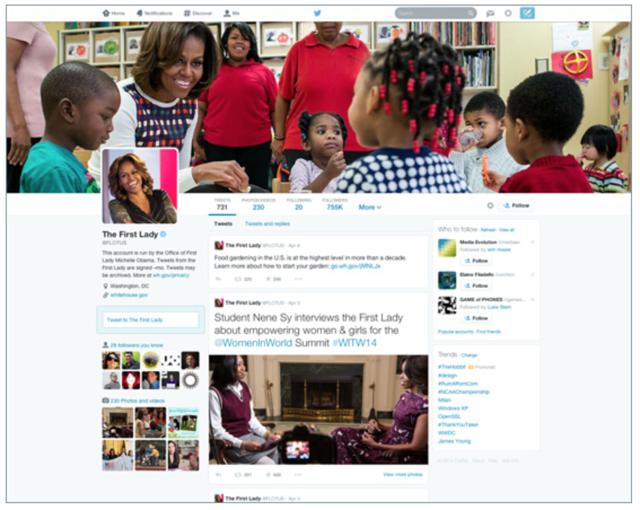 Click to enlarge
Would the new profile page make a difference for Twitter to increase its loyalty rate? It probably would in the long-term, but it may be too late. Most users won't want to fully switch to a new platform when their current platform is working just fine. Some social media fanatics may like to maintain multiple profiles, but most people will stick with their main Facebook account. Twitter will always be used for its unique 140 character tweets' ability to reach millions of people in mere seconds. Twitter's user engagement (average time spent) is far behind Facebook and is edged out by Instagram.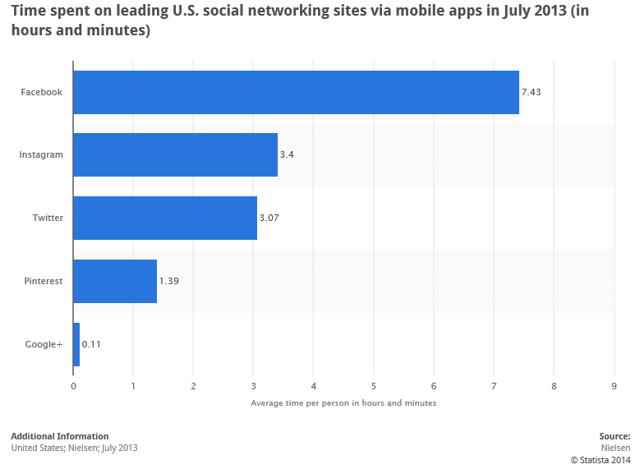 Click to enlarge
Revenue And Marketing
Twitter's revenue growth is impressive, but that's because it's tiny. From 2012 to 2013, Facebook had outpaced Twitter in mobile ad market regardless if you use nominal or percentage revenue growth. Twitter actually has a higher percentage of its revenue from mobile ads along with higher MAU growth rate. It should've had the advantage here, netting higher growth percentage, but it didn't.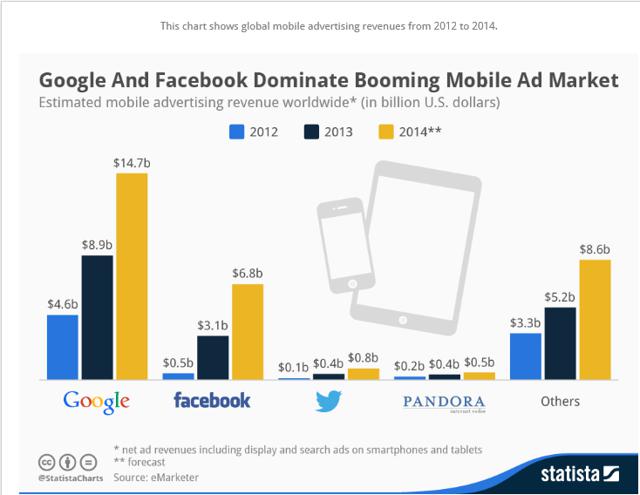 Click to enlarge
When you look deeper into why Twitter didn't keep pace with Facebook, you'll find that many marketers are not ready to take Twitter seriously. Only 23% of marketers would advertise on Twitter compared to 92% for Facebook. Out of those that use Twitter for marketing, only 24% use it to drive sales. Note that advertising for sales pays a much higher premium than just brand awareness. Sales usually involve clicking on the ads, while brand awareness is just a banner. I think the main reason is because Twitter's activities are very fast and messages are short. There's not much time to read or even glance at an ad. Facebook's ads are built into the news feed, forcing you to look at it as you scroll past.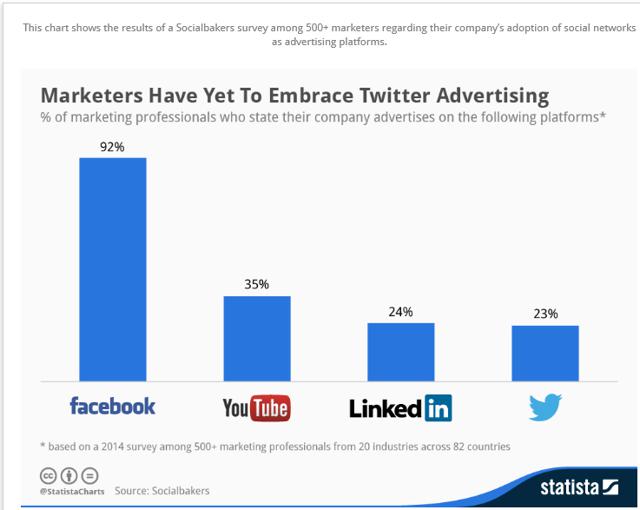 Click to enlarge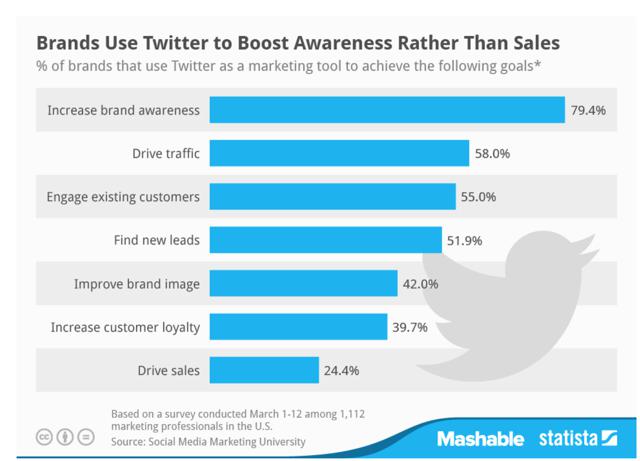 Click to enlarge
The Bleeding Continues
Twitter continues to lose money every quarter since its existence. For Q1 2014, nonGAAP earnings is actually a positive $183k. GAAP earnings is a net loss of $132M. I believe Twitter may actually report a positive quarter later this year. However, I have no doubt that its PE will still be abysmal regardless due to its low revenue and high valuation. I expect the bleeding to continue for 2014 overall but less than 2013.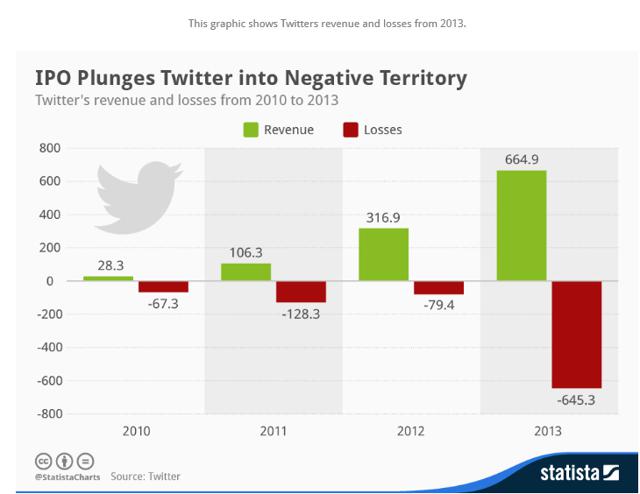 Click to enlarge
Conclusion
Twitter faces a lot of problems. Its growth is declining rapidly in the U.S. where most of its revenue comes from. Most of its users are overseas, contributing only ~30% of revenue. The trend forward does not look favorable for Twitter when it's actively losing money every year.
Twitter's current market cap is still above $20B. For Twitter to reach a PS ratio of 10, it would need until the end of 2015. This is if Twitter can continue its growth and match analyst expectations of $1.99B in 2015. By then, PE ratio will still be sky-high or in the negative. While I believe Twitter will continue to grow, I think the stock is priced to perfection with its current PS of 34. That's a lot of risk associated with such high valuations. Investors should expect share prices to dive if any bad news or errors in execution occur. There are more risks here than rewards at these prices, and I was not surprised to see the price drop after hours on April 29th.
With the high level of risk, there would also be high volatility. I would suggest that those holding long positions hold some put options to mitigate possible short-term losses. Your other option is to sell or short the stock while holding your long position. Any ER miss Twitter may experience in the future will result in a massive sell-off. The only safe strategy for smart investors would be a long-term straddle.
I personally only hold long positions or call options, so I will stay out of Twitter for the foreseeable future. Twitter will probably see rising short interest in the coming months. It has not hit the bottom yet. I believe we won't see the bottom until Twitter gets closer to a PS ratio of 10.
Disclosure: I have no positions in any stocks mentioned, and no plans to initiate any positions within the next 72 hours. I wrote this article myself, and it expresses my own opinions. I am not receiving compensation for it (other than from Seeking Alpha). I have no business relationship with any company whose stock is mentioned in this article.