The 25-day SEC-enforced quiet period on underwriter research on Moelis & Co (NYSE:MC) that began with the firm's April 15 IPO will conclude on May 10.
Beginning on the tenth of May, the IPO underwriters will be permitted to publish detailed research reports on the global investment bank and financial and strategic adviser.
The end of the quiet period will likely be accompanied by at least a temporary increase in the price of MC shares. Since MC's IPO priced at $25 per share, below the expected range of $26-$29 per share, the price of shares has fluctuated between $25 and $28 per share. MC closed at $26.95 per share on April 29.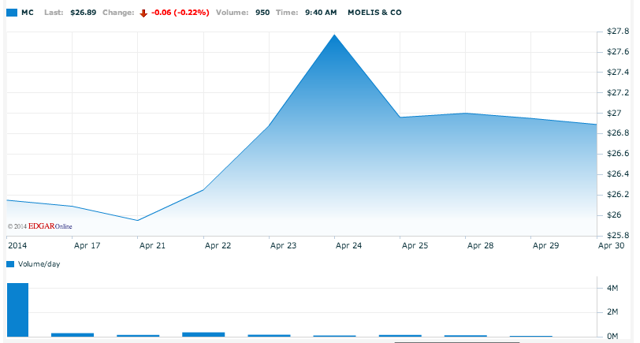 Click to enlarge
(Nasdaq.com)
The IPO underwriters, including Morgan Stanley & Co LLC, Goldman Sachs & Co, J.P. Morgan Securities LLC, Keefe Bruyette & Woods Inc, Sanford C. Bernstein and Co Inc, JMP Securities LLC, Moelis & Company LLC, and UBS Investment Bank, will attempt to push MC to new heights with a burst of positive information as the quiet period comes to a close.
Correlation Between Underwriting and Share Price At Quiet Period Expiration
The results of our past two years of research and recent academic studies have provided empirical evidence of a correlation between the perceived quality and number of IPO underwriters and a rise in the price of shares at the end of the quiet period.
Share prices usually begin to rise days before the quiet period expires as investors buy up shares in order to take advantage of the forthcoming underwriter reports, realizing that the underwriters will only publish positive reports on a firm they recently underwrote. These early buys generate an atmosphere of increasing demand, creating increasing share prices before the quiet period has concluded.
View of MC's Global Financial Operations
MC functions as both an independent global investment bank and a provider of strategic and financial advice for clients including corporations, financial sponsors, and governments.
MC has advised on more than a trillion dollars in transactions since its 2007 founding. In 2013, the firm advised on three of the ten largest announced global mergers and acquisitions and four of the ten largest announced global recapitalizations and restructurings. Clients range from Yahoo! (NASDAQ:YHOO) to Anheuser Busch (NYSE:BUD), and much more.
MC operates 15 offices located around the world.
MC primarily competes with other large financial institutions; many competitors have access to far greater financial resources and offer a larger range of products than MC. MC differentiates itself from its competitors through its concentration on advising.
See our article, previewing Moelis pre-IPO here.
Smart, Experienced Management
Kenneth Moelis has served as the CEO of MC since 2007, and his career spans over 30 years of experience in investment banking and mergers and acquisitions. Mr. Moelis previously served as Head of Corporate Finance at Donaldson, Lufkin & Jenrette and as the President of UBS Investment Bank. He holds both a BS and an MBA from the Wharton School at the University of Pennsylvania.
Quiet Period Expiration a Strong Buying Opportunity
MC continues to be a strong buy at its current price, and the upcoming quiet period expiration presents an opportunity for investors to get a piece of MC.
The firm is making a tremendous amount of money, despite less than friendly economic conditions, in no small part due to its highly experienced leadership team.
The firm's emphasis on advising, at a time when this business appears strong, while trading suffers at several other firms, seems to have paid off, judging by its impressive client list.
MC's strong list of underwriters will very likely help boost stock price as well. We recommend MC's quiet period expiration as a buying opportunity for aggressive investors.
We invite readers wishing to read and join the discussion about IPO quiet period expirations to click the +FOLLOW button above the title of this article.
Disclosure: I am long MC. I wrote this article myself, and it expresses my own opinions. I am not receiving compensation for it (other than from Seeking Alpha). I have no business relationship with any company whose stock is mentioned in this article.