With all the attention paid to the collapsing momentum stocks in the market, such as Twitter (NYSE:TWTR), Noodles (NASDAQ:NDLS), Amazon (NASDAQ:AMZN) and Netflix (NASDAQ:NFLX); not much focus is being paid to Apple (NASDAQ:AAPL), which seems to have decisively broken through a relatively tight trading range of ~$500 to $570 a share the stock has been in all through 2014.
This is a shame, as the tech giant seems to have recaptured some mojo it has not had for quite some time. The shares have not only have broken through their 2014 trading range, but are at levels not seen since late in 2012, as AAPL is approaching the $600 a share level (See Chart).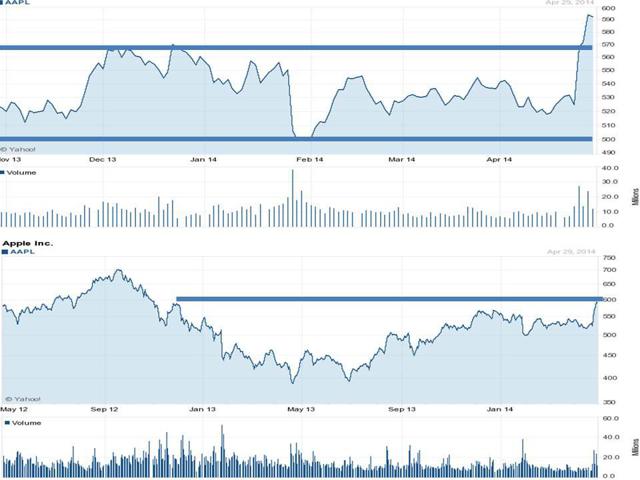 Click to enlarge
Apple's recent movement has surprised me, and I have been one of the biggest bulls on the stock here on Seeking Alpha since its big decline in late 2012 and through the first half of 2013. The shares have also represented the biggest position in my portfolio since I doubled down on the company by buying additional shares in the low $400s during its spring swoon last year.
I also accumulated shares and sold puts throughout this year anytime the stock approached the $500 a share floor on the stock's trading range. My thesis was that the iPhone 6 with larger screens was an unappreciated positive catalyst most pundits seem to be overlooking. This is especially true given the new Galaxy phone from Apple's primary smartphone competitor, Samsung (OTC:SSNLF), seems to have fallen somewhat flat in the market since it was launched. This provides a more wide open playing field when Apple rolls out its much-anticipated iPhone 6, which should occur in the late summer or early fall of this year.
The catalyst for Apple's recent pop is its recent earnings report, where it easily beat on bottom line estimates. The company also sold some 43.7mm smartphones in the quarter, which was ~6mm above the consensus. New carrier deals drove better than 25% revenue growth in Japan and more than 10% sales increases in China as well.
The main driver of the stock's recent rally, however, was the announcement that the company is increasing its stock repurchase program by some $30B and bumping its dividend by 8% as well. As I recently chronicled, this could boost earnings per share by 6% in FY2014 and 5% in FY2015. Apple bought an impressive $18B back of its own stock in the recently completed quarter. Despite the huge stock purchases, the tech titan is still sitting on some $150B in cash and marketable securities.
AAPL is up some 50% from its lows in late June of last year. However, the shares are cheap compared with the overall market. The overall market is going for 16x-17x forward earnings. The S&P 500 is also projected to have just 4% sales growth in 2014 as well. However, given we only got 2% sales increases in 2013 from the S&P 500 and Q1 GDP growth was just revised down to just .1%; that number looks optimistic.
In contrast, Apple is selling at just 9.5x forward earnings (FY2014 ends September 30th for Apple) once cash and marketable securities are taken out of equation - 13.5x forward earnings if one does not equate for this cash hoard. In addition, sales are expected to grow 6% to 7% year-over-year in FY2014. If the iPhone 6 has a successful launch, I see no reason the shares cannot get back to the $700 a share level they traded for in September 2012. This scenario seems more like a "when" than an "if" at this point. ACCUMULATE
Disclosure: I am long AAPL. I wrote this article myself, and it expresses my own opinions. I am not receiving compensation for it (other than from Seeking Alpha). I have no business relationship with any company whose stock is mentioned in this article.