Selfish greed and slow moving Russian action in Ukraine have thus far kept the stock market from crashing. Investors will not sell it until the cancer starts to hurt. The fact that it lives and grows within us is not a matter of concern today, so they will keep bidding up stocks of some sort. For now, there's been a shift of capital to value ideas like Apple (NASDAQ:AAPL), which is up significantly as the richly valued momentum names like Facebook (NASDAQ:FB), Netflix (NASDAQ:NFLX), Google (NASDAQ:GOOG) (NASDAQ:GOOGL), Tesla (NASDAQ:TSLA) and Amazon.com (NASDAQ:AMZN) continue to fade. However, I think the failing momentum ideas are simply canaries in the coal mine, the first to suffer due to the greater consideration being given risk today. As the changing market mindset gains momentum, and as events continue to unfold, I expect the entirety of stocks to sell off. Thus, I'm suggesting investors sell passive interests in the SPDR S&P 500 (NYSEARCA:SPY) and other broad market interests until we are assured of sound footing again.
I outlined the course of events that I'm looking for to sink the rest of the market in my report Stock Market Crash is Imminent - Part II: How You Like Me Now? . It is the next step of Russia's Putin that I'm concerned with. So far, the shrewd Russian leader has kept from showing his cards and is even playing mister nice guy today. He's called for pro-Russian separatists to release OSCE observers and has had his representatives reassure U.S. diplomats that Russia has no plans to invade Eastern Ukraine. Though, troops remain poised to do so at the Ukraine border. Putin even recently stated that he sees no need to counter recent Western sanctions, unless they continue; yes, it's a veiled threat. He specifically noted the energy sector. These counter actions could have an economic impact to Europe and the United States, and will certainly raise concern for stock traders. So I continue to call for the reduction of risk.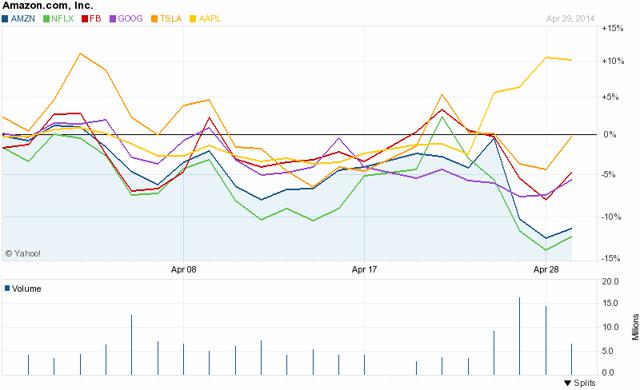 Click to enlarge
1-Month Chart at Yahoo Finance
You can see in the one-month chart here that the once high flying momentum names including Amazon.com, Netflix, Facebook, Google and Tesla have all given back ground. Some of these have even given back recent gains posted after solid earnings reports, including at Facebook and Netflix. Apple , though, is higher through the latest period of turmoil in momentum names. It represents a shift in capital flows to value from growth, and is a sort of flight to safety.
I expect the "canaries" will be followed by the elephants and the whole prairie full of stocks. So I've recently suggested investors sell the market and the ETFs that track it including the SPDR S&P 500 , the SPDR Dow Jones Industrial Average (NYSEARCA:DIA) and the PowerShares QQQ (NASDAQ:QQQ). I also think it's wise to reconsider gold and precious metal relative ETFs like the SPDR Gold Trust (NYSEARCA:GLD), iShares Silver Trust (NYSEARCA:SLV), Market Vectors Gold Miners (NYSEARCA:GDX) and the Direxion Daily Gold Miners Bull 3X Shares (NYSEARCA:NUGT). Those not interested in divesting significant stock holdings can hedge risk over weekends and overnight using instruments like the ProShares Ultra VIX Short-Term (NYSEARCA:UVXY), which I'm long currently.
I've been criticized for calling for "imminent" stock market crash in March, but have received credit from some for the discernment illustrated in my communicated expectation for escalation around the Ukrainian issue. It does appear that Russia is concerned about NATO actions and could refrain from crossing the border officially near-term. However, the West is concerned about the propaganda program being broadcast into Ukraine and the alleged presence of Russian commandos there inciting the uprising. So I believe it will take the end of those actions to bring about a reduction of Western pressures, and given that neither seems likely, I expect we'll get back to Russia pushing for referendum votes and regional secession from Ukraine. I feel that will be unacceptable to the West and to Kiev, and that Russian troops would be opposed if they entered before or after referendum. So don't ignore the canaries dying all around us, because they are a warning for the rest of the market.
Disclosure: I am long UVXY. I wrote this article myself, and it expresses my own opinions. I am not receiving compensation for it (other than from Seeking Alpha). I have no business relationship with any company whose stock is mentioned in this article.