There is a lot of news out today regarding energy and the commodity names we follow. We will address the acquisition in the utility sector today and provide an analysis on some of the other news tomorrow as we feel the acquisition is of more importance to our investing views, and those of our readers, than the short-term results announced last night and this morning.
On another note, as we look at the economic data today we are disappointed, although we fully understand how this happened, especially when looking at the usage of energy from US consumers who were shut-in during the Q1 period for any length of time during the winter storms which hit the country. Most of that activity, which was lost, we fear was lost for good. Next quarter will shed more light on this, but our initial reaction is that economic activity was lost and will not carry over to another period. The good news is that we think the Federal Reserve will refrain from their tapering program until they have a better grasp on the situation, and to give the market some confidence. That shall only benefit commodity prices and keep the US dollar around current levels.
Chart of the Day:
Net exports remain a large negative number, however that number continues to shrink on the back of a strengthening economy and the energy renaissance taking place in America which is requiring less and less crude oil to be imported while allowing the export of refined energy products. This is a very good trend.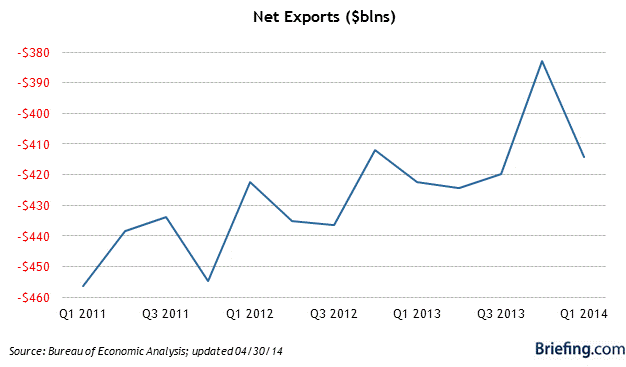 Source: Briefing, Bureau of Economic Analysis
Commodity prices are as follows (at time of submission):
Gold: $1,293.30/ounce, down by $3.00/ounce
Silver: $19.165/ounce, down by $0.323/ounce
Oil: $99.51/barrel, down by $1.77/barrel
RBOB Gas: $3.004/gallon, down by $0.0594/gallon
Natural Gas: $4.782/MMbtu, down by $0.049/MMbtu
Copper: $3.0255/pound, down by $0.0475/pound
Platinum: $1,428.20/ounce, down by $3.20/ounce
Utility Deal
Exelon (NYSE:EXC), a large Chicago based utility company, announced lackluster results for the quarter but more importantly announced the acquisition of Pepco Holdings (NYSE:POM) for $6.83 billion. The deal will create a large franchise in the Mid-Atlantic with 10 million customers. Exelon says that the deal will positively impact earnings in the first full year after the transaction closes. Although both boards have unanimously approved the deal, it still must get regulatory approval; which includes being approved by the necessary state entities which oversee the companies' operations.
Who Is Next?
We have been stating that there would be continued consolidation in the regulated electric utility business for the last few years. Although the Pepco deal was not one we saw as the most likely, we still think that there are ample opportunities out there for acquirers looking to spend between $3-7 billion.
The top name on our list is a company which we are sure will be bought out, the question is no longer if but when. SCANA (NYSE:SCG) has been bottled up now with the growth via acquisition by neighboring utilities. Management is quite conservative and has been reluctant to do many deals, however SCANA did expand out of its South Carolina service area by buying a natural gas company in North Carolina. Duke Energy (NYSE:DUK) makes the most sense as an acquirer to us due to some of the service area overlaps as well as Duke's need to diversify its energy generation. For those who do not know, SCANA is aggressively expanding its nuclear energy business and moving away from coal, a move that would benefit Duke down the road as EPA rules continue to tighten and the company has run into some operating issues with their coal plant operations.
SCANA stock is not cheap right now and is trading very close to all-time highs. We like its prospects moving forward and think even at these prices it can be a good buy for those looking for a long-term holding.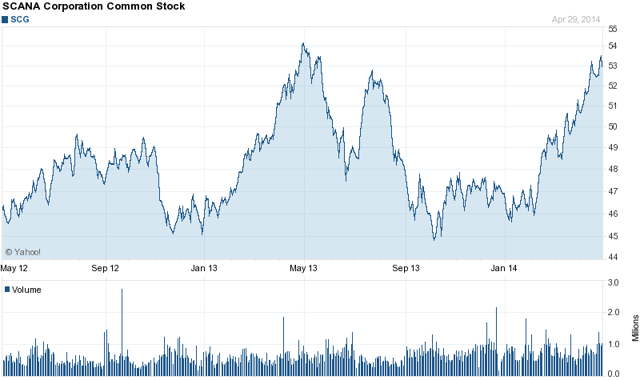 Source: Yahoo Finance
Another name that would be attractive for buyers is Topeka, Kansas based Westar Energy (NYSE:WR). There have been rumors circulating for some time that the company was a potential takeover target of Warren Buffett's MidAmerican Energy Holdings and that makes plenty of sense. Our thinking on the industry as far as consolidation goes is that there will be 5-6 consolidators who will do multiple bolt-on acquisitions to their service territory or look to expand out of their traditional service area seeking either better growth or strong cash flows. Depending on which potential acquirer you are looking at, Westar Energy fits the bill and better yet it has been having good operating results too.
This is going to be a slow process and one which will be agonizing if readers are betting solely on the takeover. We would use the utilities as a store of value for profits made in riskier trades as well as a solid play to attain yield. If one can be happy sitting back and collecting dividends on these names we think this is an excellent long-term strategy for conservative portions of one's portfolio.
Disclosure: I have no positions in any stocks mentioned, and no plans to initiate any positions within the next 72 hours. I wrote this article myself, and it expresses my own opinions. I am not receiving compensation for it (other than from Seeking Alpha). I have no business relationship with any company whose stock is mentioned in this article. Both DUK and SCG have previously been recommended.