The market activity was discombobulated on Thursday, which kept us on the sideline all day today.
I challenged readers to explain how bonds were down, stocks were down, gold was up, oil was up and the euro was up. The number of people who read yesterday's alert were in the thousands, but I didn't get any replies. The market remained tricky again. Today every class was up, except the market was flat and euro traded down. The market is sorting out great corporate profits alongside tepid economic growth.
The indecision has resulted in a volatile few months.
The near term trading will continue to be volatile, especially until 1085 or 1115 break down. I continue to favor a bullish outcome, although recent sentiment favors the bears. The market is operating without leadership, which makes me short-term nervous about our unhedged portfolio.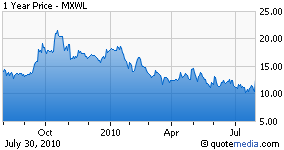 The Chart of the Day
Maxwell (NASDAQ:MXWL) finished the day 21% higher.
The recent surge in shares has the potential to shake the stock out of a year of consolidation. Dropping back and looking at the five year chart, we can clearly see the upward trend ended in October near $20. Since that high shares have traded lower, and back down to $9 or $11, which had been support in 2005, 2007 and 2008. Today's surge, with follow-through next week gives shares a shot at finishing a long-term bull flag pattern which takes shares to $28.
Watch List
Our watch list was mostly higher today, similar to the market.
Leading the way higher was Star Scientific (CIGX) up 6%. The stock was covered in detail in yesterday's post. I expect one more high to before my price target is reached. More Monday.