By now, followers of Twitter (NYSE:TWTR) have seen the stock sell-off nearly 10% in the after-hours trading of the company's latest earnings release. As Seeking Alpha has noted, Twitter beat analyst expectations on revenue and earnings-per share. Yet it is widely reported that the company's Monthly Active User (MAU) and engagement levels have failed to impress investors, and triggered the negative sentiment and sell-off. Feria would like to get a deeper understanding of user engagement, both on Twitter generally and with ads specifically, since management expressed what can only be characterized as excitement and satisfaction with user engagement. Where is the disconnect?
Ad Revenue Growth: No Cause For Concern?
Beginning with Twitter's advertising revenue, Feria is hard-pressed to find evidence that the company performed poorly on this metric. Despite what management described as an abnormally large number of "live events" during the quarter, Twitter reported ad sales of $226 million, up 125% from a year ago. Interestingly, even though a majority of Twitter's users are based overseas, international sales only accounted for 28% of total revenue (an increase of 183% year-over-year). Perhaps the market has expected Twitter to ramp up ad sales, but triple digit percentage growth would indicate that the company is at least performing adequately on this metric. Yet the MAU numbers, and the monetization of user engagement may be the sore spot for the market.
MAU and Engagement Efficacy
The tapering of growth in MAU may be a cause of concern for investors. Although Twitter added more users in aggregate than a quarter ago, the growth rate has declined year-over-year.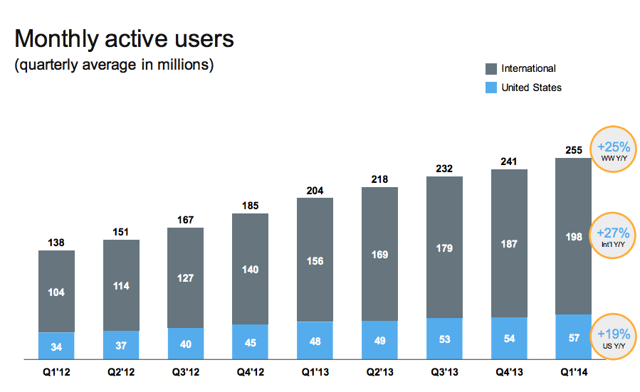 Source: AdExchanger
SA contributors have characterized this for Twitter as a "decelerating growth profile" and when a stock is valued as astronomically as TWTR, decelerating growth can be harmful to the share price.
Some analysts do not attribute as much importance on MAU as one may expect however; Pivotal Research Group explained that investors may be "overly focused" on user growth, even though "[a]bsence of significant growth would be unsurprising to us given our view of Twitter as a niche consumer proposition in most markets[.]" Instead, perhaps engagement and monetization of the user experience on Twitter should remain in focus. And here is where management is giddy on the earnings call.
The efficacy of ads on Twitter is up sharply from a year ago, "almost 700 percent" according to CFO Mike Gupta, and quarterly up 26%. Citing Retweets and Favorites, both Gupta and CEO Dick Costolo emphasized the importance of engagement over MAU growth and even timeline views. It is these "interactions" with ads that serves as the basis for management's confidence. CEO Costolo:
I'm really happy with engagement in Q1. It's fantastic across a number of dimensions: One, the areas of focus for us in the last couple of quarters have been increasing the value of a timeline. And we saw, again, as we've mentioned, 26% increase in retweets and favorites just in this last quarter on top of really great growth in Q4.
(emphasis added).
Further, the two also explain that the newest users of Twitter are essentially just as engaged as existing users. The engagement efficacy is also cited as a leading reason for the number of ads on Twitter remaining low.
Twitter has championed improved algorithms and greater advertiser participation, leading to higher user engagement, and lower ad load. CFO Gupta on efficacy:
We've talked about the improvements we've made in the targeting algorithms and then also the improvements we're making on the consumer side that translates to, like media forward. All of these things are driving meaningfully higher engagement in the ad space, which is translating to higher ad revenue per timeline view.
As Gupta explained, during the last quarter, Twitter was able to produce higher ad revenue per timeline view by addressing the goal of higher user engagement.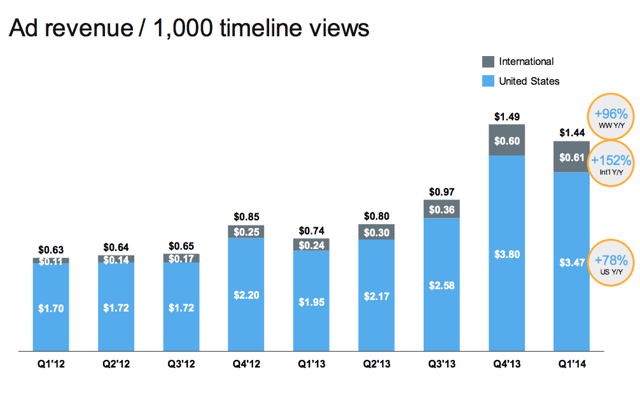 Source: AdExchanger
As we can see, ad revenue per 1000 timeline views increased 96% year-over-year but down 3% Q/Q due to "seasonality." Indeed, "[t]he increase in ad engagements was driven by higher quality ads and the increased use of reach media by our advertisers." All this while ad load has remained low, succumbing to management's singular concentration on the user experience. And the engagement numbers indicate that Twitter has done a good job at getting users to engage with the ads.
The so-called "decelerating growth profile" centered on MAUs appears to be dueling the unrelenting focus of management to more effectively reach users for advertisers. Deriving higher revenue per timeline view is inextricably linked with how many total users are on Twitter scrolling through timelines. Thus, management's ability to increase engagement efficacy seems to be playing second fiddle to the inability to attract more users among investors. Ultimately, Feria believes management's exuberance on user engagement demonstrates the confidence to chip away at Facebook's (NASDAQ:FB) lead with marketers' advertising choices. If Twitter can give advertisers better ROI than its social media competitors, perhaps it can combat stagnating growth in its user base.
Disclosure: I am long TWTR. I wrote this article myself, and it expresses my own opinions. I am not receiving compensation for it (other than from Seeking Alpha). I have no business relationship with any company whose stock is mentioned in this article.