Though the economy didn't grow as robustly as analyst expected in the first quarter, consumer spending reached a 14-year high. Unemployment numbers are expected to fall from 6.7% down to 5.5% in the same time period, mimicking historical averages more closely. People are spending more time outside the home, and they are more likely to buy food for immediate consumption too.
As more jobs are being added and family incomes continue to rise, we can see certain trends emerge:
· The restaurant industry, responsible for employing almost 30% of working American's, should be market leaders for at least the next 12 months, if not longer.
· Historically high levels of pent-up demand among consumers should result in record high sales figures for the restaurant industry in 2014 to $683.4 billion.
· Retailer margins should expand as food CPI is expected to climb up to 3.5% over last year
Grocery stores and supermarkets are experiencing some industry pain. Wal-Mart (NYSE:WMT), which gets half its sales from groceries, lowered its full-year forecast citing cuts in food stamps and higher healthcare costs as driving factors. Even the organic trend isn't enough to keep grocery stores alive as evidenced by Whole Foods Market also lowering guidance and blaming poor winter weather conditions as the main factor.
At-home food purchases may be suffering, but restaurants are looking stronger. Two stocks look like clear winners in the sector with low debt levels, soaring earnings, and higher revised analyst estimates.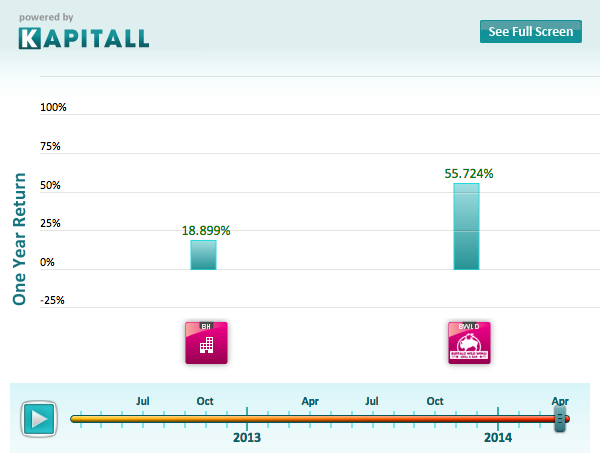 Click here for the full, interactive chart.
Biglari Holdings (BH)
This diversified holding company is known for its restaurant brands Steak n' Shake and Western Sizzlin'. In addition, the company also owns Maxim, First Guard Insurance, and several other subsidiaries under the Biglari name. The infamously sharp-tongued CEO Sardar Biglari draws comparisons to Warren Buffet in the way his company operates and could be worth a second look for investors.
The stock looks solid from a fundamental standpoint. EPS growth this year is over 553% while quarterly earnings growth year-over-year is nearly 229%. Over the past 5 years, EPS growth has averaged over 50%. Sardar Biglari bought 6,076 shares in March alone, which investors typically translate as a positive sign that management believes in a company's future prospects. The average analyst target price is $550 - a 25% discount from the stock's current price levels.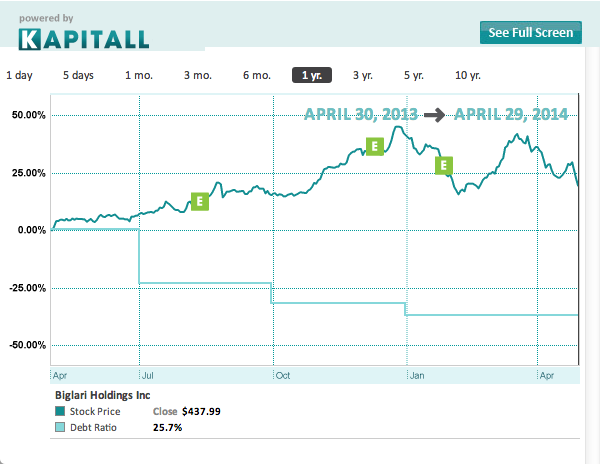 Click here for the full, interactive chart.
Buffalo Wild Wings (BWLD)
The $2.5 billion beer and wing food chain also has plenty of upside potential. The company's first quarter earnings that were recently reported were a positive surprise for analysts. Same-store sales growth was 6.6% at company-owned locations and it posted a profit of $1.49 per share -- up around 71% from $0.87 per share for the same period last year. That beat the analysts' expectations of $1.34 by more than 11%.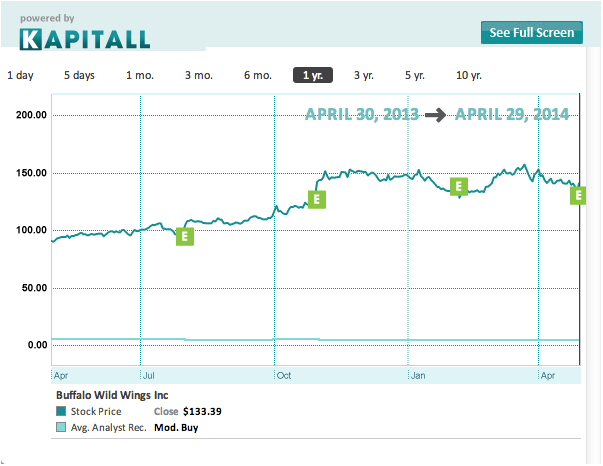 Click here for the full, interactive chart.
Long term EPS growth is expected to be around 20% but the most impressive statistic might come from its balance sheet. Buffalo Wild Wings has no long term debt liabilities while cash and cash equivalents stand at $125 million. The target price for the stock is $158 - potentially an 18% upside for investors.
Disclosure: I have no positions in any stocks mentioned, and no plans to initiate any positions within the next 72 hours.
Business relationship disclosure: Kapitall is a team of analysts. This article was written by Daniel Cross, one of our writers. We did not receive compensation for this article (other than from Seeking Alpha), and we have no business relationship with any company whose stock is mentioned in this article.