Investors were excited as shares of Zynga (NASDAQ:ZNGA), the world's leading social game developer, rose to a 52-week high of $5.89 in March of this year. Unfortunately, recent market sentiment has taken its toll on the gaming giant, whose share prices have been beaten down by nearly 40% from its 52-week high. However, as long as the company's efforts to turn itself around remains constant, these price swings merely caused by the market sentiment, become buying opportunities which investors sometimes miss.
Why ZNGA? Why Now?
As seasoned investors know, investing in distressed companies with the potential of making a comeback present tremendous opportunities when done at the right time. Since its IPO in 2011, ZNGA has faced several challenges and the results have been uninspiring at best. These uninspiring results can be attributed to the fact that ZNGA did not have a strong management team, any mobile games and heavily relied on desktop computers, not to mention Facebook's troubled public debut, which surely affected ZNGA. Nevertheless, times change and sometimes for the better. Today, ZNGA is very different from the mediocre company it has been in the last few years. In my opinion, the gaming giant has recently been reborn after the introduction to its new management team, the NaturalMotion acquisition, and especially their switch to mobile gaming.
As with most situations in life, we cannot continue to do the same thing and expect different results. With that in mind, ZNGA could not expect to recover from its mediocre performance with the same management and business model, which is why it brought in CEO Don Mattrick, who in turn brought in a team of industry experts to reinvent ZNGA into the successful company it can be. Today ZNGA's management team includes Clive Downie, COO; Alex Garden, President of Zynga Studios; Henry LaBounta, Chief Visual Officer; and Jennifer Nuckles, Chief Marketing Officer. All of these leaders bring with them many years of experience and a history of success across the industry, making ZNGA's management team stronger than ever.
Although ZNGA spent a great deal of money on the NaturalMotion purchase, investors should not disregard that this investment made by the company represents big opportunities over the long run. Because as the company grows its business, this growth is likely to translate into greater capital gains for investors. In fact, the NaturalMotion's racing and people franchises are performing as planned. The racing franchise saw 100 million downloads in Q1 and this will continue to grow as the franchise products are becoming available to more consumers with the recent launch of CSR Classics on Google Play. On the people category, Clumsy Ninja is also becoming available to more consumers with its recent launch on Google Play. Clumsy Ninja has achieved more than 25 million downloads since its launch.
ZNGA's recent switch to mobile gaming is starting to bear fruit and this can be seen in the company's recent earnings report. In Q1 2014 ZNGA saw growth in bookings, monetization, and mobile audience which came at 11% quarter-over-quarter across monthly active users and 10% across daily active users. This growth in three important metrics confirms that mobile is one of the pieces the company was missing to be able to achieve profitability.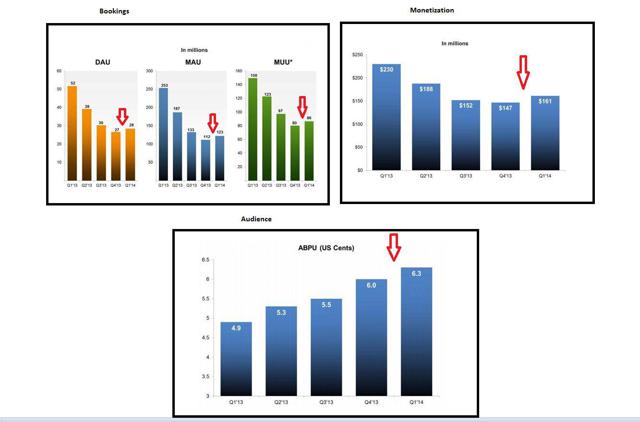 Source: Zynga.com
After watching from the sidelines, patiently waiting for worthy of confidence changes to take place in the struggling company, I would say that the recent changes in the company's management and business strategy suggest that the time to invest in ZNGA is now.
Long-Term Bullish Trend
Despite the recent ups and downs ZNGA has seen in recent months, what ultimately matters to those of us who are investing in mobile gaming companies is the fact that the long-term trend is on our side. While short-term investors focus on daily technical signals and price changes of a stock, in the case of turnarounds like ZNGA, technical analysis better serves us by focusing on long-term patterns and signals which tend to have higher statistical accuracy. Fortunately for ZNGA, the long-term trend is bullish. The bullish trend coupled with the company's recent fundamentals changes point to further upward potential.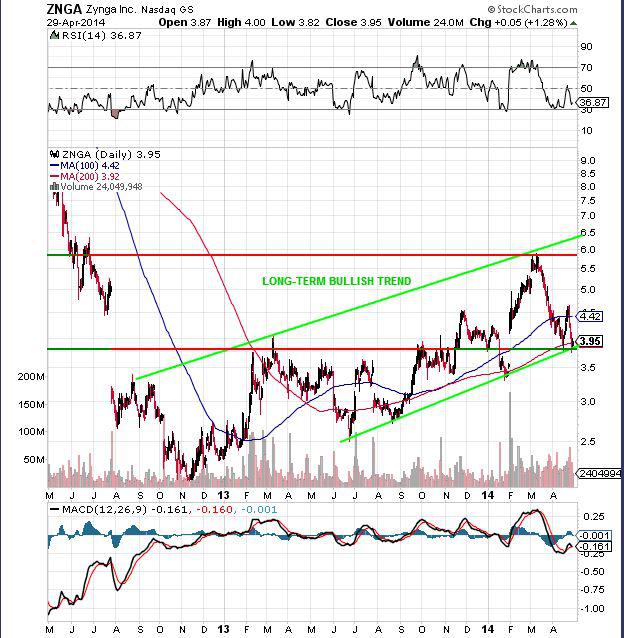 Source: Stockcharts.com
A Bright Future
Recent studies have confirmed that gaming continues to dominate as one of the most popular activities on mobile. The new mobile first approach ZNGA is taking to their games will enable it to tap into unprecedented opportunities in the ever-growing mobile gaming business. As a leading social game developer, ZNGA has huge growth opportunities down the road. According to the new Global Games Investment Review from Digi-Capital, the entire global games business could be worth more than $100 billion by 2017. Additionally, Digi-Capital asserts that mobile and online gaming is becoming such a huge force worldwide that it could grow at a compound annual growth rate of 23.6%, ultimately accounting for about 60% of software market share in 2017 while generating $60 billion of the predicted $100 billion for the overall industry.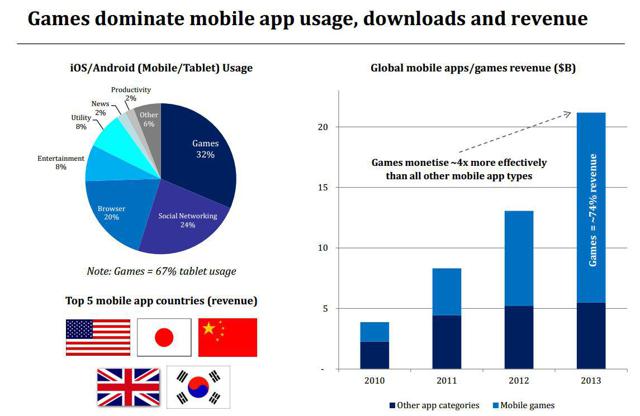 Source: Digi-capital.com
As shown above, mobile games monetize four times better than all other mobile app types. Additionally, Games are the number one category of sales at Apple's (NASDAQ:AAPL) App Store.
In Q1, Zynga Poker, the world's largest poker game, grew its mobile audience by 19% posting the strongest mobile audience growth in eight quarters. ZNGA's management expect 2014 will be the first time in the company's history where its mobile bookings will surpass its web bookings and account for more than 50% of its bookings base. As a matter of fact, in Q1 2014, ZNGA grew its mobile bookings to 36% of total bookings. This mobile bookings growth essentially tells us that ZNGA is, in fact, successfully transitioning to mobile. Moreover, ZNGA's Chief Executive Officer, Don Mattrick further confirmed the company's huge opportunities in mobile gaming:
In the next few years, more than 1.3 billion people will be gaming on their mobile devices. By 2017, one-third the world's population will be using smartphones and the tablet installed base will cross 1 billion. In that time, we expect the mobile gaming revenue opportunity to double from $12 billion to approximately $24 billion.
Value
Even with the recent steps ZNGA's management has taken to put the company in the right direction, there are still many investors who maintain a bearish outlook for the company on the basis of its poor fundamentals. Of course, anyone who has been investing in ZNGA for a considerable amount of time would know that the company has weaknesses in common valuation metrics such as net income and net operating cash flow. The problem is that traditional valuation methods do not work well when trying to value companies in the Tech sector. This is because a quantitative approach is based heavily on past performance, while the true value of mobile gaming companies is in their future prospects, which is why I believe that ZNGA's current stock price does not reflect its full potential.
Even after the NaturalMotion acquisition, ZNGA continues to have a strong balance sheet with more than $1.1 billion in cash and marketable securities. The strength of ZNGA's balance sheet is a fundamental value in the company's turnaround.
As we have seen, the mobile gaming business is poised for tremendous growth in the coming years and investors seeking a piece of this growth can look at three of the main players in the mobile gaming business. ZNGA, Glu Mobile (NASDAQ:GLUU), and King Digital Entertainment (BATS:KING) are companies at the forefront of this gaming revolution and are likely to grow in the future, but what would be a reasonable price investors should pay for each dollar in net assets of these comparable companies?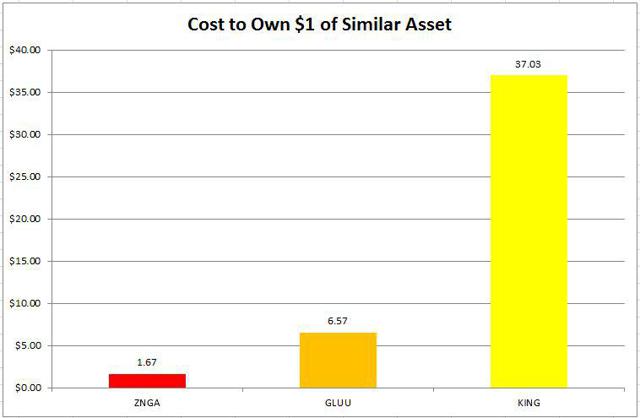 Source: Created with Numbers from Yahoo Finance
While I believe GLUU is another very strong company in this growing industry, ZNGA's Price/Book (mrq) of 1.67 suggests that it is fairly undervalued compared to other potentially high-growth companies. Analysts now fully recognize ZNGA's value and strong business outlook. For instance, investment analysts at Evercore Partners raised their price target on shares of Zynga to $5.50; analysts at Telsey Advisory Group have a $6.00 price target on the stock; and analysts at Wedbush added the company to their "Best Ideas List" and reiterated outperform rating on the stock with a $7 price target.
Conclusion
In recent years, Mr. Market has rightfully punished ZNGA based on its poor performance. However, today ZNGA is a new company with a new management team and business strategy in a relatively young and growing industry. As mobile gaming continues to grow, ZNGA is positioning itself to take advantage of new business opportunities. Investors who recognize the potential of ZNGA during the early-stages of its turnaround will benefit as Mr. Mattrick and his team writes the next chapter of growth and profitability for ZNGA.
Disclosure: I am long ZNGA. I wrote this article myself, and it expresses my own opinions. I am not receiving compensation for it (other than from Seeking Alpha). I have no business relationship with any company whose stock is mentioned in this article.