Trading volume for fixed-rate non-call senior debt on April 29, the day of Apple Inc.'s $12 billion debt deal, shows Apple (NASDAQ:AAPL) bonds as the most heavily traded issues on the day. Total trading volume was $663 million in 422 trades. This is more surprising than it sounds, because the March 17 $5.5 billion bell-weather issue by Exxon Mobil (NYSE:XOM) traded only $17 million on its launch date according to TRACE. This is further testimony to Apple Inc.'s iconic brand status, ranked number 1 on Forbes' ranking of the world's best brands, and the degree of diversity of opinion on Apple Inc. Kamakura's recent analysis of the risk and return on Apple Inc. bonds and dividends was published April 24.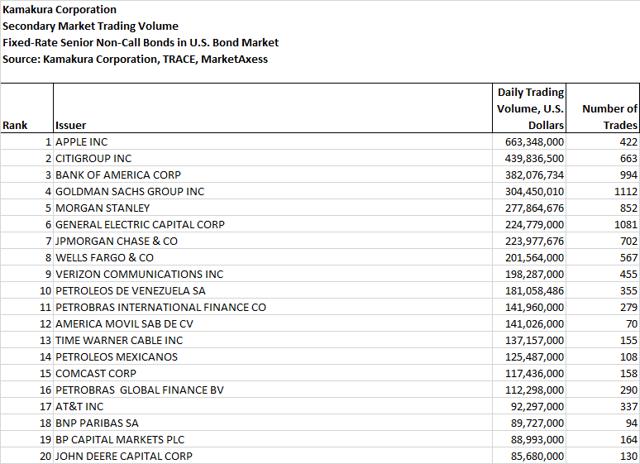 Click to enlarge
Source of Bond Data
The National Association of Securities Dealers launched the TRACE (Trade Reporting and Compliance Engine) in July 2002 in order to increase price transparency in the U.S. corporate debt market. The system captures information on secondary market transactions in publicly traded securities (investment grade, high yield and convertible corporate debt) representing all over-the-counter market activity in these bonds. The trading volumes provided above are provided by TRACE.
Credit Default Swap Analysis
The heavy trading in the bonds of Apple Inc. is quite a contrast to activity in the credit default swap market. The Depository Trust & Clearing Corporation reports weekly on new credit default swap trading volume by reference name. The DTCC has never reported a single trade in Apple Inc. credit default swaps since it began reporting weekly in July 2010.
Author's Note
Regular readers of these notes are aware that we generally do not list the major news headlines relevant to the firm in question. We believe that other authors on Seeking Alpha, Yahoo, at The New York Times, The Financial Times, and The Wall Street Journal do a fine job of this. Our omission of those headlines is intentional. Similarly, to argue that a specific news event is more important than all other news events in the outlook for the firm is something we again believe is inappropriate for this author. Our focus is on current bond prices, credit spreads, and default probabilities, key statistics that we feel are critical for both fixed income and equity investors.
Disclosure: I have no positions in any stocks mentioned, and no plans to initiate any positions within the next 72 hours. I wrote this article myself, and it expresses my own opinions. I am not receiving compensation for it (other than from Seeking Alpha). I have no business relationship with any company whose stock is mentioned in this article.
Additional disclosure: Kamakura Corporation has business relationships with a number of organizations mentioned in the article.