The Mortgage Bankers Association released its weekly mortgage applications survey for the week ending April 25th. The purchase applications index showed a 4% decline - both seasonally adjusted and actual - from the previous week. It also showed a 21% plunge from the same week a year ago. Given that the month of April is historically the beginning of the strongest seasonal period of the year for home buying, and given that purchase applications in April show up as home sales in May and June, I believe there's a strong possibility that the existing home sales report for May, released in June, could well show a "bear market" decline in the numbers.
Based on today's mortgage purchase applications report, not only are purchase applications starting to show a declining year over year trend that is increasing in rate, but it's continuing to show persistent weekly declines. April is supposed to be the start of the seasonally strongest period for home sales. May is usually one of the peak sales months seasonally. Existing home sales are based on closings. Closings are based on contracts being signed. If mortgage purchase applications are not being filed, it means contracts aren't being signed. The implication of this sharp drop in purchase applications is that May existing home sales, which are reported in June, could well show a collapse in volume.
As I have detailed in previous articles, the core foundation of a healthy housing market is the first-time buyer, who historically represents 40% of demand. First-time buyers typically finance their purchase with a mortgage. Moreover, 93% of all new home buyers use a mortgage. If mortgage purchase applications are not being filed, it means that the core, "organic" home buyer is not buying a home. This fact is reflected in the steep decline in the home ownership rate in this country, which dropped below 65% in the first quarter this year (graph source: Zerohedge, edits in black are mine):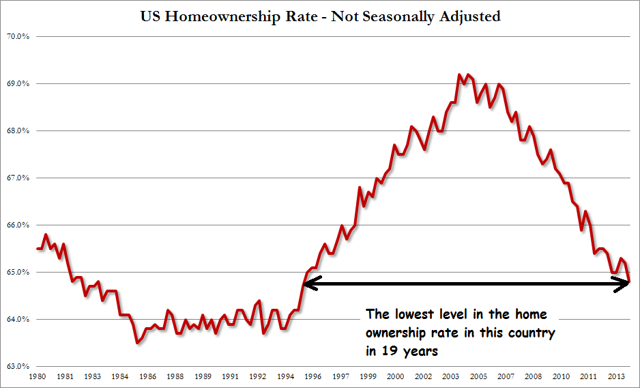 Prior to 1995, the last time the home ownership rate was as low as it is now was in 1983. Based on recent new and existing home sale reports, the majority of the buyers right now are using cash. However, the majority of the cash buyers are comprised of individual investors, or "flippers." The problem I see developing is that if investor/flippers are still buying and the traditional first-time buyer is dropping out, to whom do the flippers plan on selling?
Affordability is the biggest reason the home ownership rate is falling off a cliff and first-time buyer demand is fading. While the recent increase in home prices is part of the problem, the bigger component to the problem is income (graph source: dshort.com):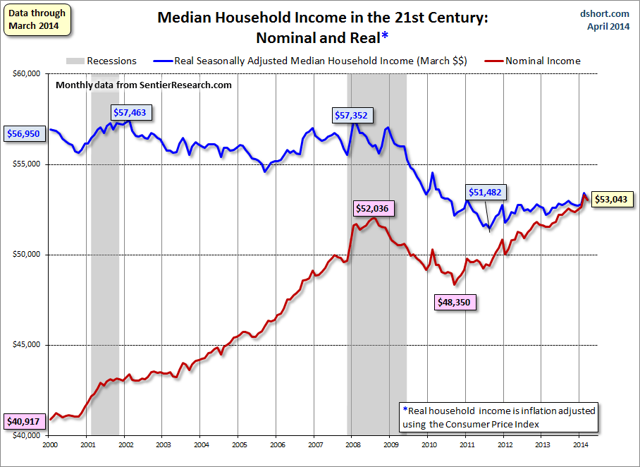 As you can see in the graph, while the nominal median household income has been increasing since 2010, the real median household income (i.e. inflation-adjusted using the Government CPI) has declined from $57,352 in 2008 to $53,043 this year. In other words, the average household has 7.5% less to live on after adjusting for inflation now than it did 6 years ago. This is why the home ownership rate is plunging. The average household is the housing market's first time buyer. If the first-time buyer disappears, the move-up buyer does not have a market into which to sell its current home, which means the move-up buyer cannot buy. It's a negative economic "feedback" cycle, which leads to a market collapse, similar to what we saw starting in mid-2005.
I thus believe that the mortgage purchase applications data reflect a fundamentally impaired housing market and that the numbers reported for May's home sales will show an unexpectedly precipitous drop during what should be one of the peak seasonal months for home sales. I would also argue that the stock market has started to "sniff" this out, as the Dow Jones Home Construction Index (DJUSHB) is down 15% since its peak last May. This decline has occurred while the overall stock market as represented by the S&P 500 has gone up 15% in the same time period. A negative divergence in a specific market sector to this degree tells us something is fundamentally broken with that sector. I continue to recommend selling and/or short-selling homebuilder stocks. I continue to be short KB Home (NYSE:KBH), DR Horton (NYSE:DHI) and Ryland (NYSE:RYL). I recently added to my short positions by shorting out of the money calls. I also like shorts in Pulte (NYSE:PHM), Beazer (NYSE:BZH), Lennar (NYSE:LEN) and Toll Brothers (NYSE:TOL).
Disclosure: I am short DHI, KBH, RYL. I wrote this article myself, and it expresses my own opinions. I am not receiving compensation for it (other than from Seeking Alpha). I have no business relationship with any company whose stock is mentioned in this article.