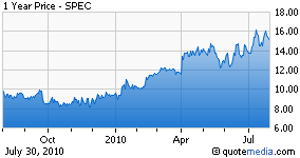 Let's begin by stating that Spectrum Control (NASDAQ:SPEC) is a very illiquid stock. On average, the stock trades 75k shares a day. With a shade under 13 million shares outstanding and the stock already in strong institutional names such as Fidelity, Blackrock, and Dimensional, there is a clear lack of available supply of stock at current levels. As such, we want to emphasize that anybody who buys into this stock keep any position extremely small.

In our view, the company has hit an inflection point in its business, one that could lead to a stock headed to the $20 range. Just take a look at the company's significant progress detailed in its latest earnings report:

For the second quarter of fiscal 2010, the Company reported net income of $3.3 million or 25 cents per diluted share on sales of $39.7 million, compared to net income of $2.2 million or 18 cents per share on sales of $33.6 million for the same period last year. For the first half of fiscal 2010, the Company had net income of $5.7 million or 44 cents per diluted share on sales of $77.6 million. For the comparable period of 2009, the Company had net income of $4.4 million or 35 cents per share on sales of $66.7 million.

More importantly, sales and earnings growth are set to accelerate, a common trademark seen in many of the past big market leaders. Here are some highlights gleaned from the company's latest report:

Customer orders came in at $45.7 million, a record level for the company and a significant jump sequentially of 29% over the preceding quarter.

The company is seeing continued strength in its military and defense markets.

The company's operating margins expanded significantly, as the company leveraged its fixed manufacturing costs over greater sales volume.

Looking ahead, the company sees sales growth of over 35% for its next quarter and earnings growth of 75%. These numbers point to a company that is clearly seeing its business accelerate.

With the company poised for an earnings and revenue acceleration, we feel that SPEC could see its multiple expand in the coming months as new money works into the name. Currently the stock trades for 12x its upcoming November, 2011 fiscal year estimates. Should the multiple expand to 15X, SPEC would be valued at $20.

We have already established a very small position last week and plan to add to our position on pullbacks to the mid-to-high $14's.
Disclosure: Author is long SPEC